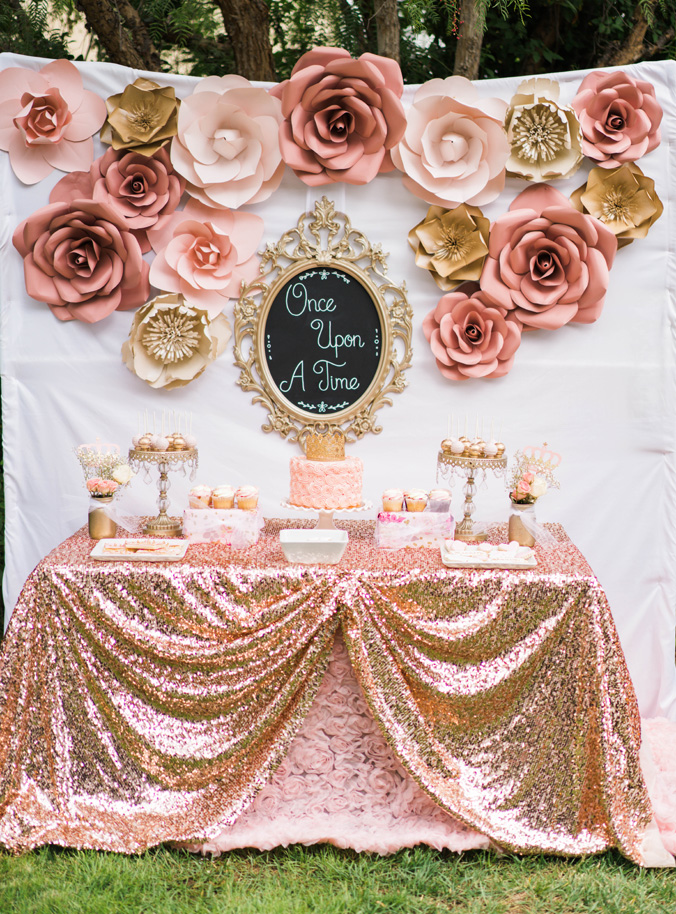 I'm sharing Kennedy Harper's "Once Upon A Time" 1st Birthday Party! I had so much fun putting this together and seeing it all come together. My husband Alex and in-laws helped me SO much put it all together the day before and the day of as well! I wanted to have a special 1st Birthday fit for my princess! Kennedy was so happy all day and I'm pretty sure she ate half of the smash cake. Click "Read The Post" to see the full post and details…
SHOP THE POST:
Today I want to share with you Kennedy Harper's 1st "Once Upon a Time" Birthday Party! We had her birthday in Southern California with family and friends, because both of our families live there and that is where we are from! We are so grateful for everyone who came out to celebrate Kennedy's special day and all the love they showed her. I loved the idea of doing something princess related and came across the theme for "Once Upon A Time" and feel in love. The "once" part also was cute because she is turning one and she really is our fairy tale come true. She is also so girly and our little princess, so this theme fit her perfectly!
I loved seeing Kennedy so happy around everyone at the party and she LOVED all the attention she was getting. We live in Houston, Texas with no family near by, so she hardly ever gets to see her grandparents and cousins. It was so cute to see her interact with her cousins and bond more with her family in California! Kennedy was such a good girl all day long, even after all the excitement and the smash cake was over with. She still was ready to keep partying! She truly is the light of our lives and our whole world. Everything I do is for Kennedy and our family, and I wanted to make sure this day was extra special for my princess. Having a girl is so much fun and I love how I have my little bestie with me everyday. As she is nearing turning one on the 21st of September, her cute personality is showing more and more everyday. I can see more now she has a very silly, active, social and very happy personality. I am so grateful God blessed me with the most beautiful and sweet spirit I could've ever dreamed of. When I was pregnant I pictured what she would look like and be like, and she is exactly what I imagined and more! She can't wait to have fun this weekend with mommy and daddy this weekend for her birthday here in Houston!
This party was SOO fun for me as a mom to plan! I got some ideas off Pinterest to go off of such as the color scheme, flower backdrop, sugar cookie inspo, and the decor. From there I went on the internet and found all the decor and items that I loved for the party. I have linked everything under each photo of where I got it from. You can also email me at (katelyn@atouchofpinkblog.com) or comment below and I will be happy to answer any questions you have!
SHOP THESE ITEMS

Pink Birthday Dress  | Rose Princess Crown ("Sienna Flower Crown") | Tee Pee (Comes in gold or silver) | White Shag Rug | Sequin Pillow
Paper Flowers | Frame (frame from Ikea ) | Cake Pop Stands (Home Goods) | Rose Gold Table Cloth | Pink Rosette Tablecloth | Gold Mason Jars | Crown Centerpiece for flowers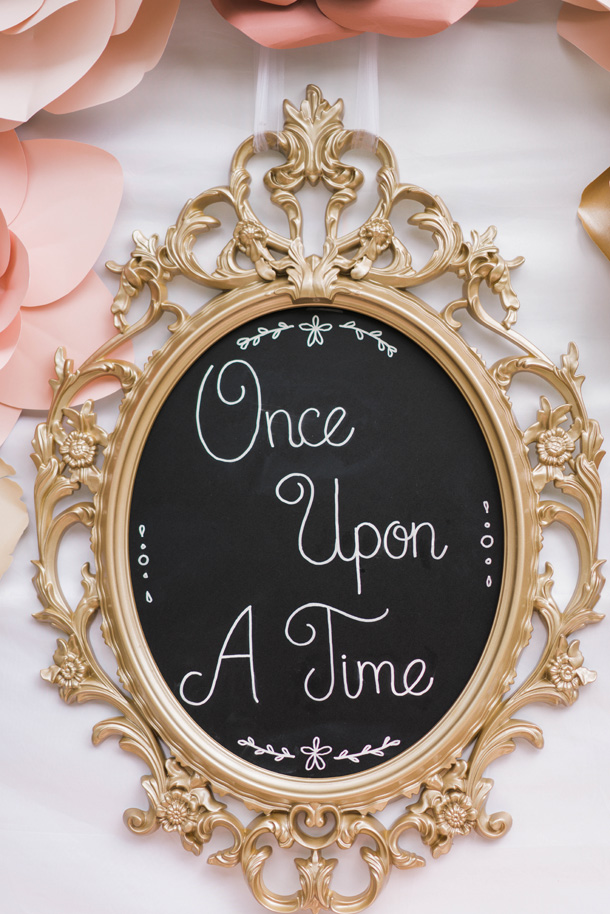 Vintage Mirror | Writing done by Allie Mason in Orange County, CA
Crown Centerpiece | Cake Stand (Home Goods)
Wrapping Paper for box (Home Goods)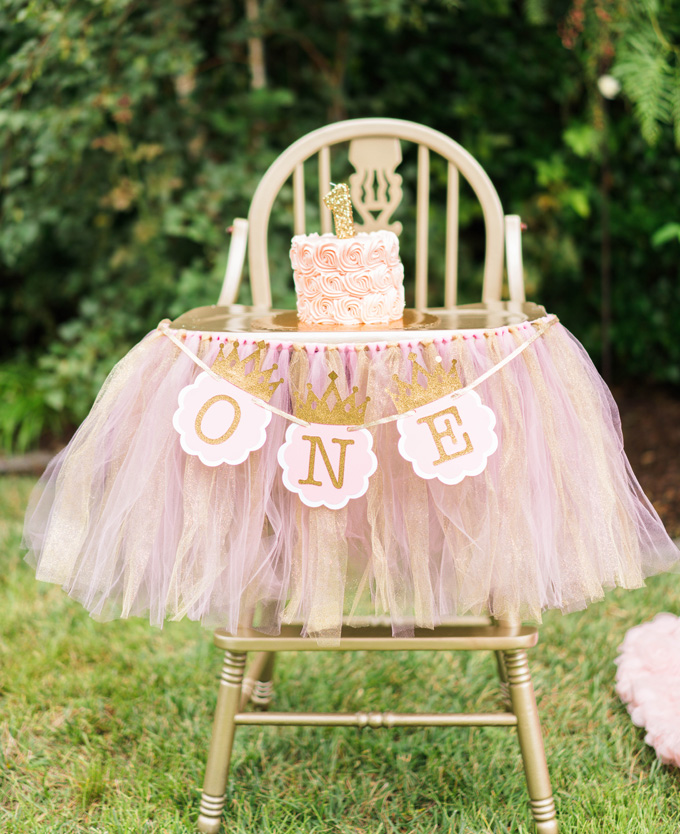 Number 1 Candle | Pink Rosette Smash Cake- Albertson's Bakery | High Chair Tulle Decoration | "ONE" Banner | Vintage Wood High Chair (spray painted champagne color)
Pink Ruffle Blommers | Gold Crown
"Nude Rose" Flowy Dress  | Sandals | Gold Disc "Kennedy" Necklace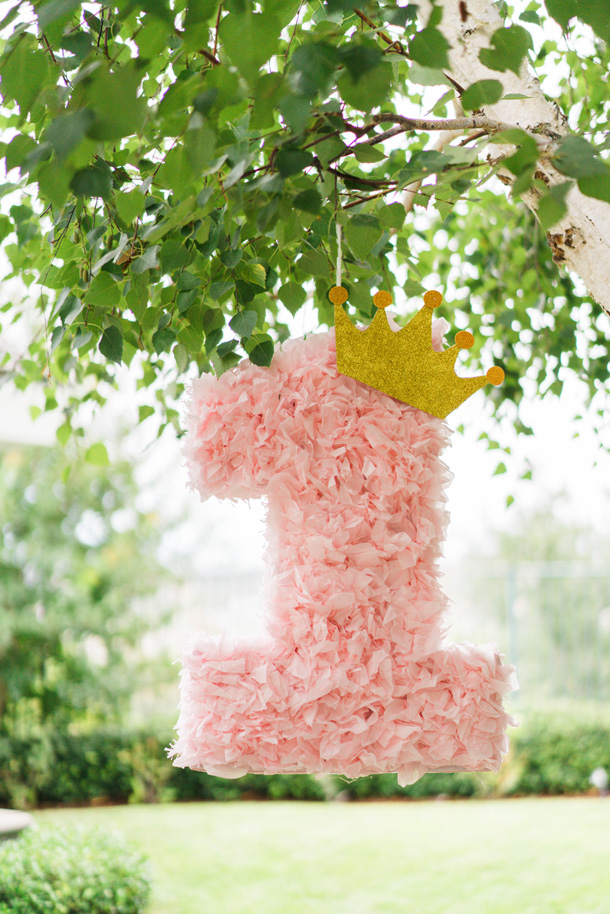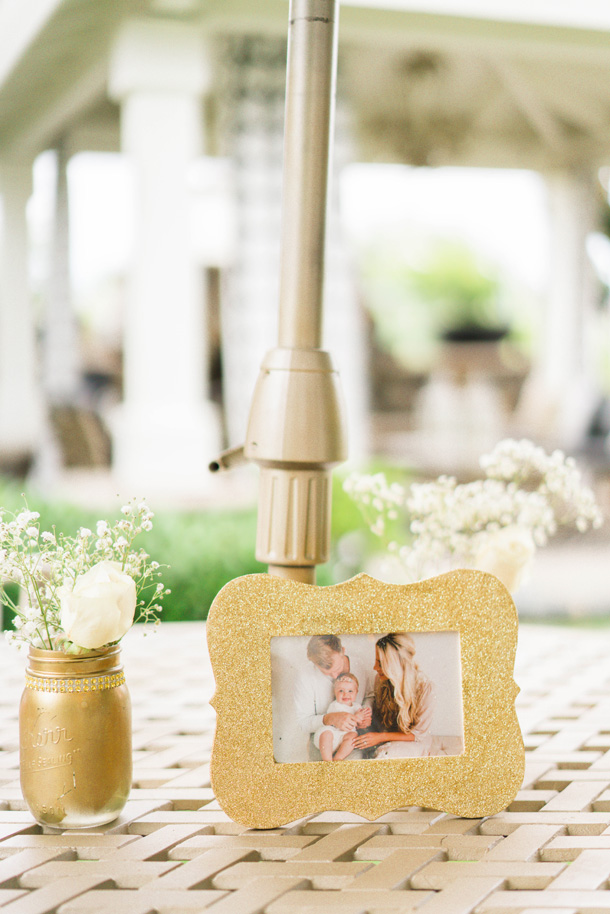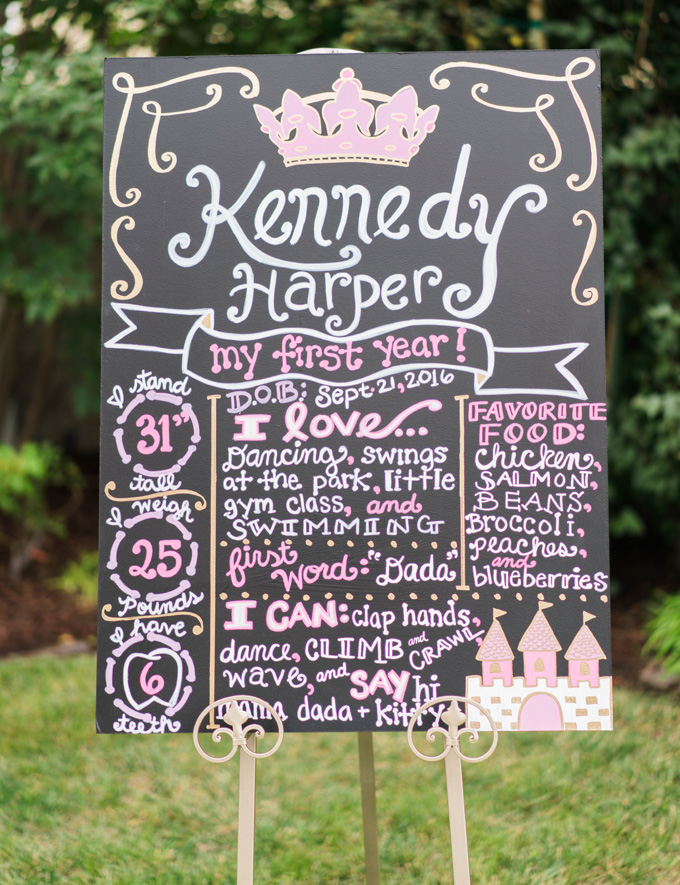 Custom Birthday Chalkboard Sign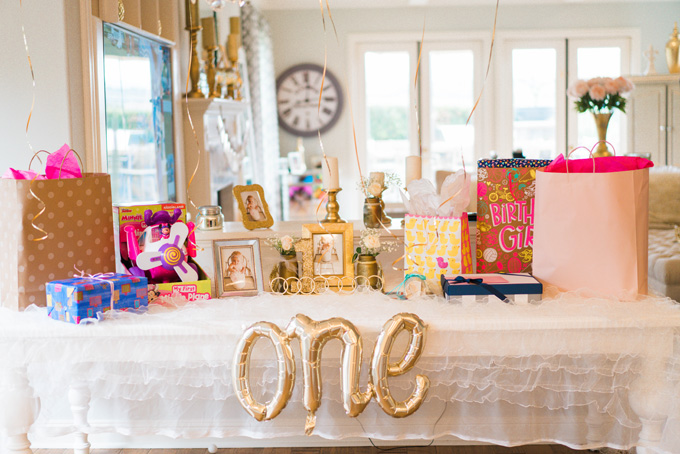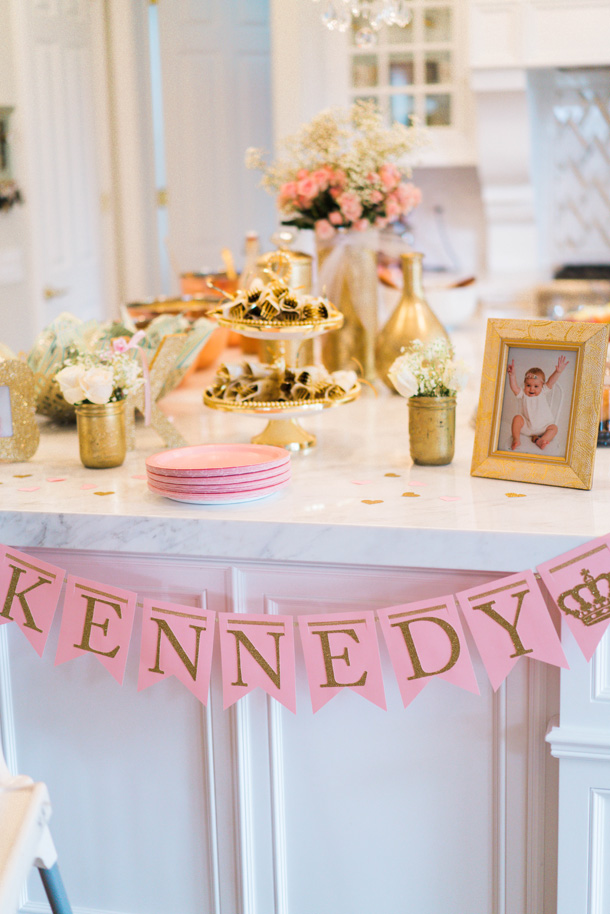 "Kennedy" Princess Banner | Pink Plates + Gold Plastic Silverware (Party City) | "ONE" Balloon | Colored Balloons
"K" Mug | Princess Crown Straws | Lemonade (Trader Joe's) | Pink + Gold Cups | Gold Mason Jar | "1" Gold Balloon | Multi Colored Balloons
SHOP THE POST: