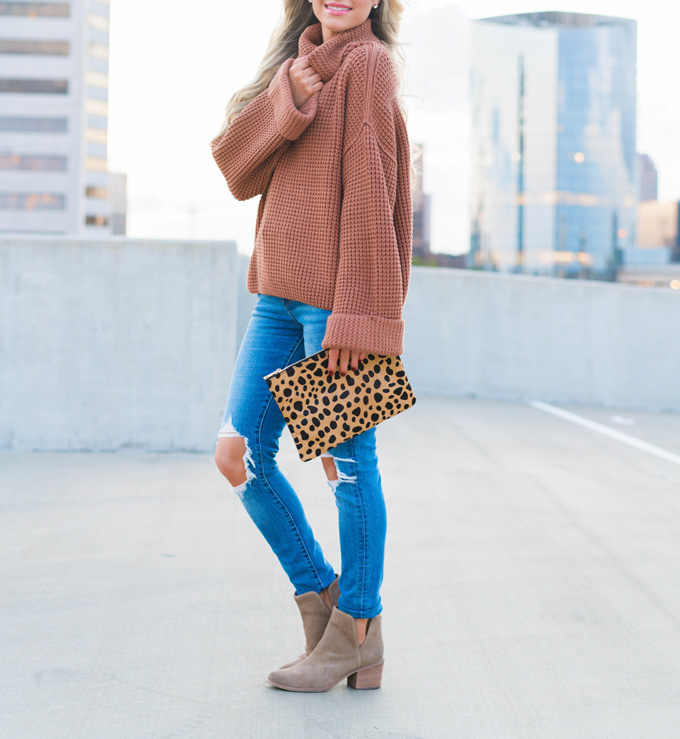 CHUNKY KNIT SWEATER | HIGH WAIST JEANS | BOOTIES (33%OFF) | LEOPARD CLUTCH | STUD EARRINGS | NAIL POLISH (COLOR: Bubbles Only) | TOOL FOR CURLING MY HAIR
Talking today about some of the Top Fall Trends I'm loving including high waist denim, leopard, and knit sweaters from Evereve…
SHOP THE POST:
 Today I am partnering with Evereve to share with you all of my favorite Fall Trends! Fall is my absolute favorite season not only for the cooler weather, the fun fall activities, and the pumpkin spice drinks, but also the amazing wardrobe fall brings! I love stocking up on some fall pieces that can be worn throughout the season and are "mom approved." I love Evereve's site for online shopping because everything is tailored around moms but also moms who are super busy and don't have a lot of time to sift through tons of clothing. They have selected categories such as Jeans including a under $100 section, Tops with a under $50 section, the stylist picks, now trending, and much more! They also have "9-5" sections where you can find pieces for work easily. On Evereve, you can also get 2-3 complete outfits hand picked by a professional stylist sent directly to your door! How amazing is that?! Having a stylist help find complete outfits from head to toe and send them directly to you not only saves busy moms time, but also helps improve your style so easily!
"We're cheering for you as you balance playdates and date nights, work and weekends, the daily routine and your dreams. You got this." – Megan Tamte Co-FOUNDER + Co-CEO + MOM
Evereve is the one stop shop for moms who want to put their best pair of heel (or jeans 😉 ) forward and feel their best everyday! They also have over 80 locations nationwide, and lots more opening here in Texas- so exciting! By October of this year, they will have five stores open in Texas! The locations include Austin, Friendswood, Plano (Dallas), Fort Worth, South Lake (opening in October!) (Dallas)! Now let me share some fall trends I am loving right now!
1. High Waist Denim
I am loving high waist jeans for fall! These ripped high waist jeans from Evereve are so cute and fit perfectly (I am wearing a size 26). This pair is my new fav and the rips are perfectly places and not too much which I like. I love high waist jeans because you can wear shirts tucked in with a cute leather belt or just with an over-sized sweater like this one. These black high waist skinny jeans are also so great with a leather jacket or a white tank!
2. Knit Sweaters
This season, I stocked up already on lots of long cardigans and sweaters, and also chunky knit sweaters. This waffle knit sweater is the prettiest rust color and is just so comfortable and soft. I love the folded sleeve and the slouchy and relaxed fit. I also am loving cowl neck sweaters, and I love the cowl neck on this sweater!
3. Leopard
Next, I am loving leopard for fall. From shoes to sweaters to clutches, having a pop of leopard is such a fun touch to any outfit! I love this leopard sweater with dark skinny jeans or a mid black skirt like this one! This amazing leopard dress is sure to make a statement wherever you go! I am also obsessing over these leopard pumps which look amazing with jeans, work pants, skirts and dresses. I LOVE a pop of leopard on my feet with a little black dress!