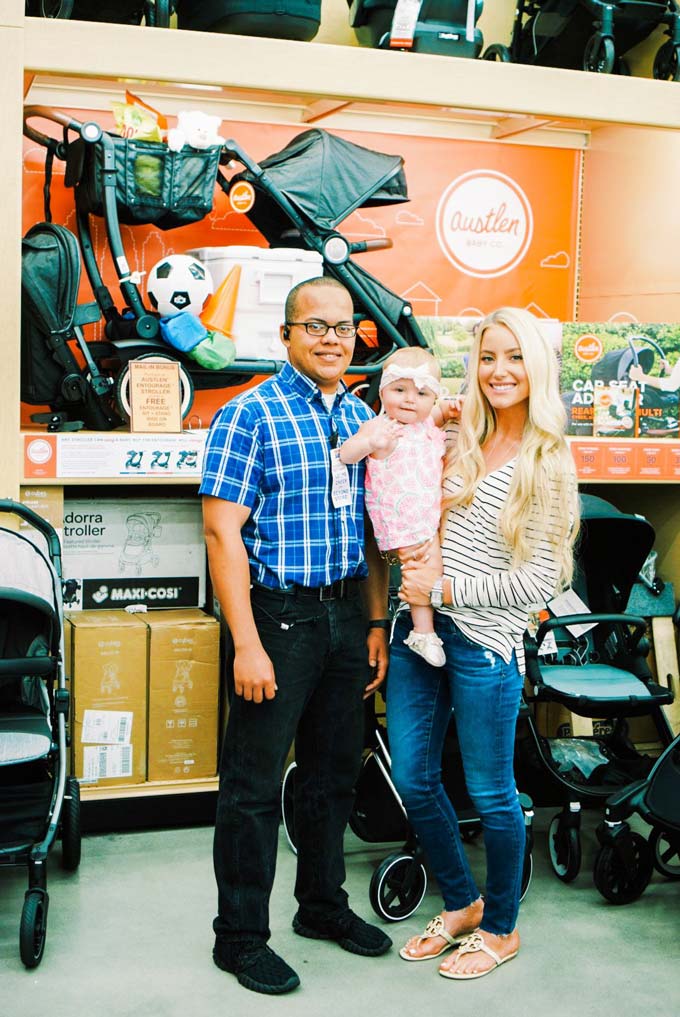 *This post is in partnership with buybuy BABY, a brand I love. All opinions here are my own.
Today I want to talk all about my experience shopping for a new stroller at buybuy BABY! So over the past couple months, I was thinking about getting a new stroller. The one we currently have is a great stroller, but there are certain features I am now seeking in a stroller that I didn't think about before. Also, I have really bad back pain since having Kennedy, so I was desperate to find a light stroller to help with that. I am a buybuy BABY Babyhood ambassador, and thought it would be a great idea to shop for a stroller at the local buybuy BABY store here in Katy, Texas. I wanted to share my experience with all my readers and explain why I LOVE shopping at buybuy BABY!
I had a list made up of features I was needing in a stroller. First, I needed a stroller with lots of storage. I haul around a lot of things for Kennedy and I and need lots of space! Second, I needed something much lighter than the stroller I currently have. I have trouble lifting heavy things, and I was lifting the stroller in and out of the car multiple times a day! Plus, Kennedy is over 24 pounds, so lifting her up all the time on top of that wasn't so good for my back 😉 I also wanted a stroller that would grow with our family (I'm not pregnant FYI!!). We are thinking of when we want to have our next baby, which hopefully will be in the next year or so! So, I wanted a stroller that would convert to a double stroller when we do have our next baby. Of course, I wanted something stylish on top of all the functional needs 😉
I looked at three different strollers when I went to the buybuy BABY store. I was helped by Isaac, who is the stroller and car seat guru in that department. He seriously knew every little detail about each stroller and answered all of our questions- and we had a lot!  I love how at any buybuy BABY store around the country, you will get this level of service and information about the product you are buying! I have been to buybuy BABY stores in California, Utah, and Texas, and they are the BEST department baby store you can go to. If you are a soon-to-be parent or first time parent, buybuy BABY is the place to go if you are needing advice and help on what to buy for your baby.
Another thing I loved about shopping for our new stroller here, was they never once pressured us to buy anything! Isaac told us that buying a stroller is a serious investment and he always wants to make sure parents know he would rather them make a right decision and be happy, then buy something on a whim. Isaac is the "stroller" department expert here in the Katy, Texas store. His expertise is tailored to knowing everything about car seats and strollers so that each customer can make an informed decision. I was able to put Kennedy in each stroller to "test" them out and push her around the store. He showed me all the good features, feedback he has received from customers who have purchased that particular stroller, and he also told me what he didn't like about each stroller- which I much appreciated his honesty. The three strollers I looked at were the Uppababy Vista, the CitySelect Lux, and the Austen Entourage! All three of these strollers convert to a double stroller (all seat up to 3), and all the seats are able to face forward or back.
AUSTLEN ENTOURAGE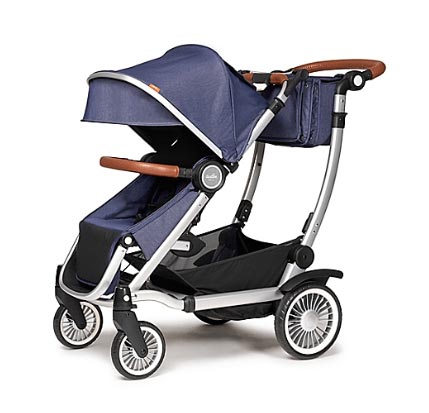 Comes in Navy and Black, and has stylish brown leather handles!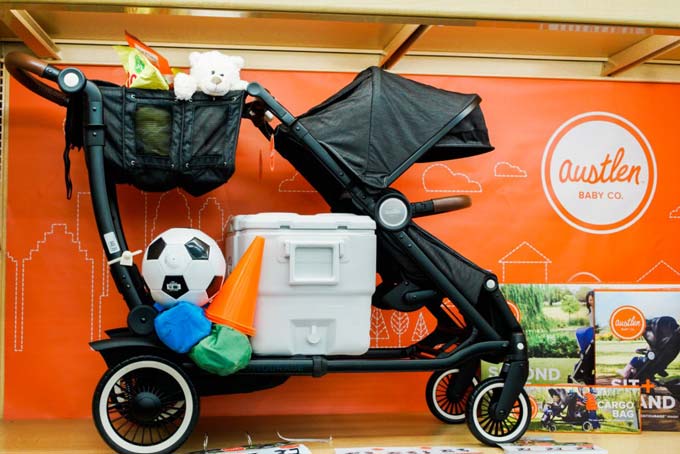 This photo shows the amazing storage this stroller is capable of!!! It comes with the basket on the top that expands out. It can all be collapsed back down if you don't need it!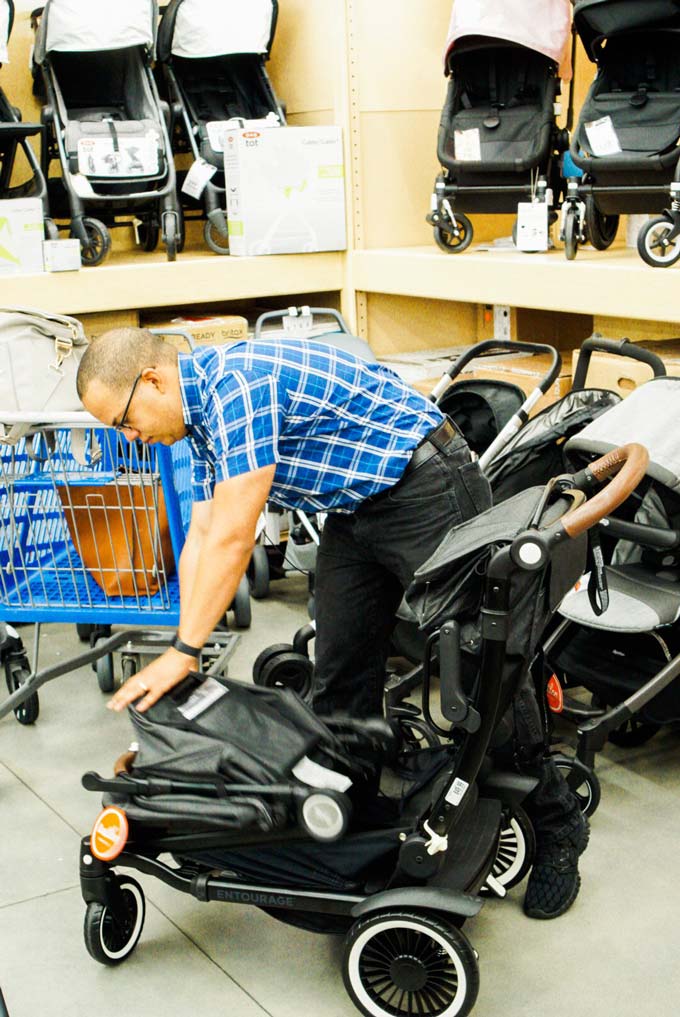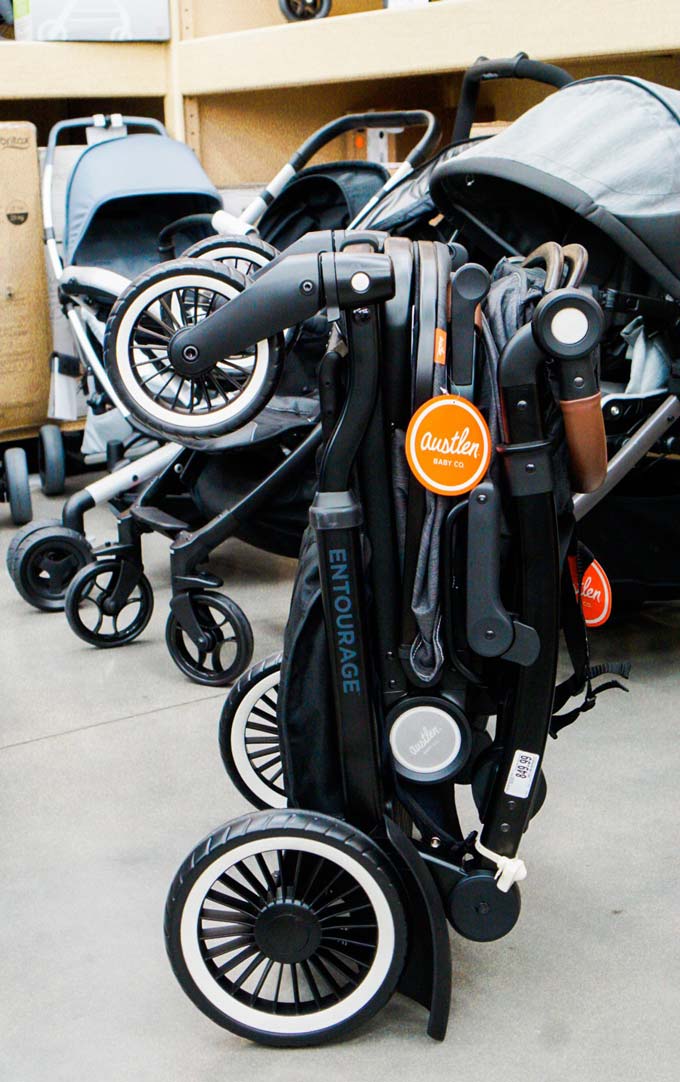 It has a one-handed, self-stand fold so it can stand freely on it's own
The Austlen Entourage is a brand new stroller out on the market (I would say less than one year) and buybuy BABY has only had it for a few months. The great thing about this stroller is it is so unique and unlike anything else I've ever seen. The Austlen Entourage Stroller is perfect for families on-the-go. This one-handed expandable frame has three positions, 5 recline positions, a market tote and expandable lower storage area, giving you the freedom to travel anywhere in comfort. It can extend out so the middle section can hold lots of things- even a cooler like the picture above! The seat can be brought back to get rid of the storage space and expandable basket, if you don't need it. I think it is an amazing stroller, but since we don't need THAT much storage space at the moment, we narrowed down our picks to the Uppababy Vista and The CitySelect Lux! I can see a larger family with a few kids loving that stroller! It will be great for the beach, going to soccer practice, and lots of other places where you need to haul around large items! It also can have a front board attached for additional kids. It has a one-handed, self-stand fold so it can stand freely on it's own. Since it is a larger stroller than the other two options, I liked that they designed it so it can easily just roll into the trunk of the car. It is also the height of a smaller trunk! The price for this stroller is $829.00.
Here are some specs on the Austlen:
*Supports children from birth up to 50 lb.
*Stroller weight: 30 lb.
*Unfolded dimensions: 43-55″ L x 24.5″ W x 43.5″ H
*Folded dimensions: 33″ L x 24.25″ W x 17.5″ H
*Single step braking system
*Never flat tires
*Multi-position UPF 50+ canopy with extendable visor for sun and wind protection and peek-a-boo window
*1-year manufacturer's warranty
BABY JOGGER CITY SELECT LUX
The City Select LUX folds up so small and is very easy to lift! Uppababy Vista (left) + City Select LUX (right)
Next, we looked at the Baby Jogger City Select LUX. The City Select LUX is very comparable to the Uppabbay Vista in terms of size, converting to a double stroller, storage, fold up size, and the advanced features. There are some slight differences between the two, and pros and cons to both. First off, the City Select LUX has an updated softer and more lux fabric compared to the other version of their Baby Jogger. It has the most riding options of any single to double stroller, with over 20 configurations. When it comes to seating for the children, they can also face inwards towards each other which the Uppababy Vista can't do. Also, there is a few more inches of space between the seats compared to the Vista. You can also add the bench seat so your older child can hop a ride sitting down. It is compatible with most car seats and you can purchase the bassinet separately for a newborn. To add the second seat, it is between $199-219. So in total, you can transport up to three children with this stroller. There is also no restriction when it comes to having the heavier baby be at the top seat and putting the smaller baby on the bottom, or vice-versa. I didn't know that was ever an issue with stackable double strollers but Isaac made us aware to this! In the Uppababy, a child over 50lbs needs to sit on the top seat and the child who weighs less needs to be on the bottom seat. But with the City Select LUX, that isn't an issue because the attachments for the seats are already anchored in the stroller. All in all, I loved all of the amazing features and it was at a great price point of $629.99.
Here are some specs on the Baby Jogger City Select LUX:
*Stroller weight: 30.4 lb.
*Stroller weight without seat: 24.2 lb.
*Dimensions (unfolded): 46.1″ L x 25.6″ W x 40.8″ H
*Dimensions (folded): 31″ L x 25.75″ W x 12″ H
*Decelerating hand brake provides enhanced controlled braking
*Flip-flop friendly rear parking brakes
*Lightweight, never-flat 8″ front and 12″ rear all-terrain rubber tires
*Reversible seat allows front- or parent-facing positions
*Padded seating for riding comfort
*Adjustable, multi-position seat recline
*Folds simply and compactly with auto lock for easy storage and transport (30% smaller than the previous city select stroller model)
UPPABABY VISTA
The Vista has a very large storage basket on the bottom which was one of the top features I needed in a new stroller! City Select LUX (left) + Uppababy Vista (right)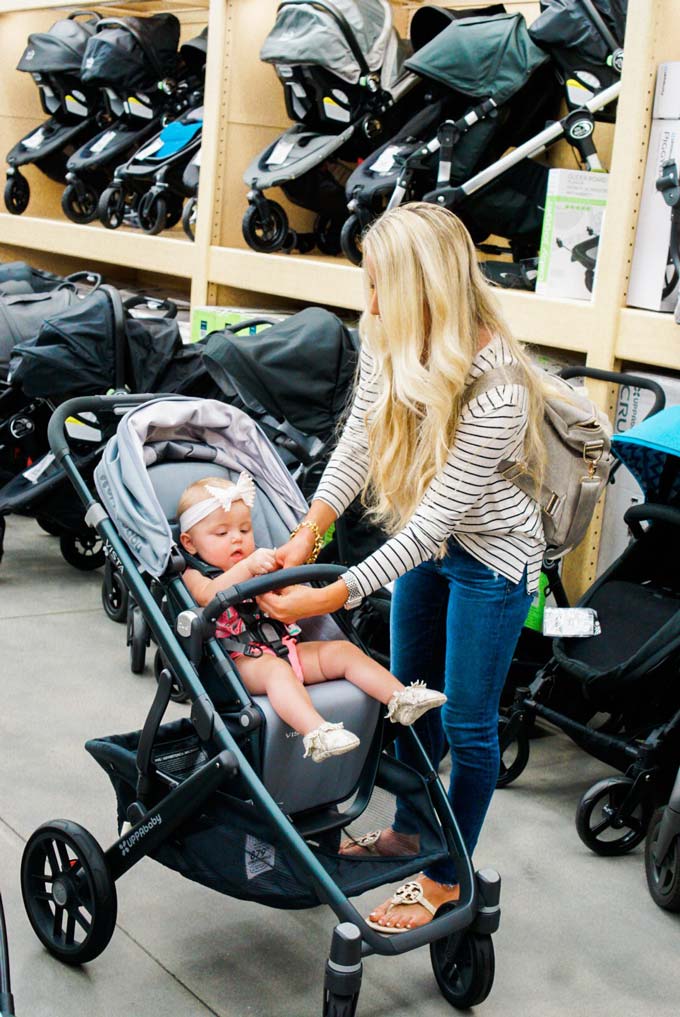 Kennedy LOVED the Uppababy seat and she seemed so comfortable in it!
Finally, I am sharing my experience learning about and testing out the UPPAbaby Vista. This stroller was one I have heard SO many amazing things. From my mommy friends here in Houston to my followers on my IG, mostly everyone recommends and raves about the UPPAbaby Vista! This stroller truly had everything I wanted and it checked all my boxes. It is very lightweight and lifting the frame was very easy for me! It also folds up really small and can stand freely on it's own!
I loved how it came with the bassinet because Kennedy loved strolling around in the bassinet, so I can't wait to use it for our other future children. It is approved for overnight sleep with the bassinet stand accessory. The bassinet is the most luxurious and nicest bassinet for a stroller I have found. The lining is a super soft, lux fabric and the bottom has an open design so it is breathable and lets air flow through- making baby more comfortable. This stroller has lots of color options (around 8 different colors for the 2017 model) and the new brown leather handle and front bar. The storage on the bottom is very large and can hold a LOT of things. I was able to fit my Fawn Diaper bag, and bunch of other things in there with no issues. I loved the sleek and stylish design, the gorgeous Loic color and the brown leather handles. The seat is easy to take on and off the frame, and you can fold it up easily with the seat attached as well. When it is folded it can stand upright, so you don't have to lean it against any walls which is so nice! The seats can be configured in many different positions and it is between $169-189.00 to buy the second seat. This stroller accommodates up to three children without growing wider with the UPPAbaby RumbleSeat and PiggyBack board accessories. I loved the smooth ride of the stroller and how easy it was to push around! The price for the UPPAbaby Vista is $839-899.
Here are some specs on the Uppababy Vista:
*Toddler seat is suitable for children from 3 months up to 50 lb.
*Stroller weighs 26.3 lb. (frame and seat); 19.4 lb. (frame, canopy, wheels and basket)
*Seat weighs 6.9 lb.; Bassinet weighs 8.4 lb.
*Unfolded dimensions: 36″ L x 25.7″ W x 39.5″ H
*Folded dimensions (seat attached): 17.25″ L x 25.7″ W x 33″ H
*Folded dimensions (seat unattached): 16.75″ L x 25.7″ W x 33″
*Water and stain repellant polyester fabric
*Rear wheel brakes
*Foam-filled, never-flat tire
*Machine washable fabric
*Adjustable canopy with peek-a-boo window and extendable UPF 50+ sunshade
*Pivoting bumper bar with neoprene cover
*X-Large, easy-access basket (30 lb. max)
*2-year manufacturer's warranty (Isaac informed us the just changed the warranty to 3 years on all Uppababy strollers!)
SOOOO…….
After doing our comparisons, we decided to get the UPPAbaby Vista in the color "Loic"!!!! My husband was on team City Select and I was all for the Uppababy! We went back and forth for a few days trying to decide which one to get, and which one would best fit our needs. Isaac from buybuy BABY almost had us sold on the City Select, but in the end I chose the Uppababy Vista! We had such an amazing experience as a family shopping for a new stroller at buybuy BABY! The Buybuy BABY store employees were SO incredibly helpful, knowledgeable, patient, nice and made shopping for a stroller FUN! I can't wait to tell all my friends about my experinece and share this will all of my readers! Let me know if you have any questions!
Currently I am working on a Part II post, where I will be reviewing the Upppababy Vista and sharing everything I have been loving about it so far! Stay tuned for that! XOXO