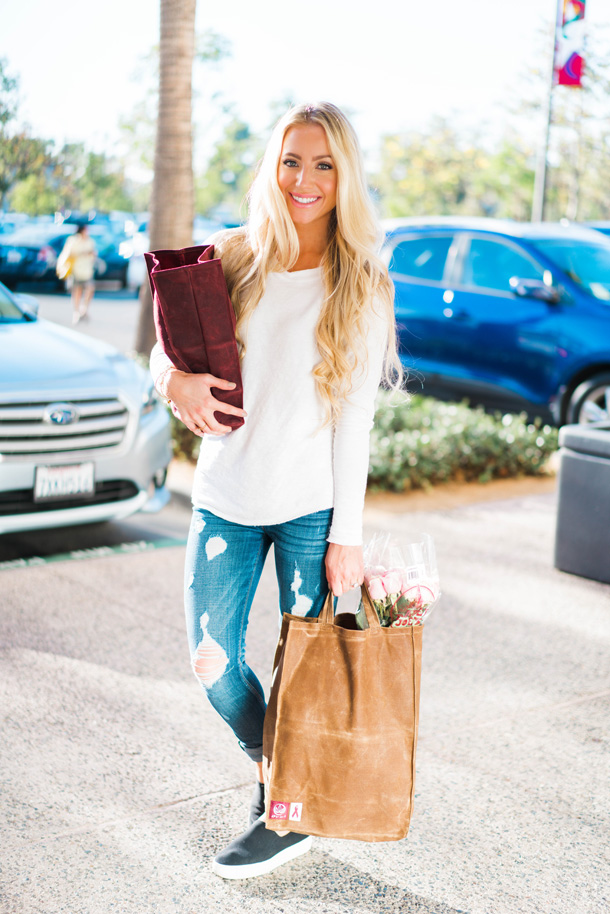 TRADITIONAL BROWN OLLI BAG (50% OFF ALL BAGS NOW!) | BURGUNDY LUNCH BAG | SHIRT | JEANS | SHOES
I am talking all about my love for my Olli Bag reusable shopping bag totes for my grocery trips! Also, I have gotten SO many requests on what I buy at Trader Joe's, so I am sharing what I got during my recent TJ's shopping trip…
SHOP THE POST:

When I do my shopping, I have been using this reusable grocery tote bag from Olli! I want to share with you why I am loving the Olli reusable tote for my grocery trips since I have moved to California. For so long, I would use plastic or brown paper bags when I went to the store. Now I cringe that I didn't start using reusable bags sooner! The amount of waste from millions of people using bags and paper bags every single day is so astounding. I feel so much better using reusable bags for my groceries and I know what I'm doing is helping the environment and the future of the planet for my child. I also LOVE the feel and durability of these bags! Between juggling my baby, diaper bag, and groceries, I need a sturdy reusable bag now for my groceries!
They look like your traditional brown paper grocery bag, but they are made out of waxed canvas. They can be used over and over and will withstand almost anything. This tote also comes in two colors: traditional brown or burgundy. You can see the gorgeous burgundy color above in the small canvas lunch bag I also bring with me. You can also use this reusable lunch bag for packing lunches, small shopping trips and much more! It is also small enough to fit in my purse which I love!
*This weekend for Black Friday and Cyber Monday, all bags from their website are 50% OFF!!!!!
Here are some things I love about the Ollie reusable grocery tote bag:
Reusable – So you don't waste plastic bags and contribute to global warming
Durable – Stands up on it's own to receive whatever groceries you need to carry
Water Resistant – Don't worry about spills breaking the bag or getting all over the back seat or trunk
Waxed Canvas (100% Organic Duck Cotton) – Durable canvas means this bag can carry extra weight and provides extra support
Biodegradable & Vegan – After a really long time when you finally let the bag go you can rest assure it will decompose back into the earth with no chemical after effects
Spacious (44.5x31x15cm) – Plenty of room for all your groceries including a large wine bottle
Gives Back – $1 per bag sold goes to cancer research for Multiple Myeloma. Hence the burgundy ribbon on the bag
One errand I LOVE doing oddly enough is going grocery shopping! Most people think it is a chore or hassle to go get groceries, but I actually love getting nutritious food for my family and having a stocked fridge. A big pet peeve of mine is having an empty fridge or not having food to make at home. I prefer eating at home because I notice I have lost a lot of my baby weight by making meals myself at home. I know what ingredients I am putting in my body and it is also way less expensive to eat at home. I have been shopping at Trader Joe's for a while and it is my go-to place to get our family's groceries. They always have fresh produce (organic and non-organic), great pre-made meals, pre-made salads, snacks, and desserts! They carry their own line of food so prices are cheaper than a regular grocery store chain.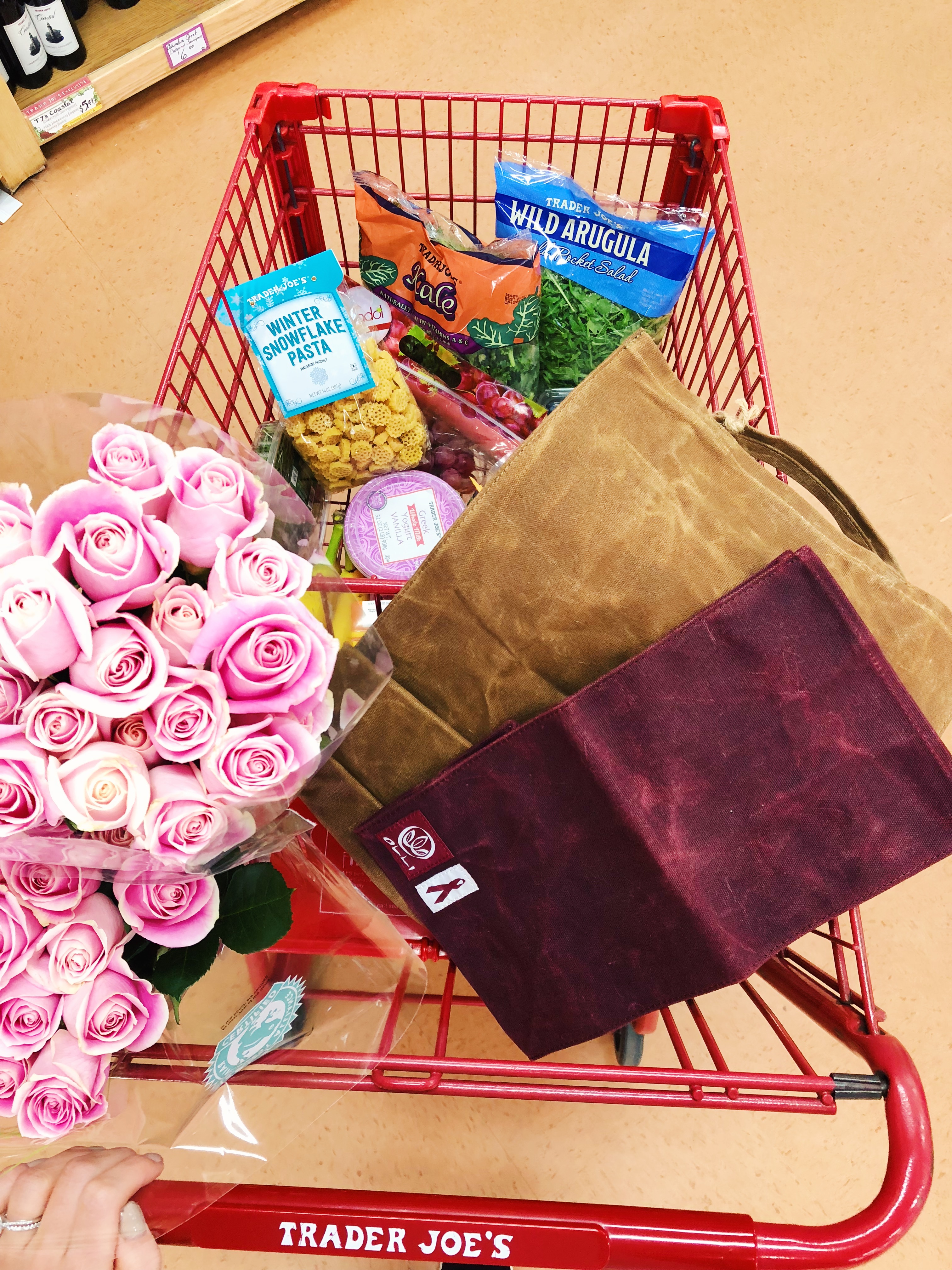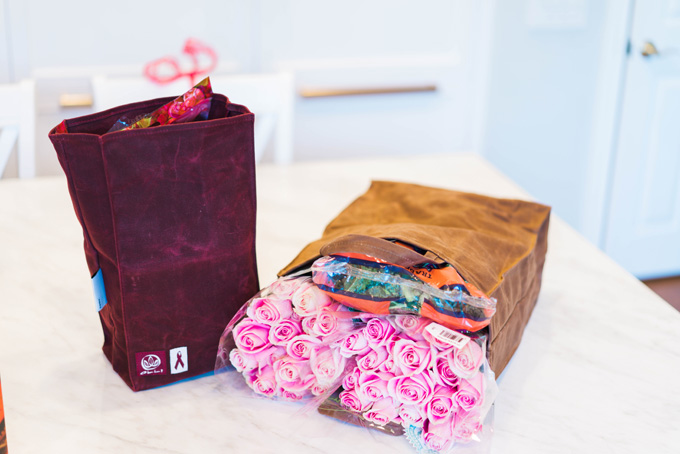 Here are some Trader Joe's items I love to get! I will get these staples at the beginning of the week, but I will also grab some things I know I will be making for dinner or lunches that week. This isn't everything I get but what I got during my recent trip this week. I will also be a Part II Trader Joe's post and going into more detail about my Favorite products and the one's I don't like soon!
MY GROCERY  LIST:
*Produce- Kale Salad Mix, baby carrots, grapes, blueberries, micro greens, raspberries
*Breakfast- cereal, oatmeal, Greek yogurt, honey, bananas, whole wheat toast
*Lunches and Dinners- Kale salad mix, organic chicken, cherry tomatoes, miso salad dressing, carrots slices, pasta, ravioli, turkey meat, orange chicken, brown rice, shrimp and vegetable mix
*Snacks- cheese sticks, humus, whole wheat crackers, unsweetened apple sauce,
*Dessert- Cookie butter ice cream, vanilla ice cream, cheese cake cookie butter bites, and salted caramel gelato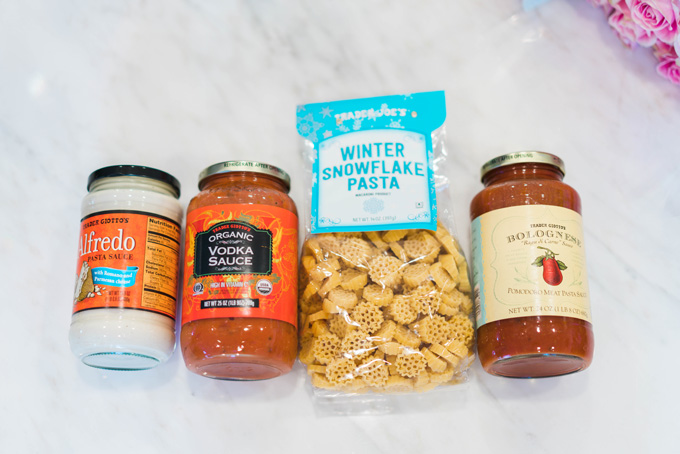 Every season, they will have a cute pasta such as these Winter Snowflake Pastas! This whole bag was only $1.99! I like giving these to Kennedy and its a fun way to get your kids to eat their food! These are all the pasta sauces we LOVE. The vodka sauce is sooo delish and is my #1 favorite pasta sauce. I love it on raviolis, especially the Lobster Ravioli's at Trader Joe's. The Alfredo sauce is also so amazing for a jar sauce! The classic Bolognese sauce is delicious for our pasta dishes we make for Kennedy and spaghetti. I also use this sauce when I make lasagna. Trader Joe's also has the best pizza sauce and pre-made dough for family pizza nights at home! When we want to make our own pizza's at home, we always go to Tj's and get the dough, sauce, mozzarella cheese, and all the rest of our toppings. For a healthier option, they also sell Cauliflower pizza cruse pre-made and ready to cook.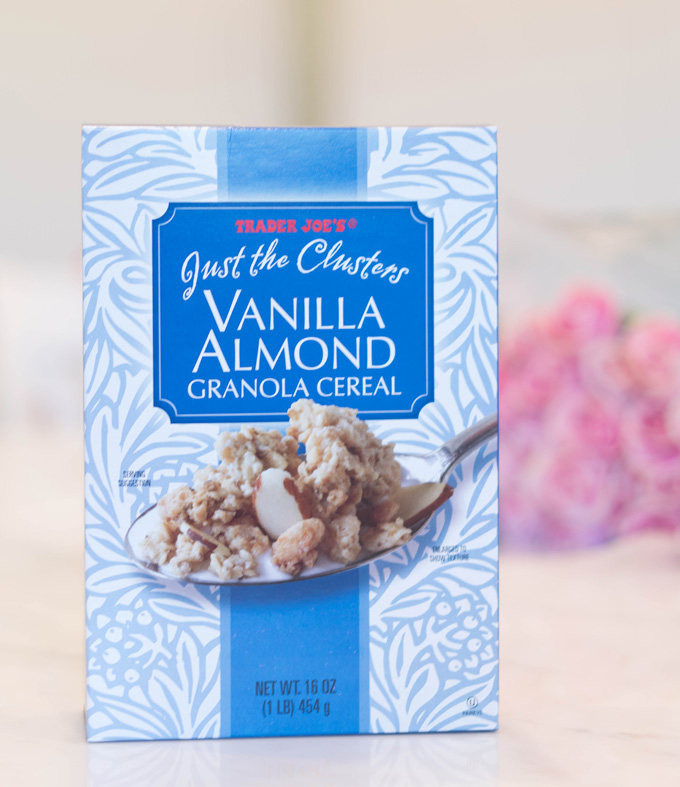 This cereal is SOOO good and my husband's favorite! I love it as well, but I have been cutting back on cereal and eating my oatmeal and Greek yogurt lately. But if you want a delicious cereal that also goes great in yogurt, this is it!
These are some healthy snacks Kennedy and I both eat! The Hummus Dip with the wheat crips are so bomb!!! Trust me- try it and thank me later!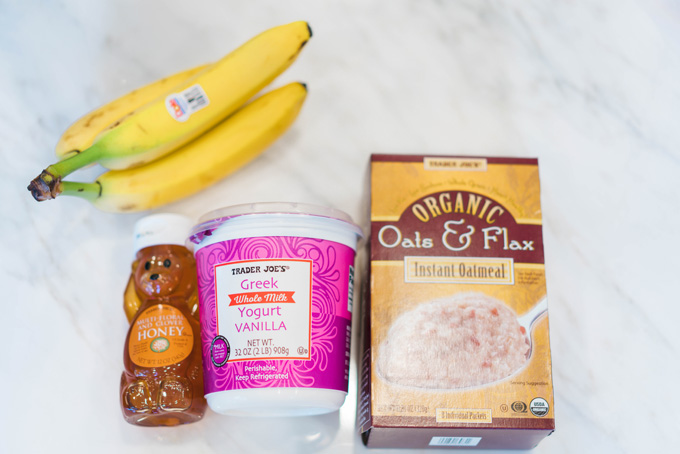 This is what I usually eat everyday for breakfast. This Oats and Flax oatmeal with some Milkadamia milk, chia seeds, and a sprinkle of flaxseeds is my go-to breakfast. I notice the oatmeal with the chia seeds and flaxseeds keeps me full longer and fills me up! I give Kennedy Greek yogurt almost everyday for part of her breakfast and I will usually have some as well. I love mixing mine with some honey and granola.
SHOP THE POST: