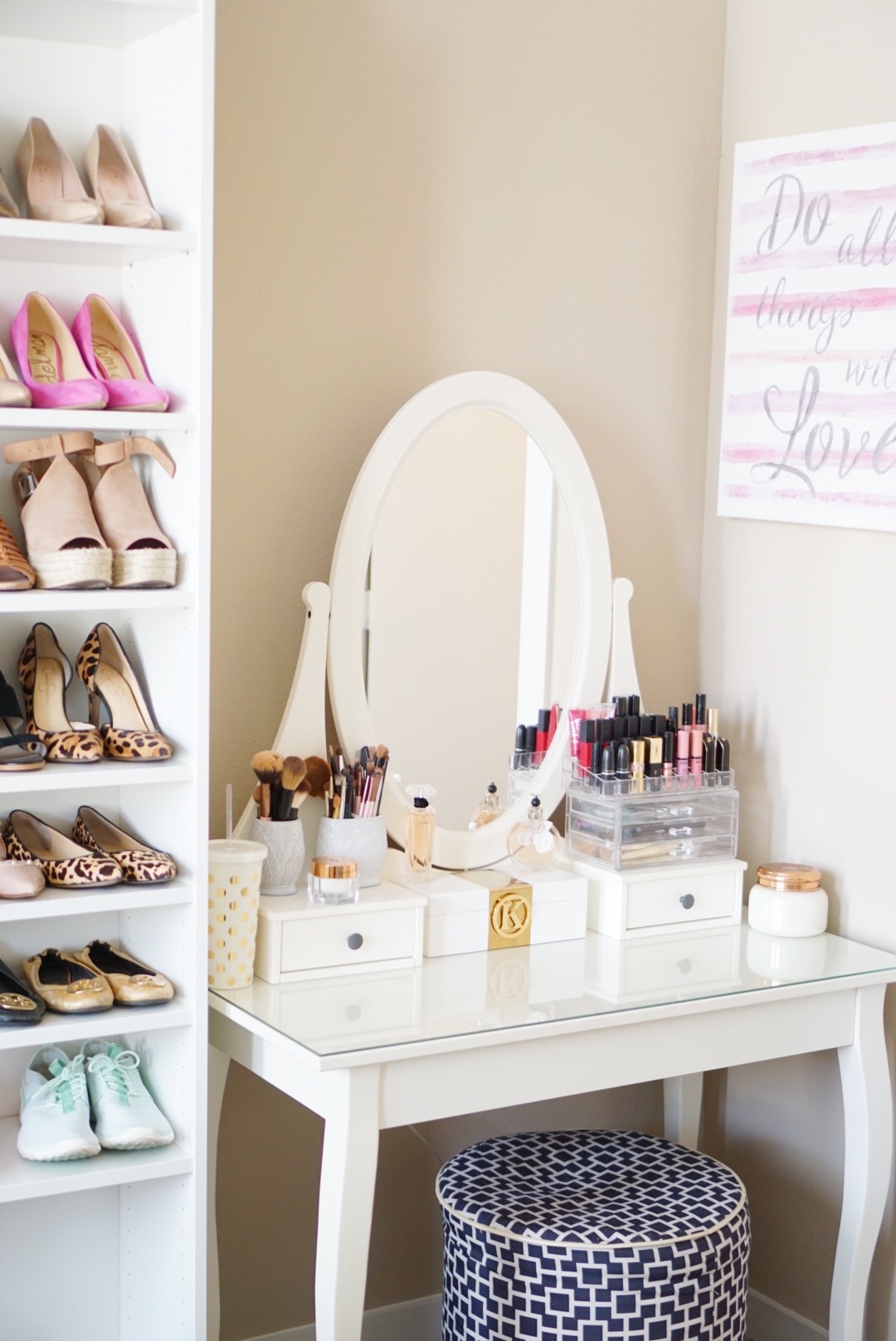 Today I want to share with you what is currently on my vanity and all the makeup I have been using an loving! I am a sucker for makeup and beauty products, and have been obsessed with them since I was a little girl playing with my mom's makeup. Over the years, I have tried SO many different makeup brands and products, and have also found out what I like and don't like. I did acting right out of high school when I turned 18 until 4 years ago. Every job I booked I would always talk with the makeup artists and ask them what products and makeup they themselves loved and used all the time. Some of the products shown below are some of my all time favorites such as the Smashbox "Halo" Powder, MAC lipstick in "Angel," lip liner in "Dervish," and Bobbi Brown pink blush! These are products I have continued to buy over and over again and I absolutely LOVE them. I have found some amazing makeup products lately that I am obsessed with as well. Scroll down to read and see more about them all! XOXO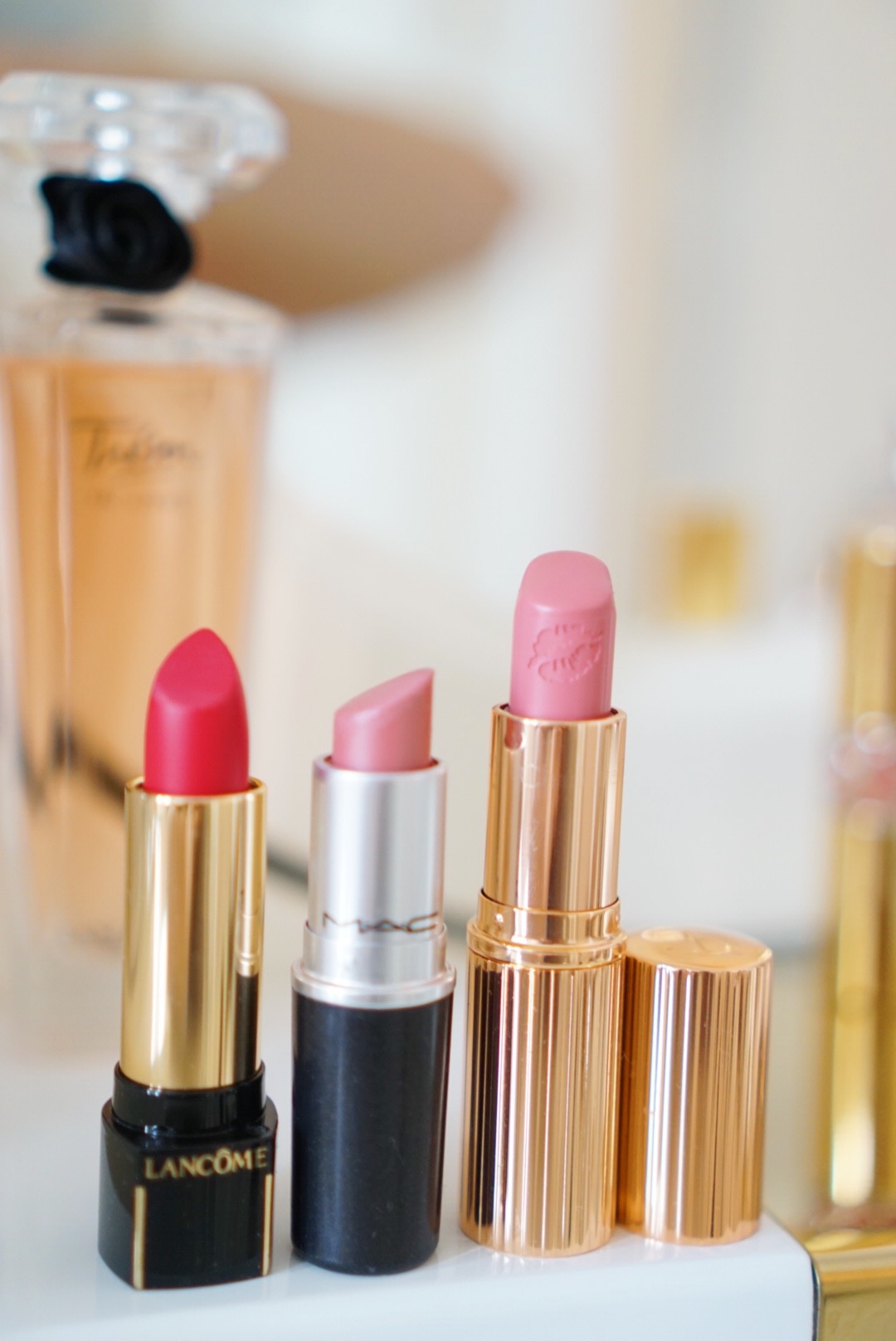 Lancome Lipstick in "Le Sepia" | MAC Lipstick in "Angel" | Charlotte Tilbury Lipstick in "LIV IT UP"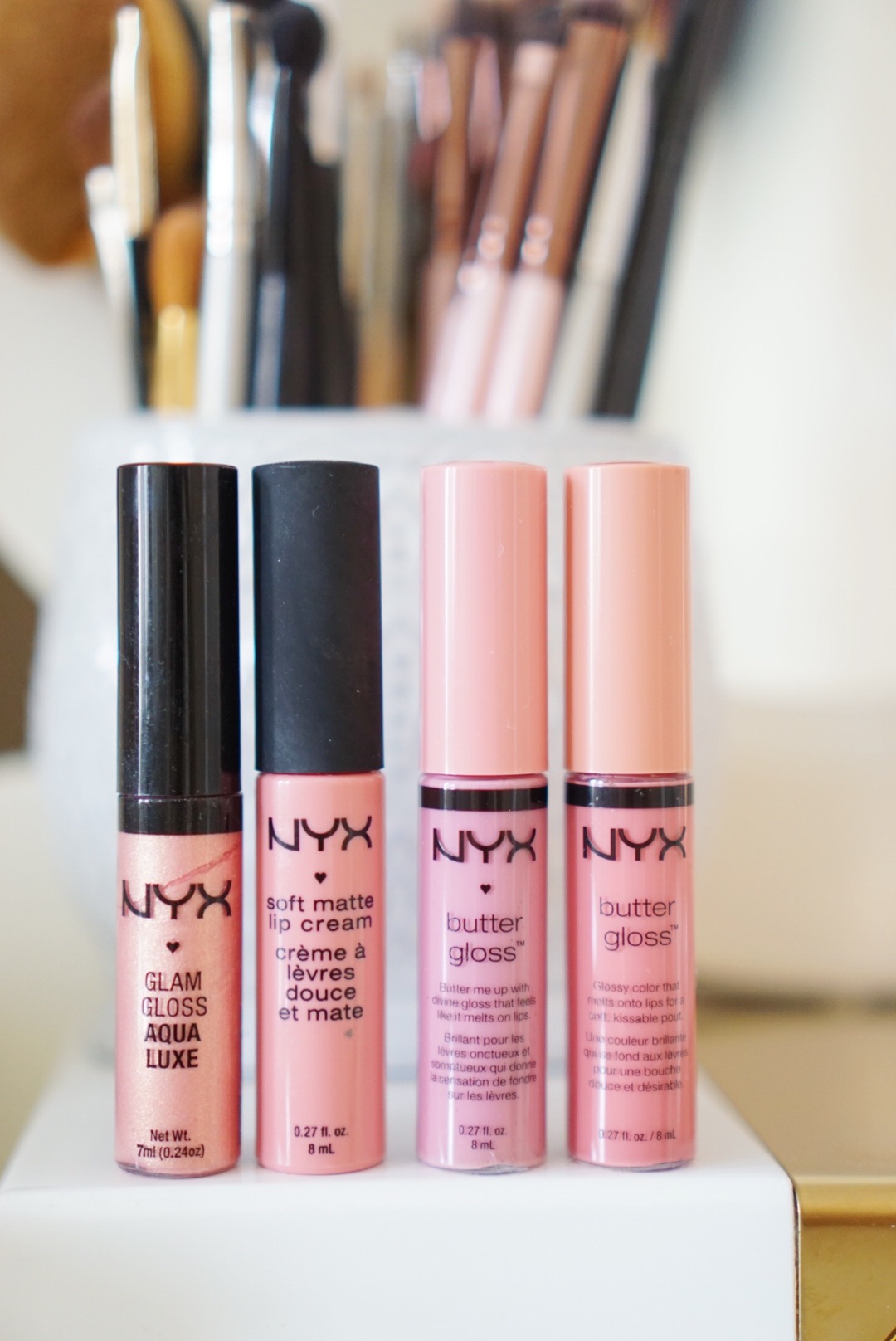 NYX Glam Gloss in "BEAT GOES ON" | NYX Soft Matte Cream in "TOKYO" | NYX Butter Gloss in "GLOSS ECLAIR" | NYX Butter Gloss in "CREME BRULEE"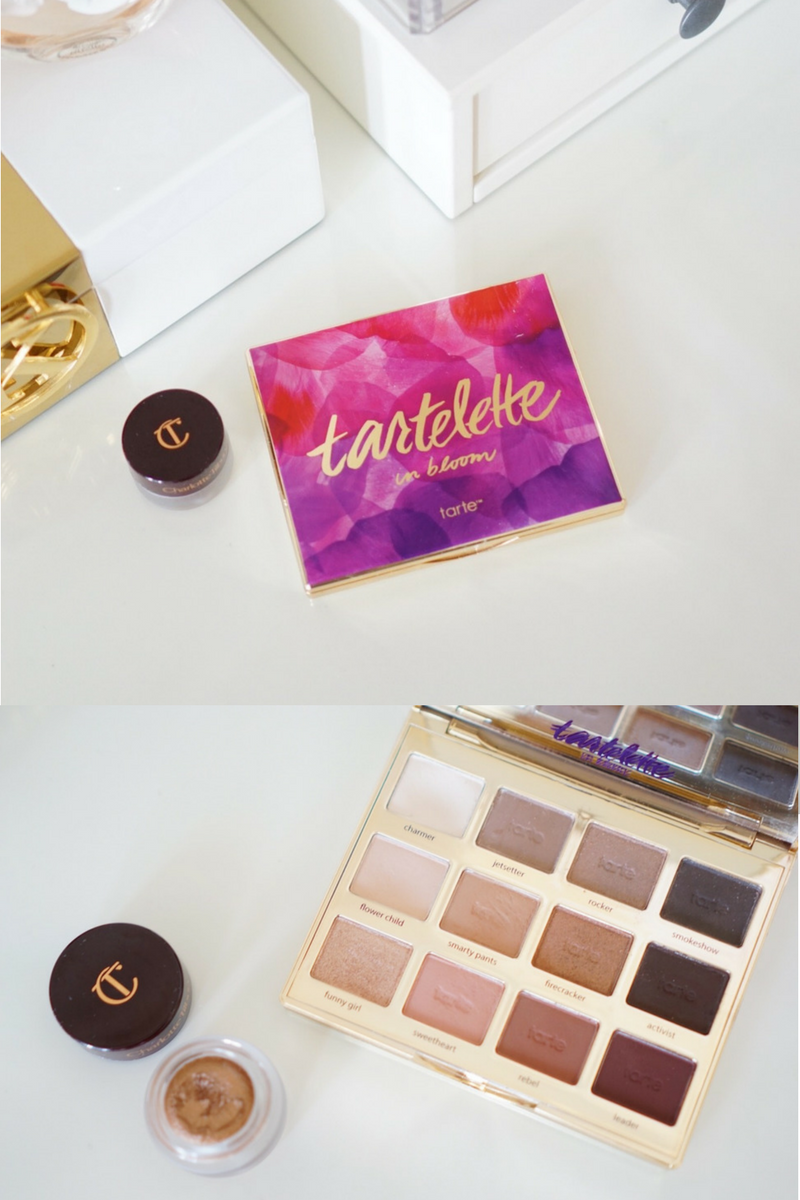 This is my NEW favorite eyeshadow palate!!! It has all the colors I need for everyday and darker ones to take it to an evening look. I also love this Charlotte Tilbury cream eyeshadow pot in "BETTE". It is the perfect gold shadow, and makes your eyes really pop!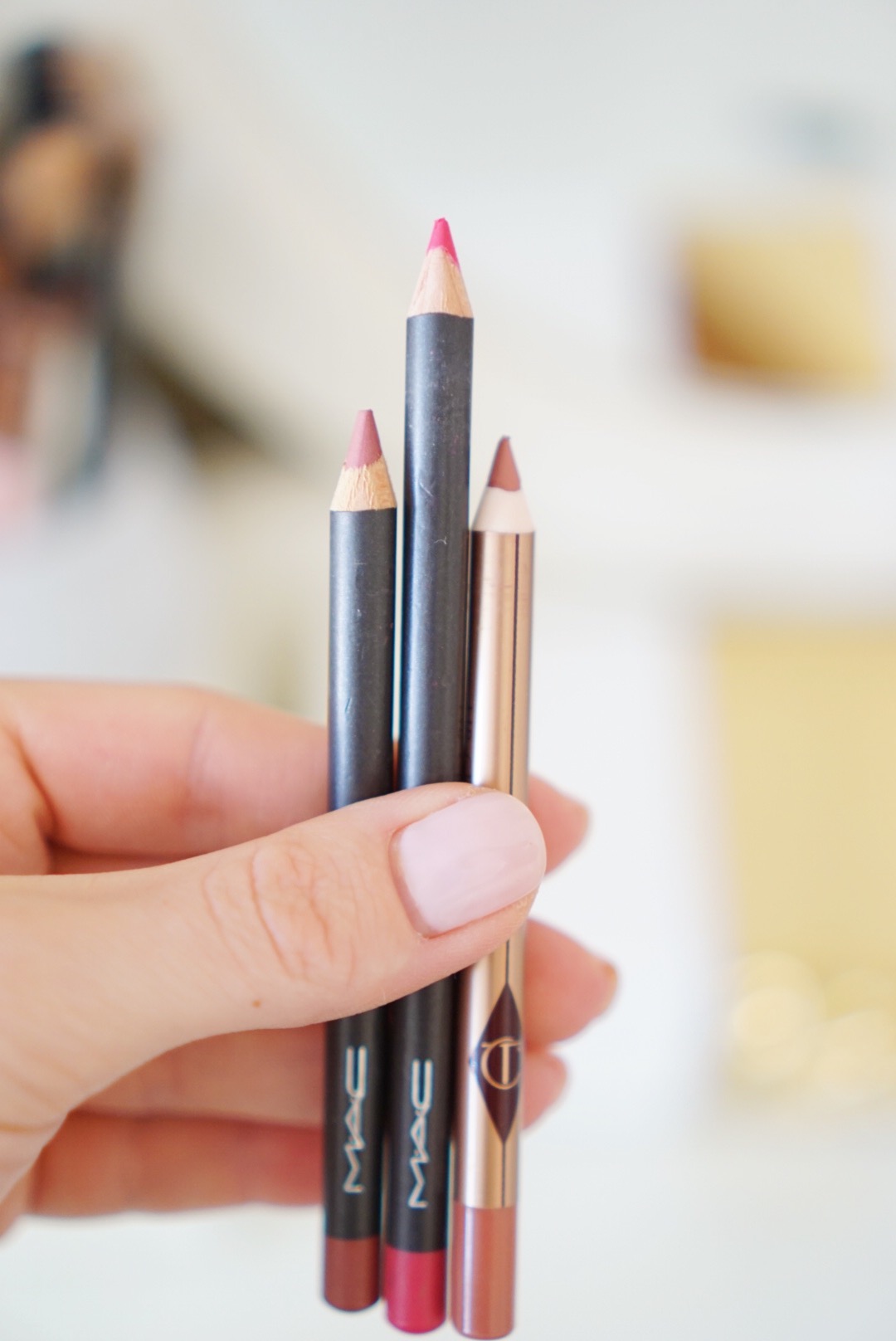 The best lip liners I have found! They are all pinks ranging from natural/brownish pink, bright pink and soft/nude pink!
Mac Lip Liner in "DERVISH" | Mac Lip Liner in "TALKING POINTS" | Charlotte Tilbury Lip Liner in "ICONIC NUDE"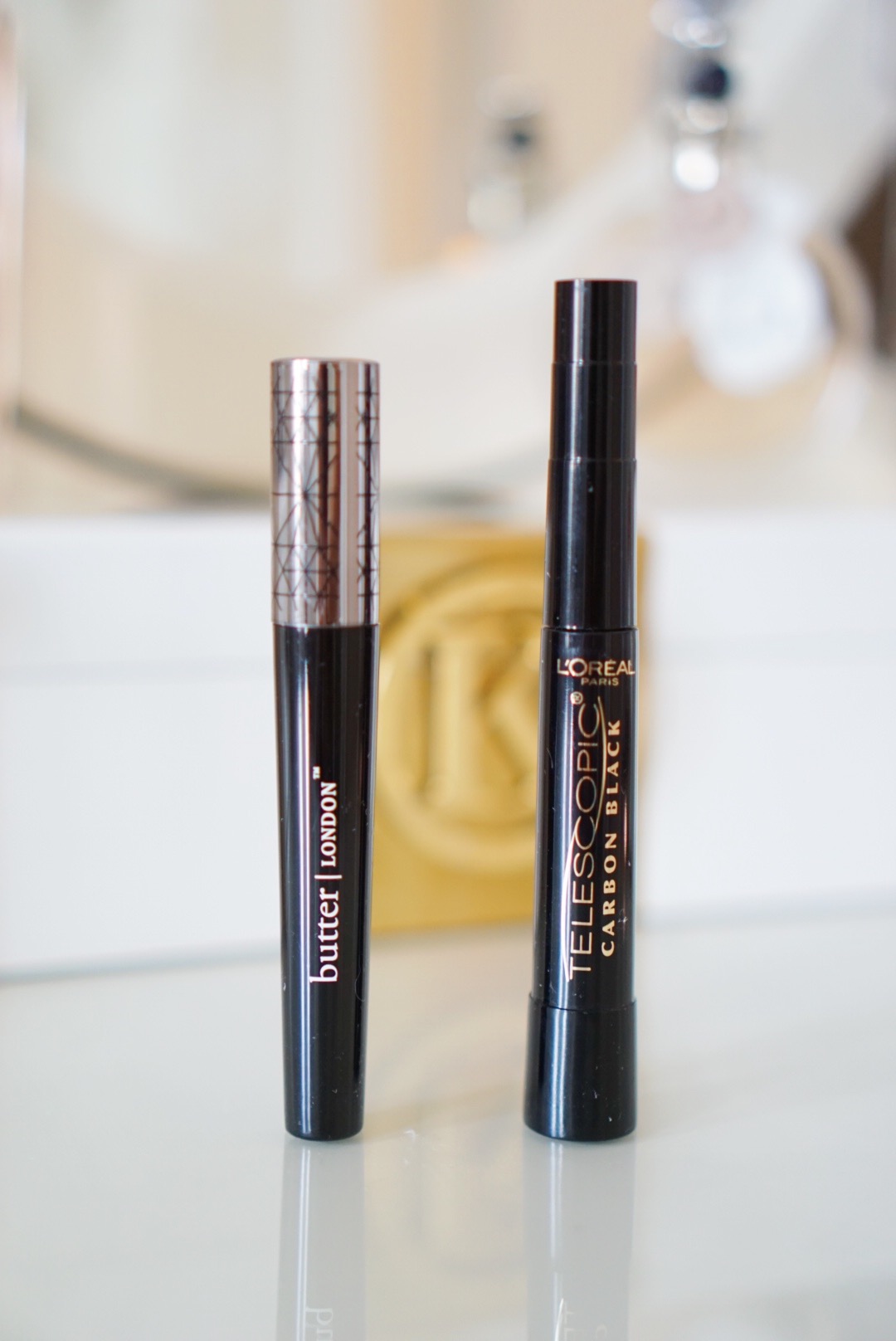 These are two amazing mascaras that I use and LOVE. The L'Oreal Telescopic Mascara is comparable to mostly all the department store ones I have tried and it is really inexpensive. It easily coats every lash and makes them really dark too!!! I love the Butter London mascara, but if I had to stick with one forever it would be the Telescopic!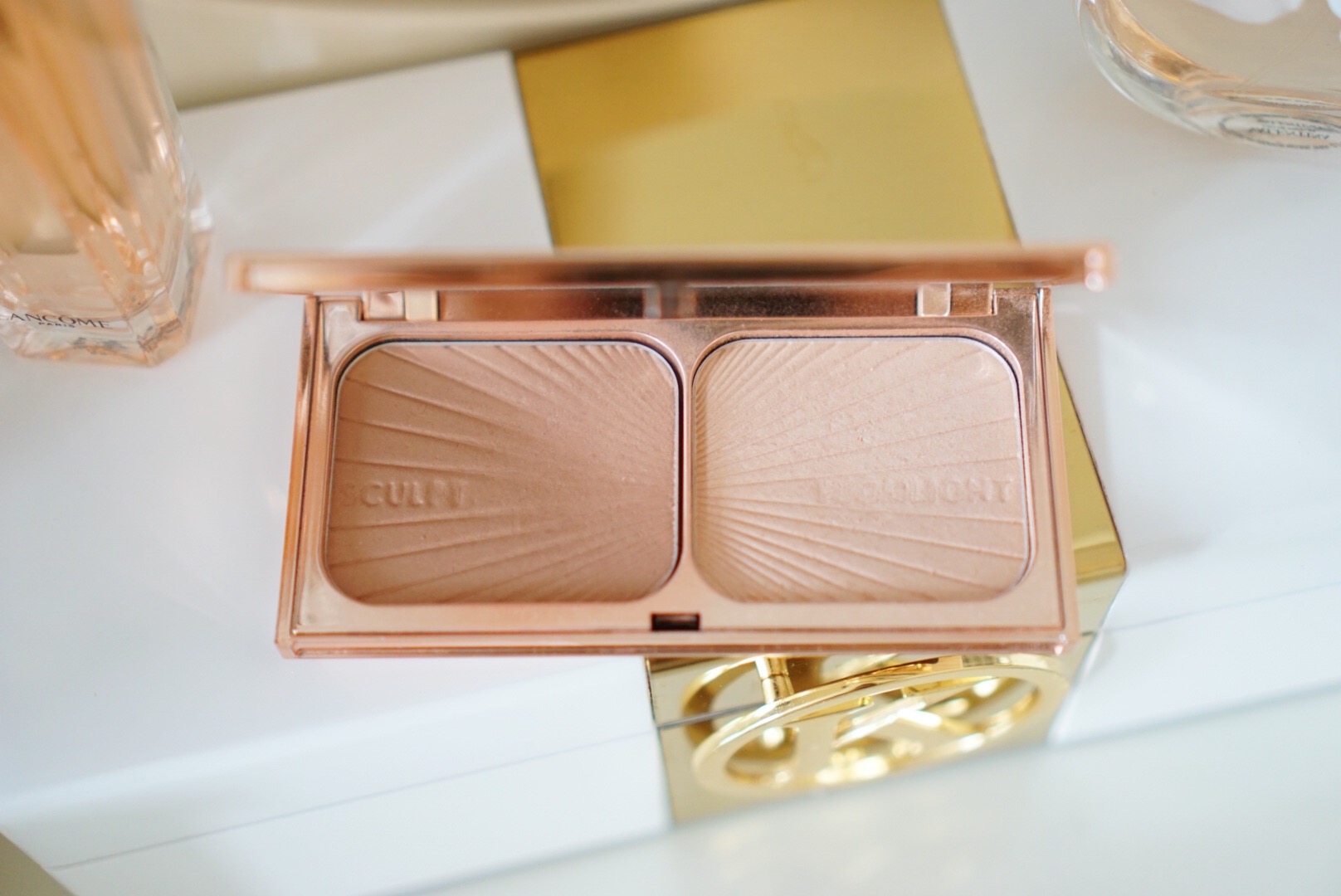 The best Bronzer and Highlighter Duo from Charlotte Tilbury! I use the bronzer everyday to contour my cheeks and the rest of my face, and the highlighter down the bridge of my nose and on my cheeks. I love how subtle and natural they both look when applied, yet they do the job well!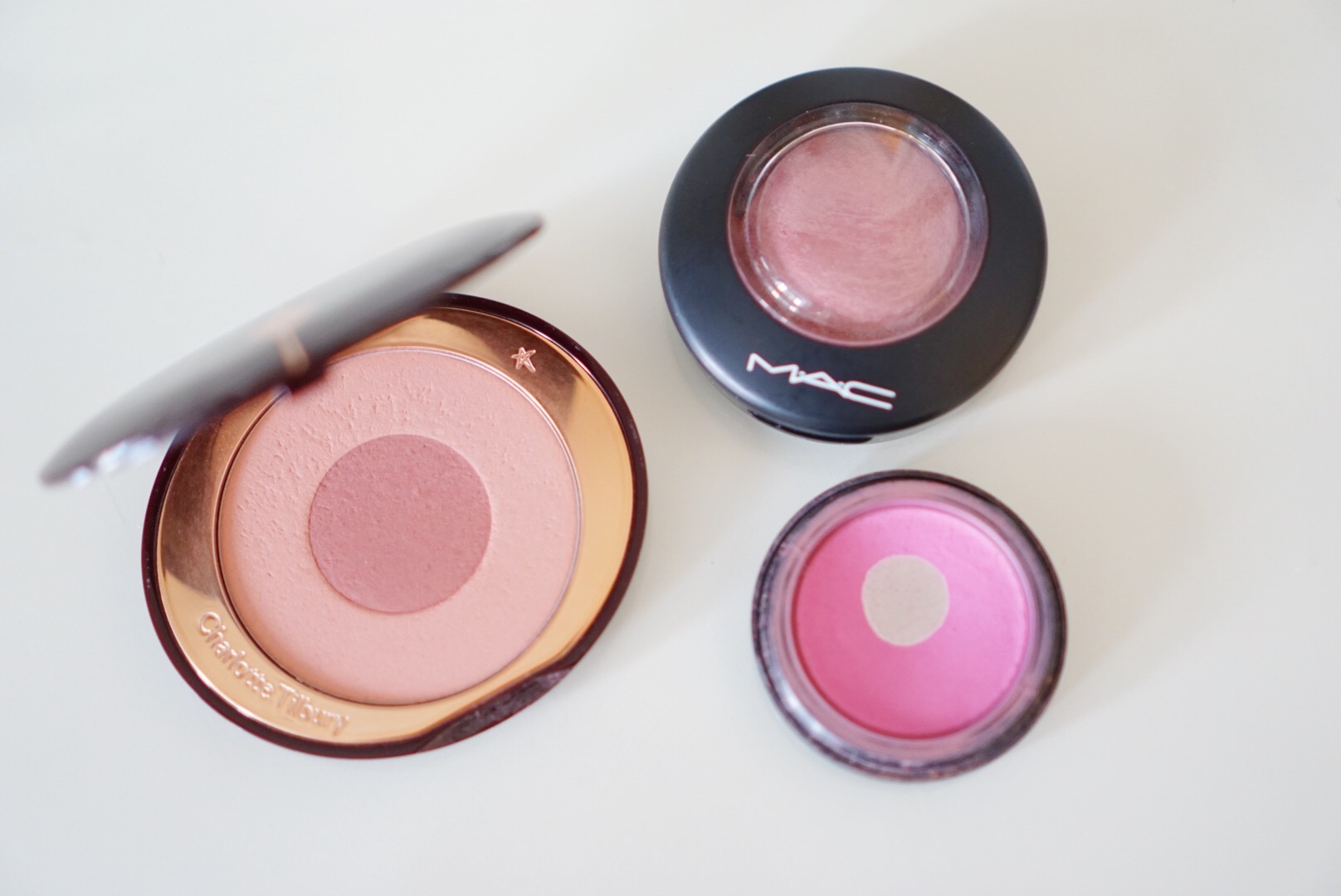 I am a blush fan and think blush really does tie together a whole makeup look. I love playing with different blush shades and these three are all my favs! The Charlotte Tilbury Cheek to Cheek blush in "SEX ON FIRE" is great for a natural, everyday look. I love MAC mineralize blush in "GENTLE" for daytime and also evening as well. Lastly, my staple blush I will always love and use for an angelic or put together look is Bobbi Brown in "PALE PINK"!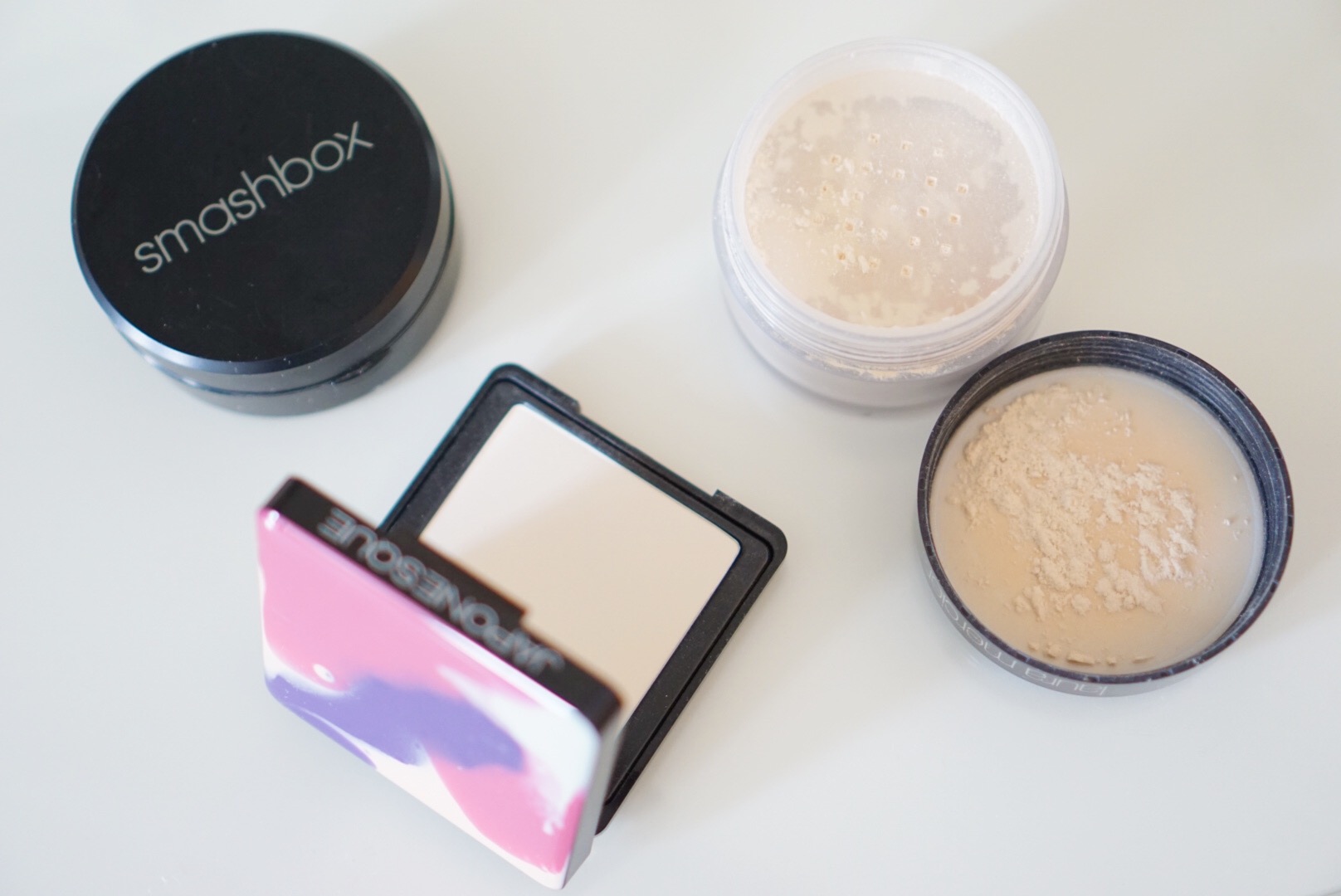 There are three different powders I use for different reasons. First, the pressed powder I use to set my under-eye counselor and before I apply my eyeshadow. The loose setting powder is translucent and I always have to set my foundation right after I apply it. Then, I will apply my blush, bronzer, etc. on top of that! This translucent powder leaves no color behind and leaves my foundation with a velvety, soft finish and look. My skin gets oily throughout the day, and this definitely helps a lot to prevent it from getting oily! The Smashbox Halo Powder is great for touch ups throughout the day or if you just want a light powder for on-the-go and don't feel like applying foundation. It hydrates your skin and leaves it covered without it looking caked on.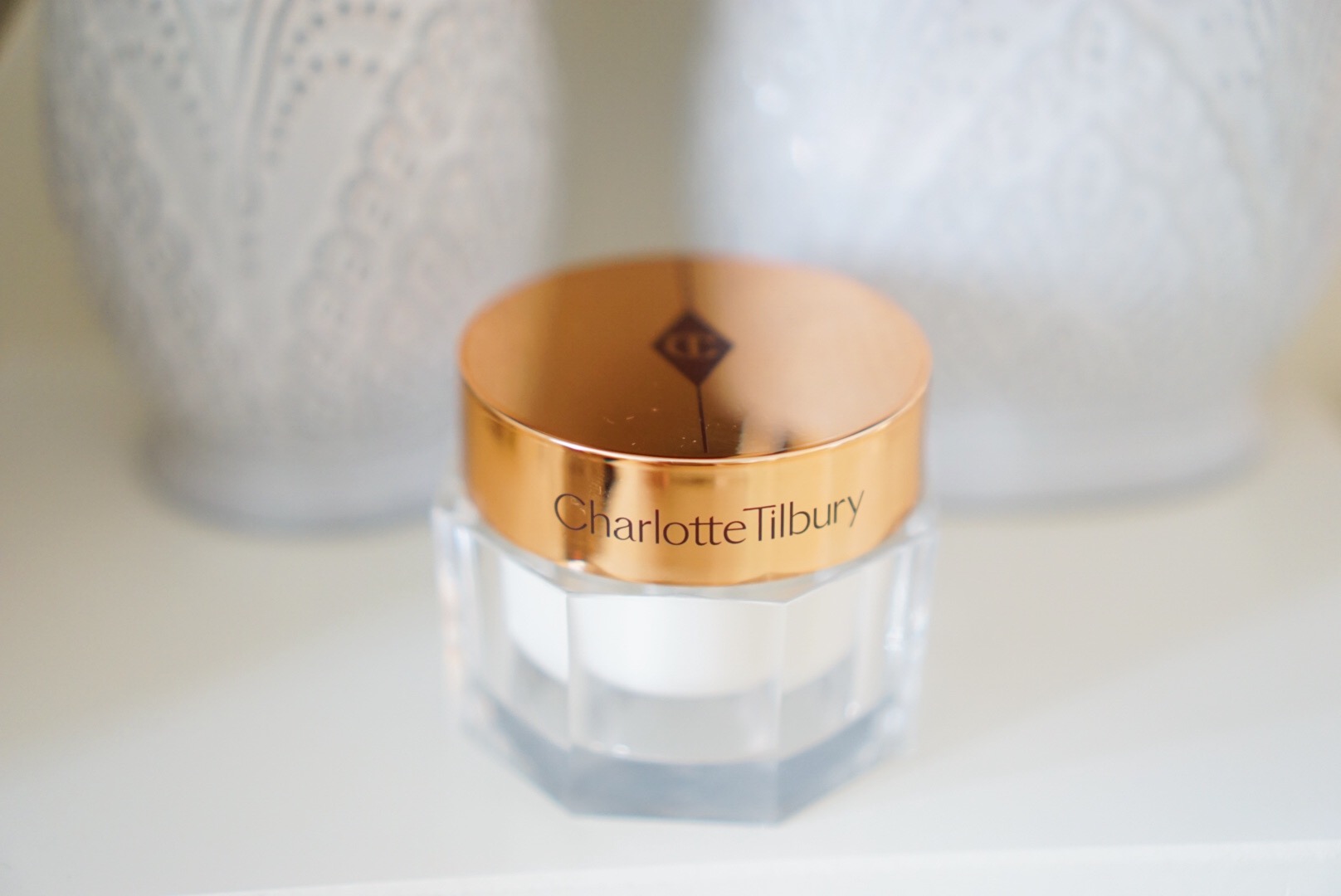 The makeup artist Charlotte Tilbury is known for doing the makeup for all the supermodels and Victoria Secret models. She started using this Magic Cream on all her clients and backstage years ago. She finally started her own makeup line, and started selling this "magic cream" for everyone to have! I know it is a bit on the pricey side, but I have LOVED the results after using this on my skin. I use massage it into my skin before I apply my foundation and primer. It has totally transformed the look and feel of my skin, and makes my makeup go on so smooth. It also doesn't make my face look oily and greasy which is important for me! I highly recommend this every day cream for anyone looking for an amazing skin care product that will help your makeup look better!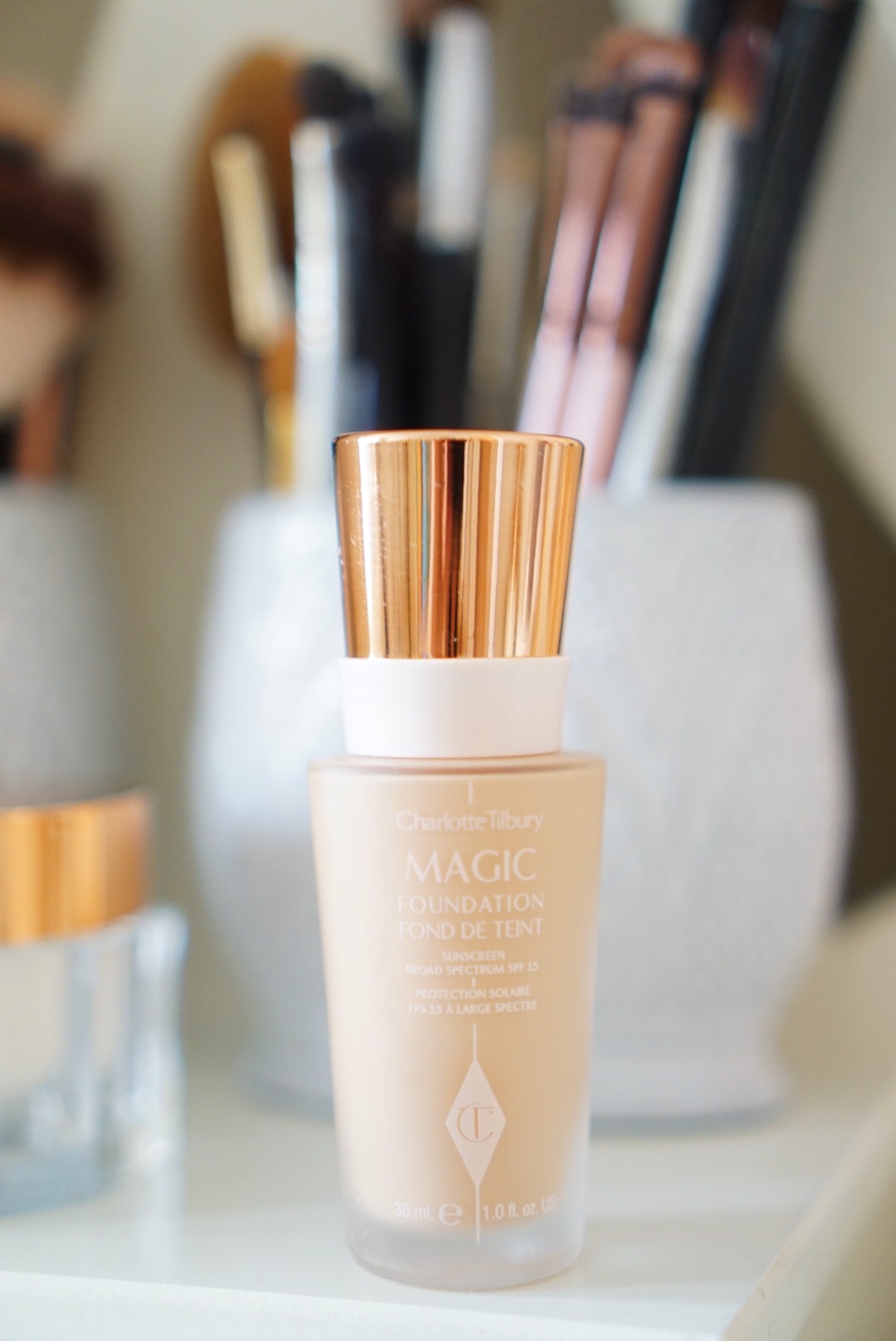 I got a sample of this Magic Foundation a couple months ago and have loved it since. I like how it has SPF 15 already in it, and the medium coverage which is build-able is so amazing. I wear the color "4" and it matches perfect with my skin. If you are debating which shade to get, I would actually go a shade lighter than you think, and just use bronzer and blush to add more color to your face!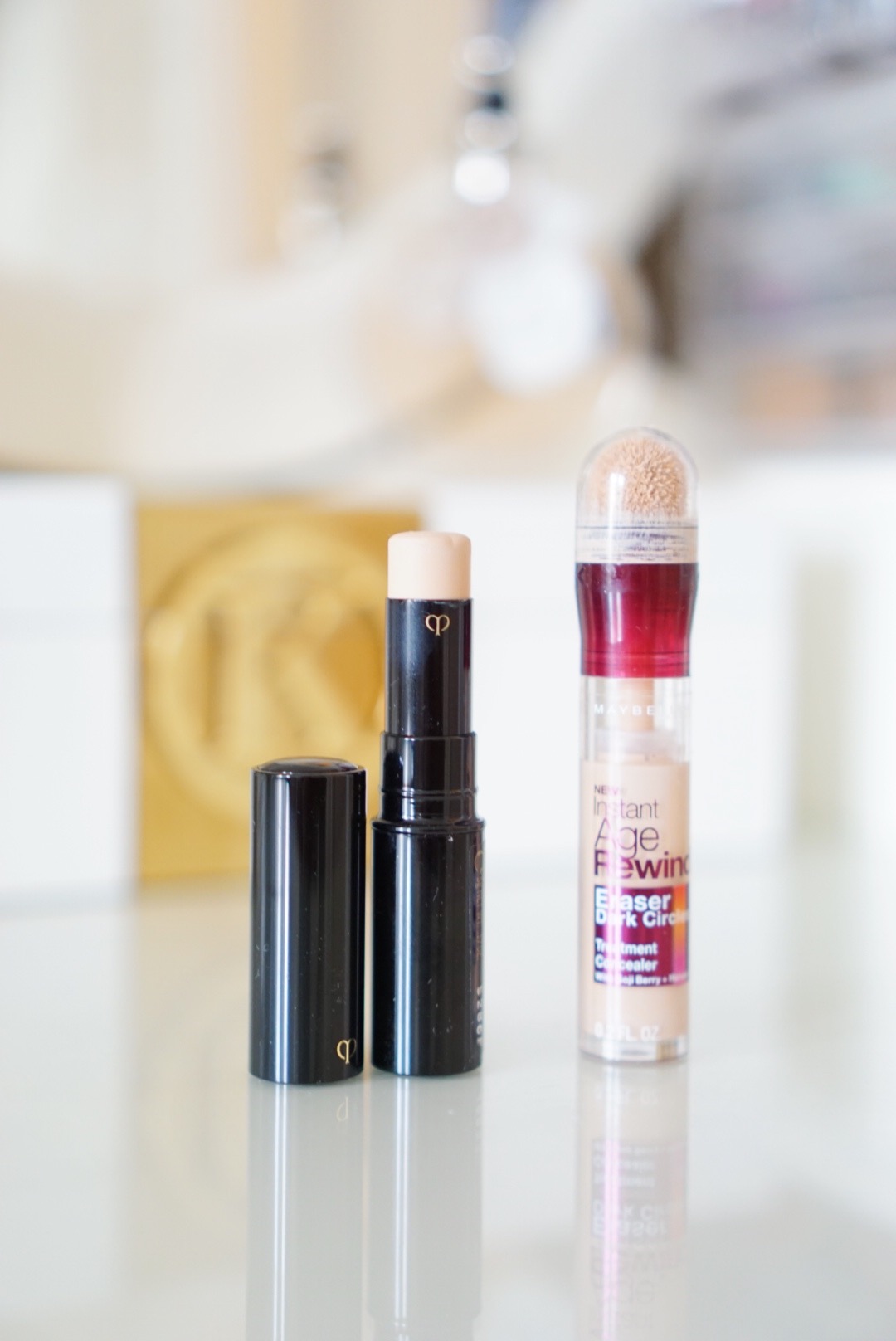 The concealor on the left is Cle de Peau and the one of the right is from the drugstore and is Maybelline Instant Age Rewind. Both work amazing and cover dark circles, pimples and anything else great!!! I love the feel and coverage the Cle de Peu gives, and the color also matches perfectly! The Instant Age Rewind is so easy to apply because of the twist and tap on applicator. The coverage and color are amazing as well! Both of these I highly recommend.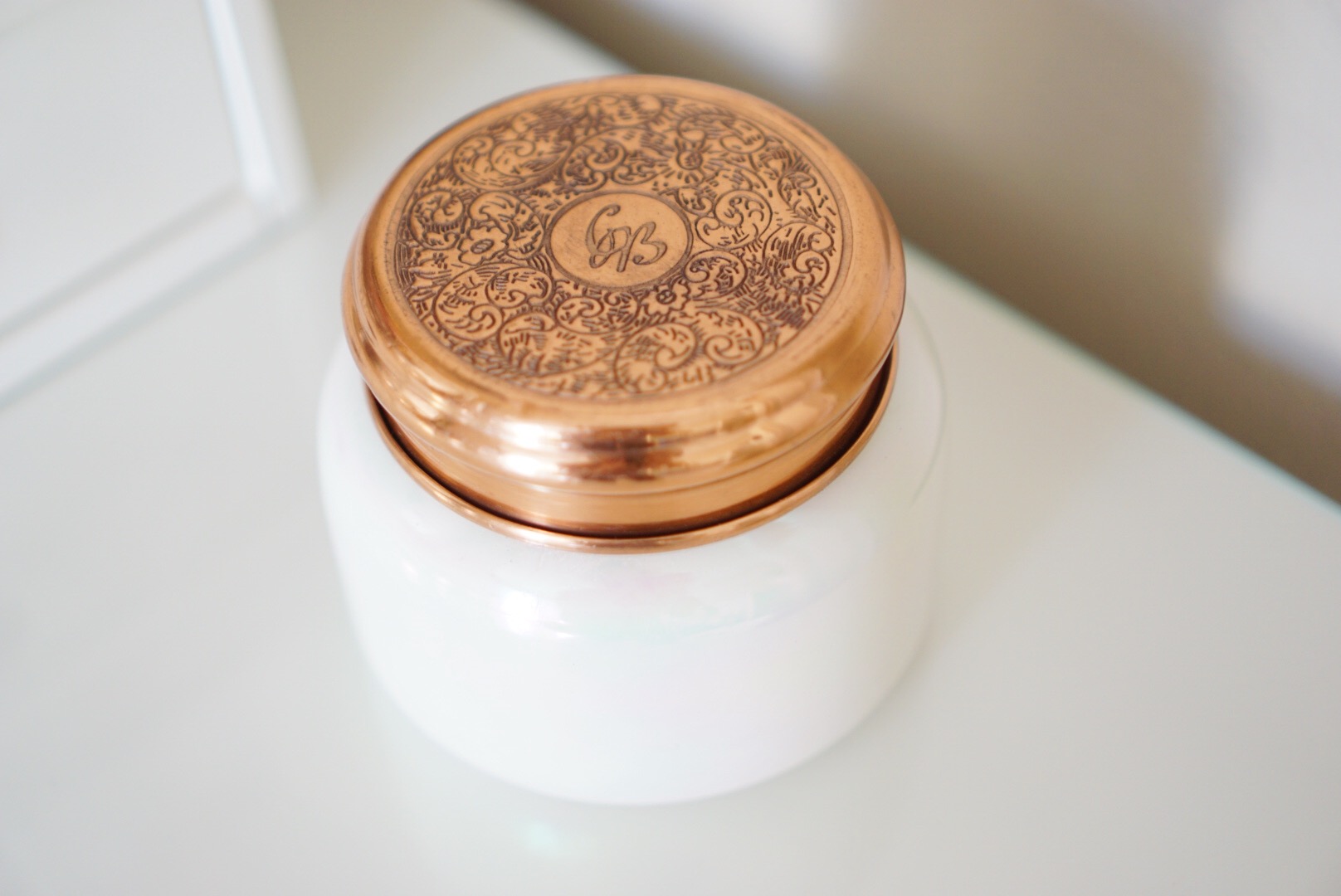 This candle I get almost monthly smells SOOO heavenly and amazing. It makes our home smell so good and I'm obsessed with the scent! Trust me- its a must have!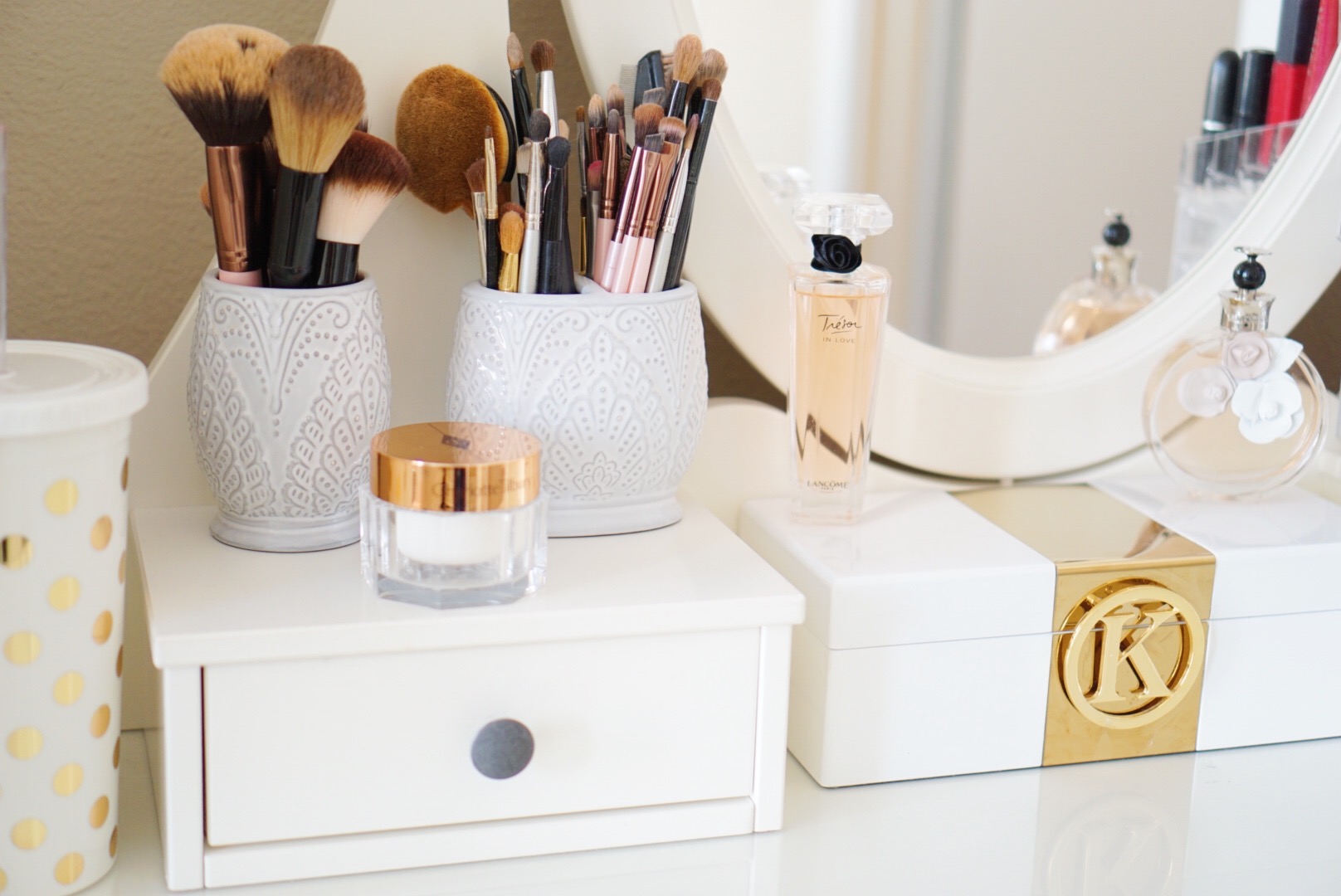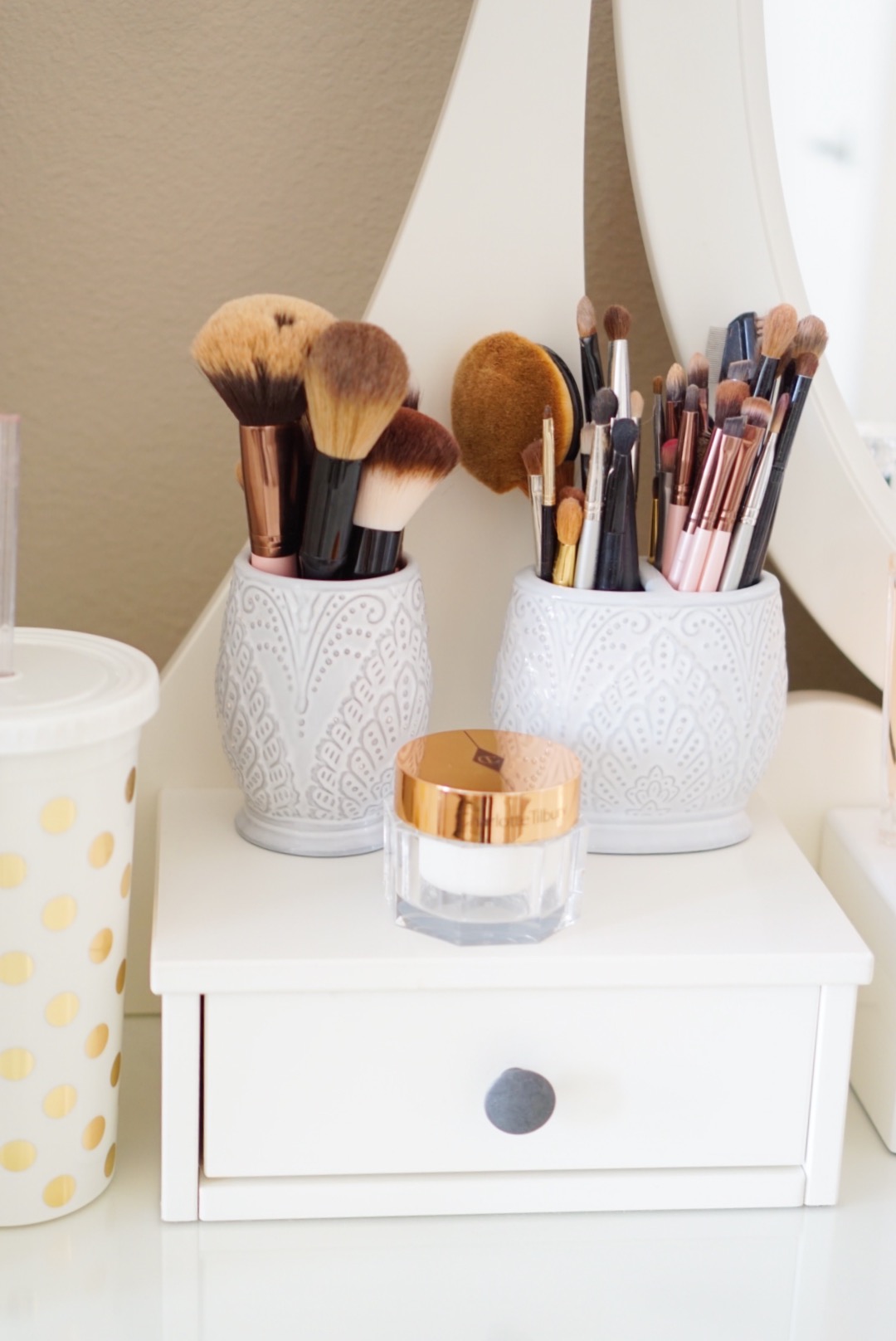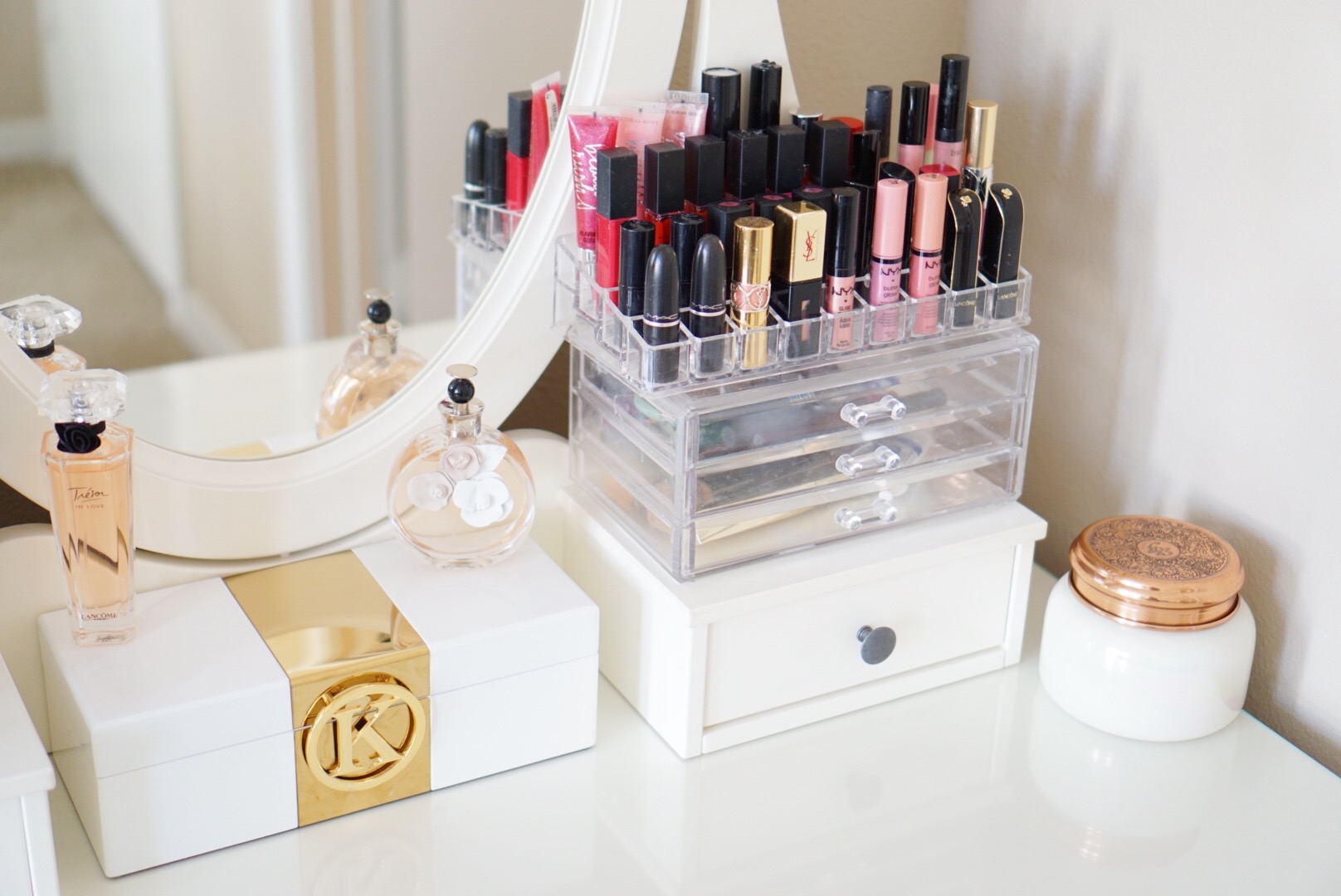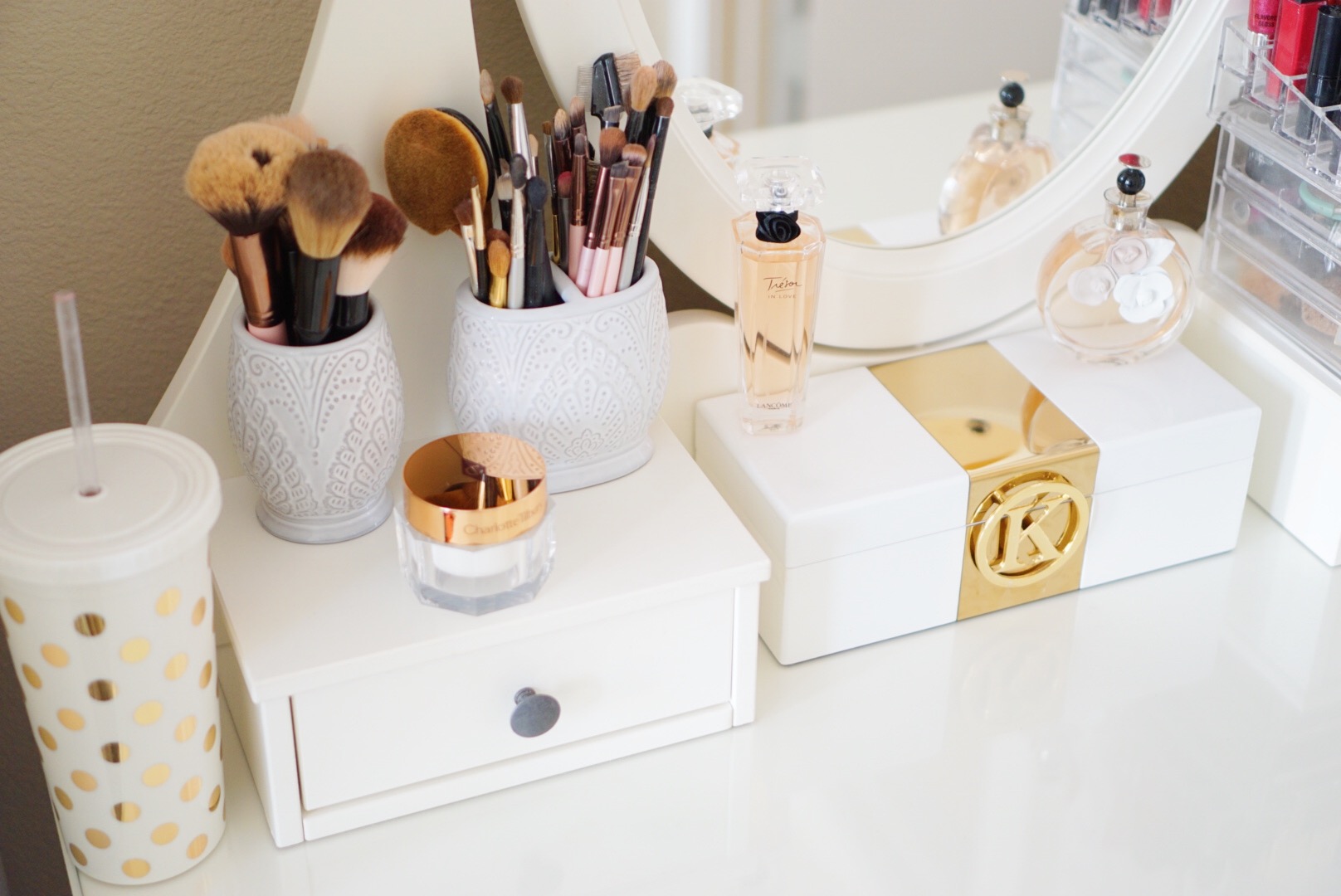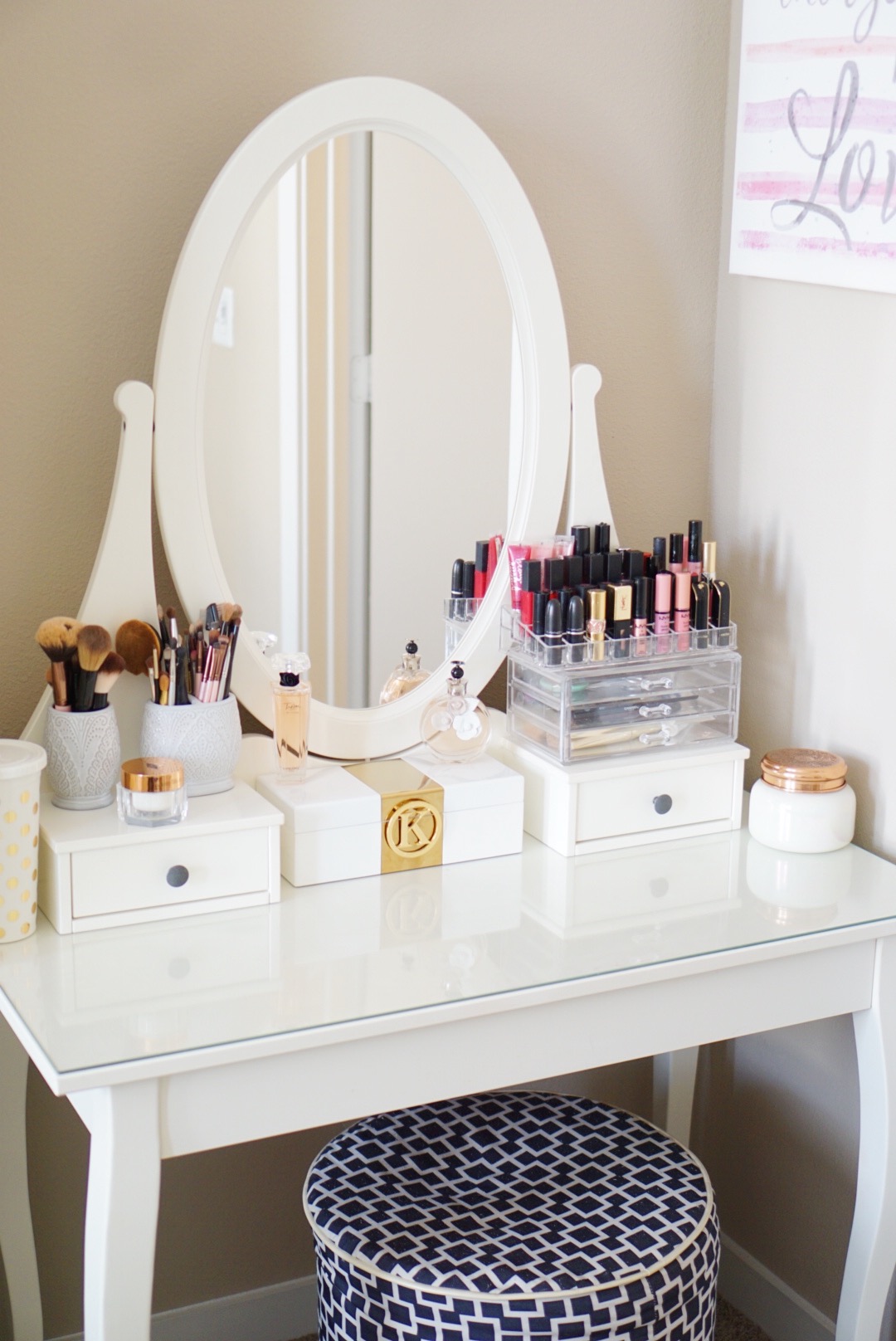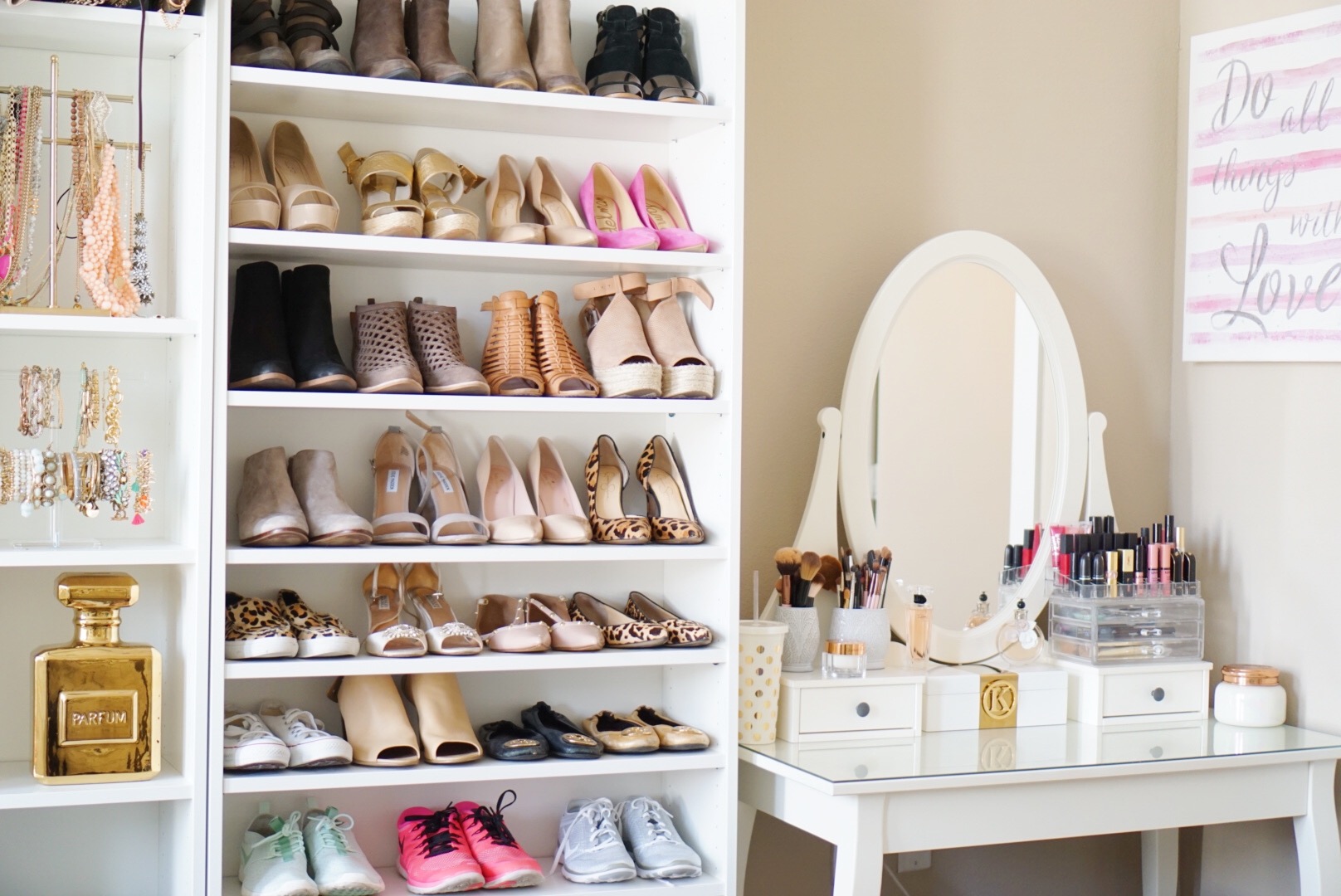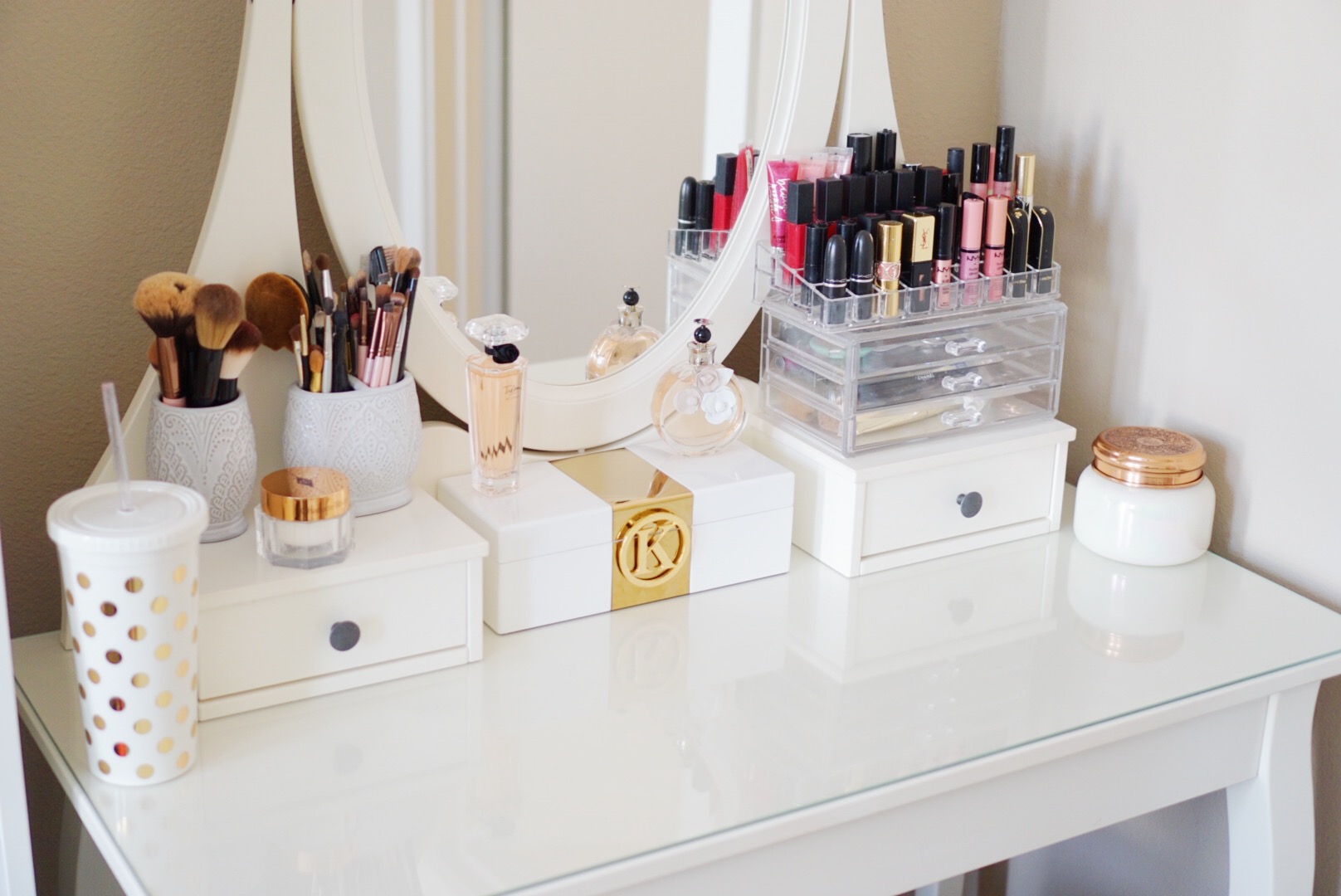 VANITY- IKEA (SIMILAR HERE + HERE) | PUFF- TARGET (ALSO LOVE THIS ONE) | MAKEUP BRUSHES + HERE | POLKA DOT TUMBLER | LETTER JEWELRY BOX | LIPSTICK HOLDER | ACRILIC MAKEUP DRAWERS | WHITE BOOKSHELVES- IKEA (SIMILAR HERE + HERE) | GOLD PERFUME BOTTLE | 3 TIERD JEWLRY HOLDER | ARILIC JEWERLY HOLDER | PAINTING- HOME GOODS