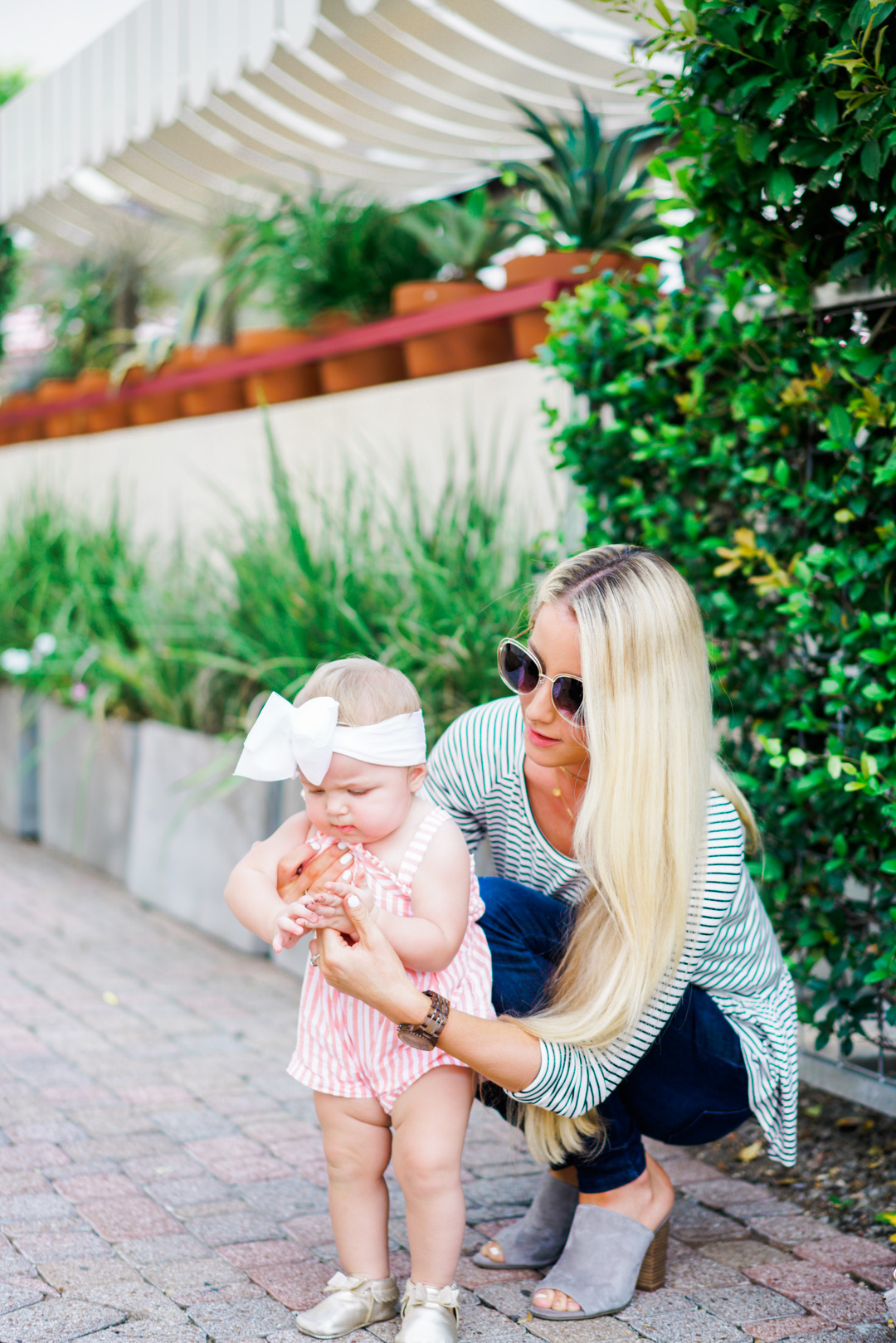 As a busy and active mom, I love wearing watches with outfits. It is handy to have a watch on me without hauling around an iphone and a baby everywhere! This JORD watch I got is so stylish and perfect with almost every outfit I wear throughout the week…
(CLICK "READ THE POST" TO SEE FULL POST!)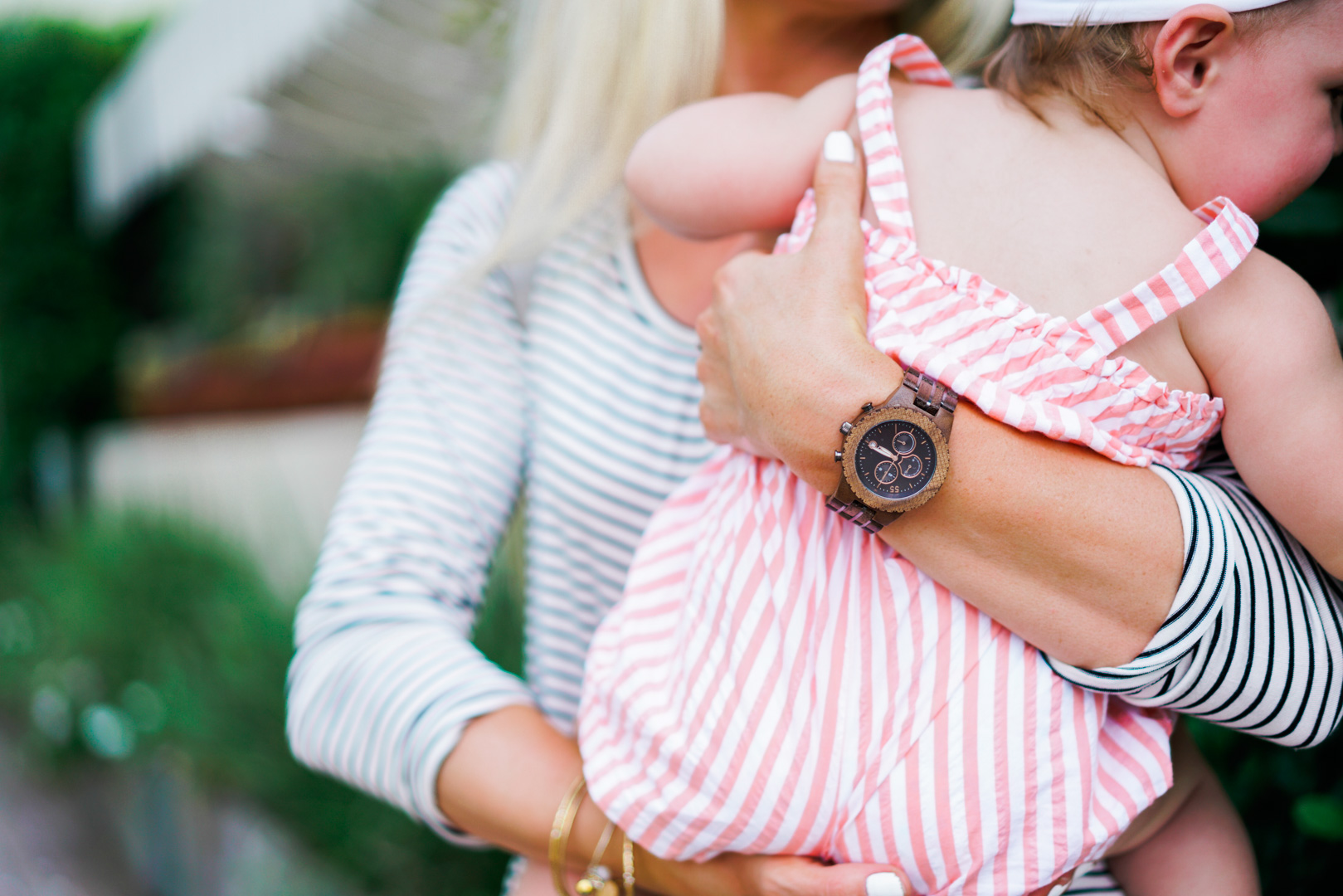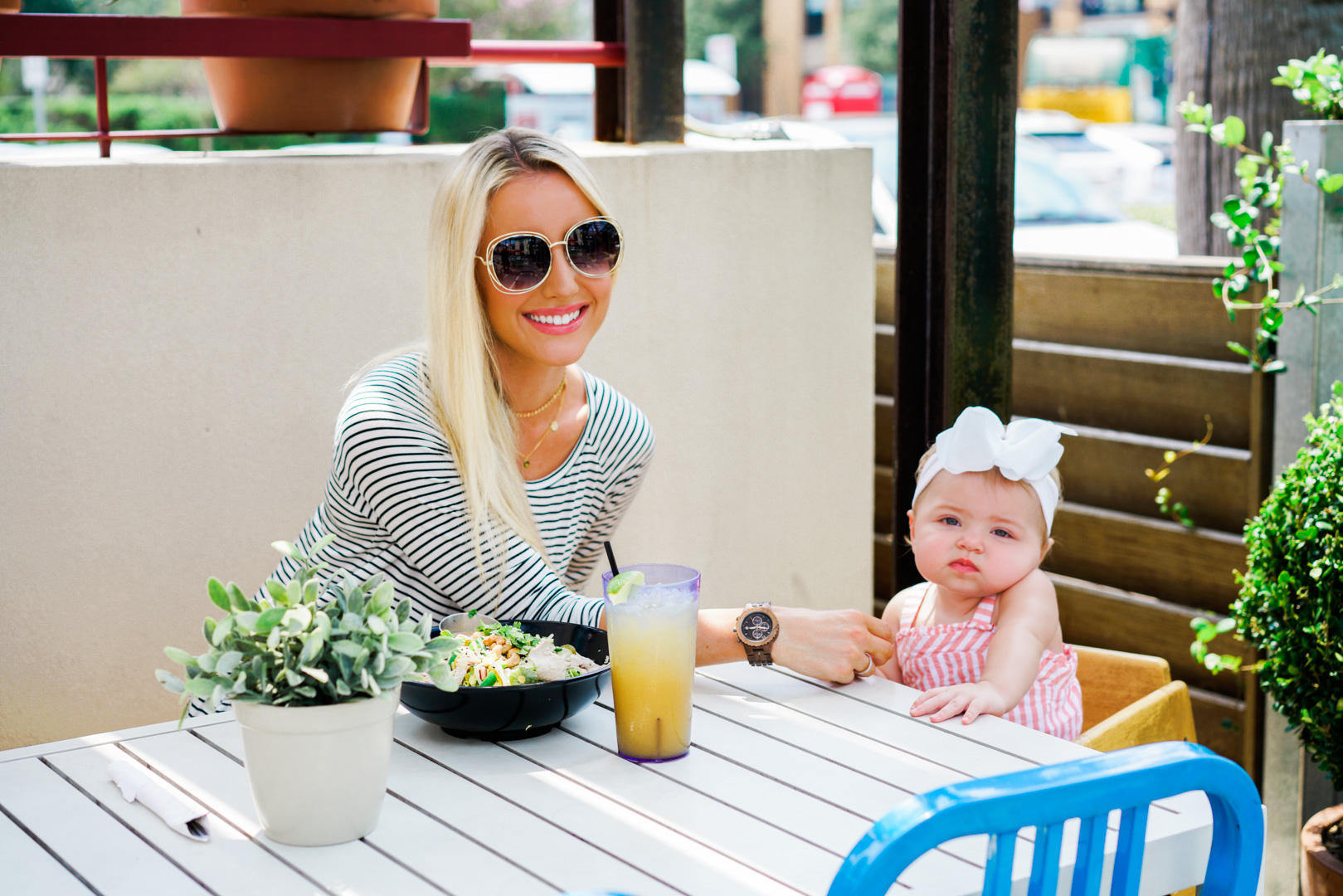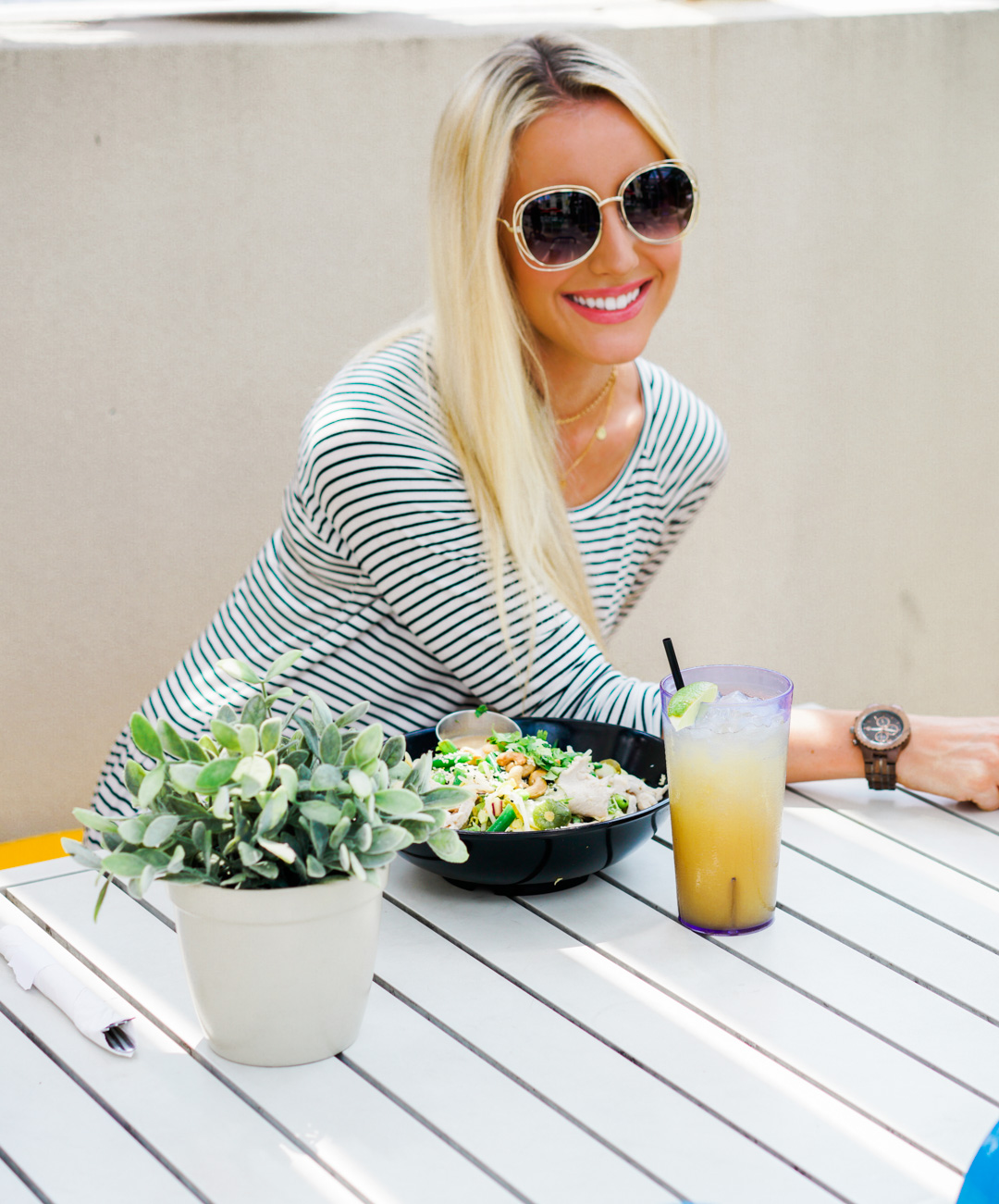 JORD WATCH // STRIPED SHIRT (short sleeve version) //  JEANS // NECKLACES // SUNGLASSES // HEELS // DIAPER BAG // KENNEDY'S OUTFIT- Osh Kosh Kids (TARGET) // WHITE BOW // MOCCS
My sweet baby girl Kennedy is almost a one year old! This is her last week of being a baby and will be one this Thursday September 21st! I am trying to soak up every moment and day with her this week. We had a mommy daughter lunch date at one of our favorite spots here in Houston called Local Foods. We also went to her Little Gym class this morning which is like a mommy and me play class with gymnastics mixed in! This last week of Kennedy being a baby has been so much fun!
I am going to do some last minute shopping and errands today, but want to soak in every minute with her today and tonight. I am tearing up writing this now. I will probably cry when I rock her and feed her a bottle on her last night of being my baby. She will forever be my baby girl, but I wish time would stand still for just a moment longer.
Now that she is older, I love going out with Kennedy and being silly with her everywhere we go. Kennedy's personality is really silly and she already does things on purpose to make us laugh! She then will laugh super hard in the cutest high pitched baby laugh!

I think she tries to make us laugh more than we do- and that is a lot! Haha She loves making new friends with strangers and will flash a smile and a wave to anyone who makes eye contact with her. Kennedy is also very active, social and loves exploring EVERYTHING!! It's so hard to get her to sit still nowadays. I guess this is my welcome into toddlerhood! I have made it a new goal to be more present with Kennedy and make every moment count when we are together. I am with her all day long, because besides blogging I am a stay-at-home mom. Sometimes, it is easy to spend our time trying to get things done, get some cleaning done here and there, run errands, and sometimes the whole day can pass before I realize I didn't really sit and soak in the moments together! People told me when I was pregnant with Kennedy that time will fly, and they will be big kids before you know it. It sounds cheesy, but it really is SO true. Make the moments in the short time you have count with your little one. You can never get those moments and time back.
"The value of a watch is not in being able to tell how much time has passed, but in being aware of the need to make that time count. Moments are bigger than minutes and your watch should tell more than time."
As a busy and active mom, I love wearing watches with outfits. It is handy to have a watch on me without hauling around an iphone and a baby everywhere! This JORD watch I got is so stylish and perfect with almost every outfit I wear throughout the week. I have the lighter wood version which I wear all the time as well! I love JORD's timeless style and effortless cool designs. They have a very hip and almost beachy feel to their wood watches! Their watch's have a modern, craftsman design and make watches for men and women, which I love! I also have given JORD watches to my family for Christmas and they love them. They are affordable yet are amazing quality! These watches would make the perfect gift for dad, mom, husband, son-in-law or brother!
I am also teaming up with JORD for an awesome Giveaway of $100 E-Gift Card!!! Entry into the Giveaway is super easy. All you have to do to enter some info about yourself and say what your favorite JORD watch is! You can enter by clicking this link here:
https://www.jordwatches.com/g/katelynpjones
*The giveaway will close September 24th at 11:59pm. As a reminder, winner receives $100 E Gift Code. Second place will receive a $25 E Gift Code. The $100 and $25 Gift Codes will expire October 31st, 2017.
*This post was sponsored by JORD