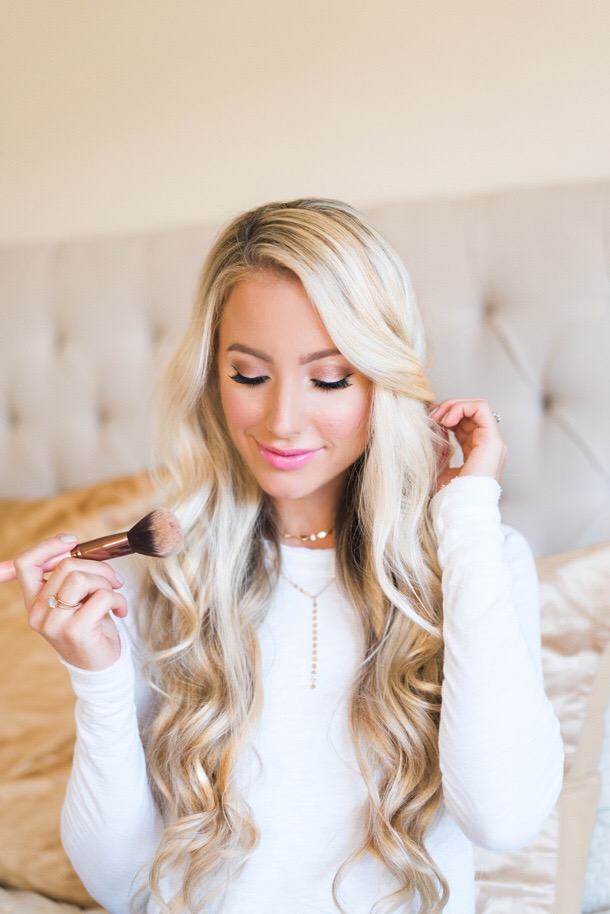 EYE SHADOW here + here | LIPSTICK | LIP GLOSS | MASCARA | FOUNDATION | POWDER | NECKLACE | HEADBOARD | WHITE SHIRT | JEANS | THROW BLANKET | PINK FLUFFY RUG | MAKEUP BRUSHES
Sharing my all time favorite makeup products from Nordstrom that I use for all my makeup looks today on the blog…
SHOP THE POST:

Ever since I was in high school, I have loved everything beauty- hair, makeup, etc. I would always go to the beauty counters at Nordstrom and ask the sales people to help me find the perfect match for foundation or the perfect pink lip gloss! I have always gone to Nordstrom for my high school dances, to get my makeup for my wedding day, and for all my staples I use everyday. Okay not everyday, but most of these are all products I have used for a while now and LOVE.
They are always so helpful and knowledgeable about what foundation is best for your skin tone or what eye shadows look best with your eye color. I tested out some new makeup products from the Charlotte Tilbury makeup counter a few months back, and the girl was SO helpful. I heard of Charlotte Tilbury from the Victoria's Secret Fashion show and knew I had to try it out!
I wanted to share with you some of my Nordstrom makeup staples I use and all the makeup I have been loving from Charlotte Tilbury as well! They are all products I use for all my makeup looks you see on my IG and Blog! I have gotten SO many request and DMs about what makeup I use for my photos and what the colors are, so I have listed everything below!
If you have any questions about anything or how I apply it, please shoot me an email (katelyn@atouchofpinkblog.com) or comment below! XOXO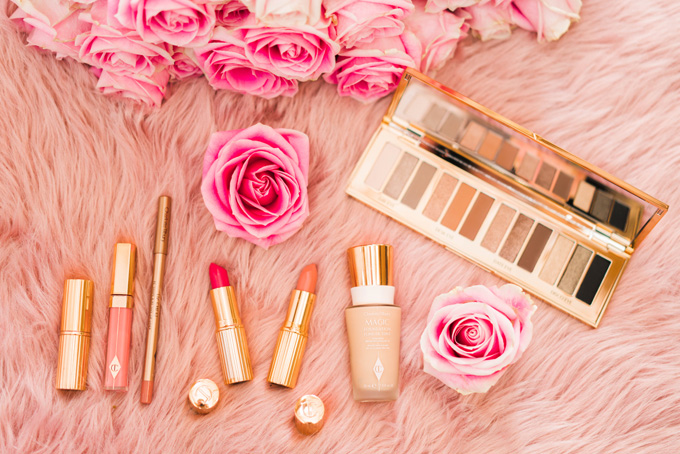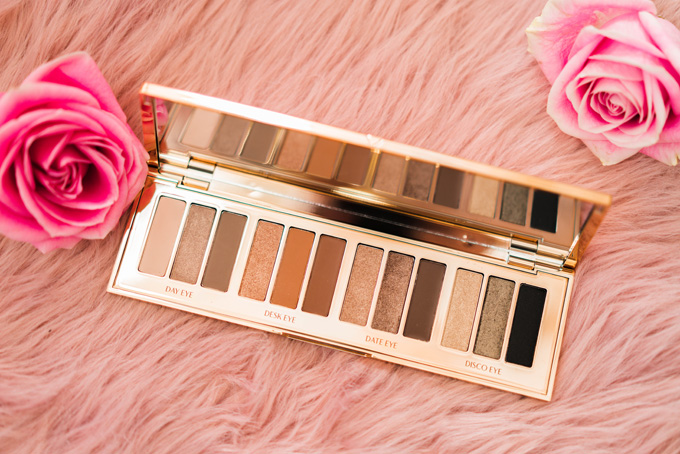 Charlotte Tilbury Eyeshadow Palatte– I recently got the new instant eye palette during the Black Friday sale and I love all the colors! It comes with four different eye shadow "sets" all in one palatte for only $75! I also love how they are all pretty neutral color tones, so I know I will be using all the colors. I love the "Desk" eye for everyday and the "Disco Eye" for a nighttime, more dramatic look.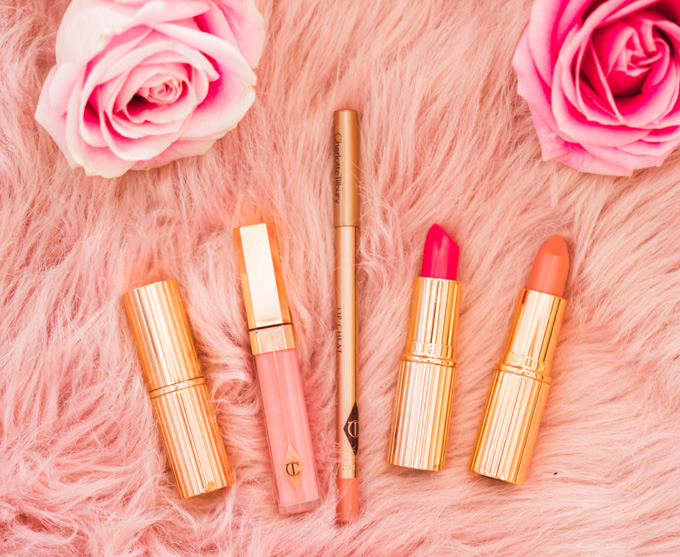 All my FAV Lip Sticks, Lip Gloss and Liner from Charlotte Tilbury!!!
Lip Gloss in the color "Hall of Fame"
Lip Liner in the color "Pillowtalk"
Lip Stick in the color "Velvet Underground"
Lip Stick in the color "Bitch Perfect"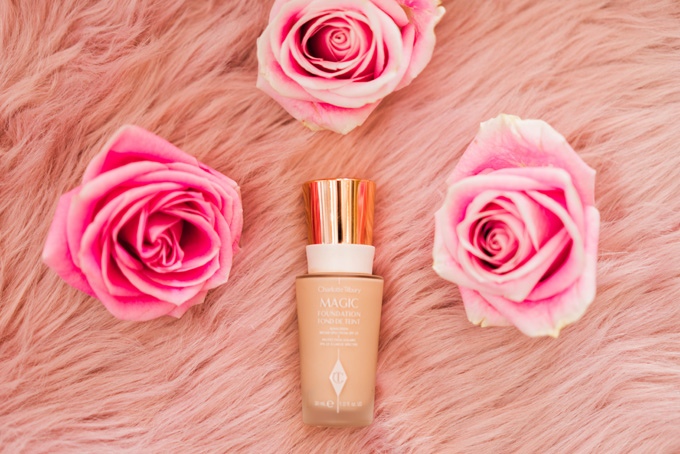 Magic Foundation in the color "4.5"- This is a great full coverage foundation! It doesn't make me break-out and I love how it covers all my red undertones, any pimples, discoloration, and doesn't make my skin look oily. I have oily/ combination skin in the winter, and this is so great for those skin types. I love how it is full-coverage yet it feels really lightweight on my skin. I always use a primer before I apply my foundation and then I set it with the Laura Mercier translucent loose setting powder.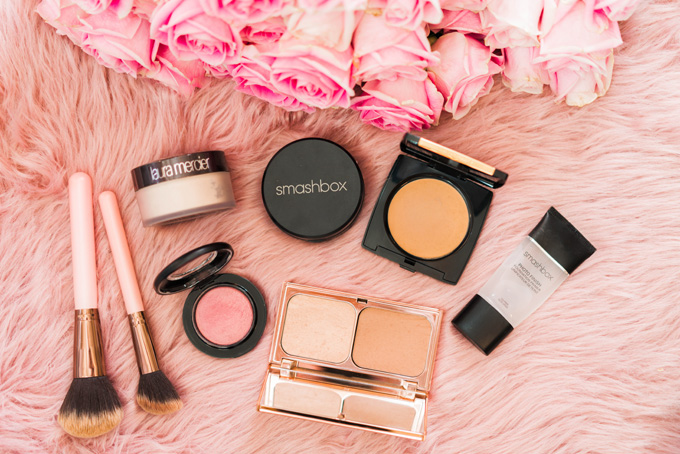 'FILMSTAR BRONZE & GLOW' FACE SCULPT & HIGHLIGHT– I love this bronzer + highlighter duo! I use it every time I do a full face of makeup! The bronzer is a very natural color and the highlighter is so pretty on your cheek bones and I also put it down the bridge of my nose.
This pretty rose colored MAC Mineralize blush in the color "gentle" looks amazing on most skin tones and is the most perfect "staple" blush I own. I got it for my wedding day and I have been using this color for most of my makeup looks ever since! It also gives a subtle shimmer and makes your skin glow!
Little Fact: I did my own makeup on my wedding day and got all of it from Nordstrom! I got a makeup lesson from JadeyWadey and she taught me a lot of great tricks on applying makeup!
Smashbox HALO Powder– I starting using this powder when I was filming a TV show called Suburgatory, and the makeup artist recommended it to me. You can touch up your makeup throughout the day and it doesn't make it look dried out or cakey. It actually helps keeps skin looking moisturized and soft! I use this throughout the day for touching up my makeup and getting rid of any oil.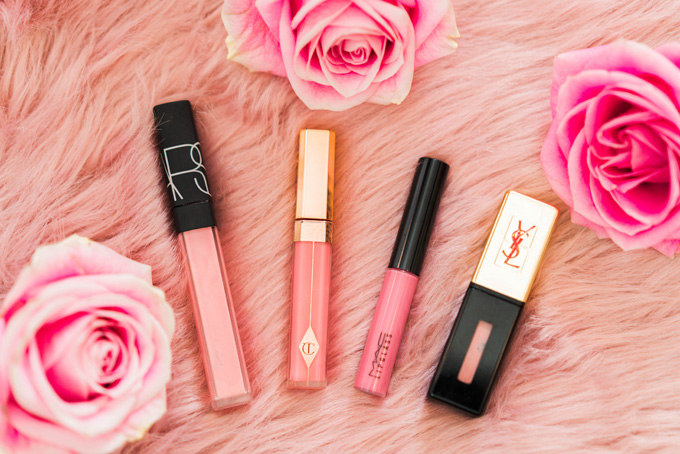 My top 4 staple pink lip glosses:
Charlotte Tilbury in "Hall of Fame"
MAC Lipglass in "Berry Behavior"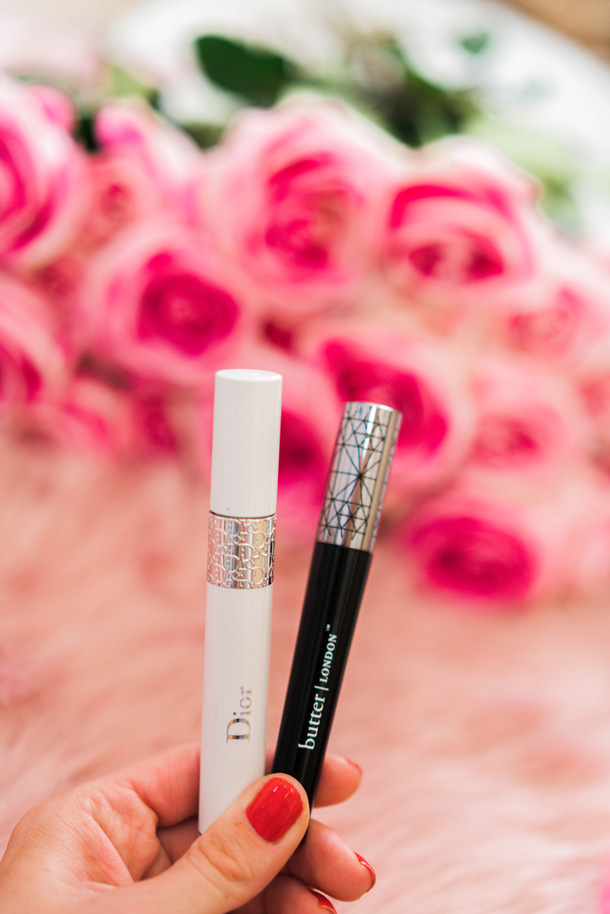 Dior Show Mascara Primer– conditions lashes and makes your lashes look fuller and longer!
Butter London Mascara in "brilliant black"– a great true black color and coats every lash. It has a unique applicator that helps you get every single little lash!
Christian Dior Eye shadow in the color "821 Chimere"– I have had this for a long time and there is still SOO much left!! I just use my ring finger to lightly apply it. It is highly pigmented and a little goes a long way. The color is so beautiful and I apply it to the middle of my lid. It is the perfect finishing touch to my eye makeup look!
Charlotte Tilbury Creme Pot in color "Bette"– This is my favorite creme eyeshadow I use so much. I have been the creme pot eye shadow and love the way it goes on. Its super easy to apply and basically fool proof. I like to take a very, very small amount and spread it all around my lid with a fluffy eye shadow brush. This creme pot is great for a light layer, golden look for daytime and then can easily be added on for a smokey eye look for nighttime. A little goes a long way! I use it a lot and there is still SO much left! I love the contrast with the gold shadow and a liquid black liner! I have been using this Dior Show liquid liner lately and love it- it is very easy to apply!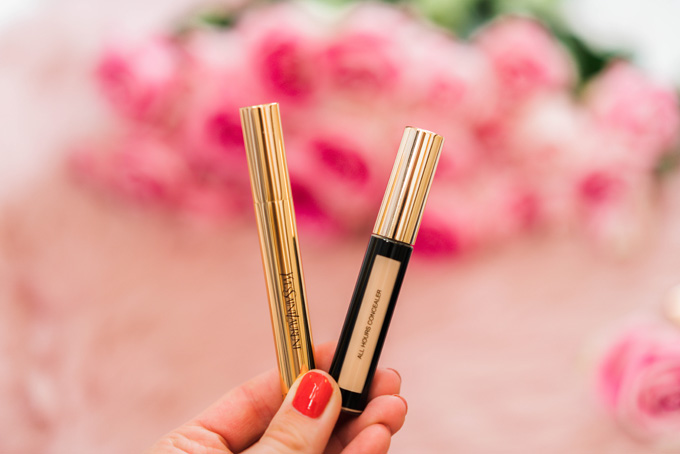 Yves Saint Laurent Touche Eclat– I use this over my concealer to brighten everything and hide any imperfections. I apply it under my eyes in an upside down triangle shape, my forehead, and down the middle of my nose to create a slimming effect.
Yves Saint Laurent All Hours Concealer– This is a full-coverage concealer that completely hides dark circles and stays on all day! It doesn't crease or look cakey, even after apply some powder over it.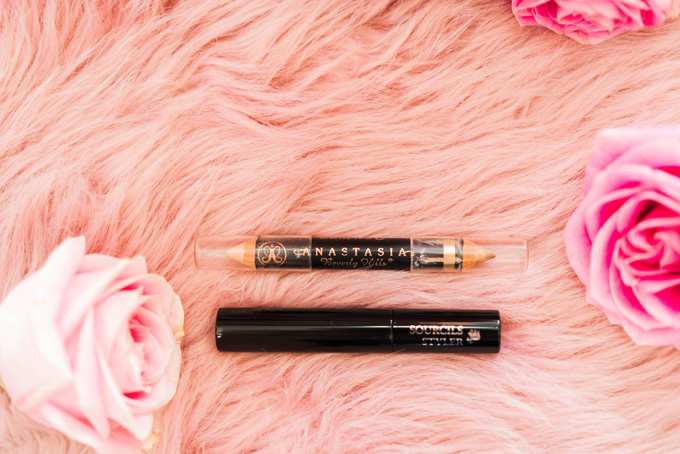 Anastasia Eye Brow Pencil- I use this right under my eyebrow line to kind of brigthen my brow and it creates the effect of freshly waxed brows! It also hides tiny little eyebrow hairs which is great if you are in-between waxings
Estee Lauder Sourcils Styler- I use a little bit of this sparsely throughout my eyebrows to give them a nice color and fill in any light patches.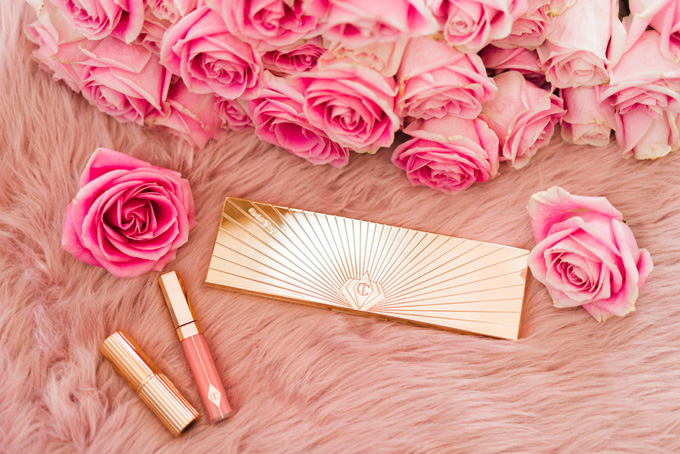 SHOP THE POST: