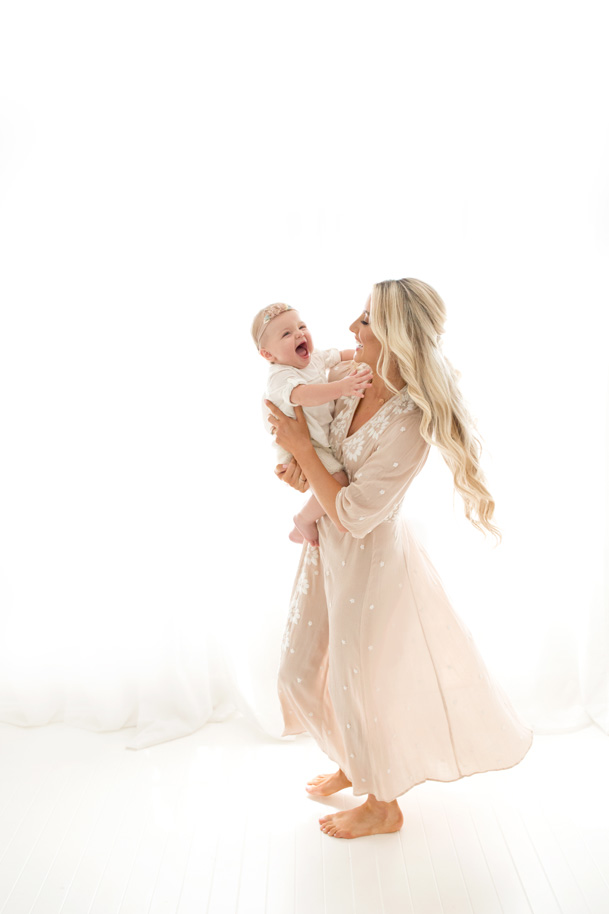 Sharing Kennedy's One Year Photo Shoot we did here in Houston with Lentille Photography and hair and makeup by Beauty Call! I can't believe our little angel is a one year old- time is a thief! Also, I'm sharing a letter I wrote to her on her birthday…
SHOP THE POST:
I can't believe the day has come that our little baby is now a one year old! When she was a newborn, I would picture a year from now and it seemed so far away. This year at times went by slow, with long days and sleepless nights sometimes. But it also went by SO fast- too fast. I don't remember what our lives were like before Kennedy, probably so boring!
She is so silly and has the most fun personality. She waves to everyone at the grocery store and loves meeting new people! She also gets shy and does a cute head tilt when a good looking guy talks to her or goes up to her- such a flirt already! She loves other babies and little kids, and loves playing with her baby friends we've made this year. She has so many amazing qualities for being only one years old, and she has also helped me develop qualities I was lacking in myself.
Becoming Kennedy's mommy has helped me grow and I feel like become a better person. I am more confident, outspoken, empathetic towards others and how I view the world. I hope to continue to develop the qualities my Heavenly Father thinks I need to be the best mom I can be to Kennedy.
Letter to you on your 1st Birthday:
It was a Fall day in 2016 when your daddy and I decided we wanted to expand our family and have a baby! There was a few months of trying and some tears. But that January, I found out I was pregnant with you. All I wanted more than ANYTHING was to be pregnant with a baby, and that baby was you. I could hardly wait until Daddy came home from work that night. Luckily, I still had time to come up with a clever way of telling him I was pregnant. I wrapped the pregnancy test in foil and put it in the oven haha! When Daddy got home I told him I made him some chocolate chip cookies in the oven and to get them out. He unwrapped the foil and had a shocked and confused look on his face for a second when he saw the positive on the test. Then he broke out with the biggest smile and we both hugged and jumped for joy for the rest of the night.
I fell in love with you from the moment I knew I was pregnant. I was so protective over you already and did everything I could to make sure you developed properly and was well fed. I spent countless hours researching ways to be healthier and make sure mommy did what she could to bring you into this world as healthy as can be. You were on my mind pretty much every minute of the day, and our world from that point on revolved around you. When we found out we were having a girl, I was so excited and happy I was having a little princess. The ultrasound technician gave me a 3D photo of you at 15 weeks. Everyone else thought you looked like an alien, but I only saw your amazing beauty. You were the most beautiful thing I have ever seen. I would stare at all the ultrasound photos I got at every Appt and posted them all over our home. I spent the rest of the 9 months preparing for your arrival, going to all the hospital classes I could, reading every baby book, and trying to learn as much as I could before your arrival. I loved feeling you kick inside me after I would eat lunch and dinner, and I always knew it was you telling mommy you were happy with what I was feeding you

everything I did was for you and it is still the same now that you're here. Everything I do in this life is ultimately for you and to make your life better one day. Becoming your mommy has changed me into such a better person and made me want to develop the qualities God wants me to have to be your mother. I remember the night before I was going to the hospital to have you, I think I only slept a few hours. I couldn't believe the day had finally come and I'm actually going to hold you soon. It was all so surreal to me. I had everything planned for your birth for months leading up to this day. I had mine and Daddy's bags packed and everything ready for when you came home with us.
The first few months were hard but so amazing and filled with so much love. Even though I was as prepared as I could be, nothing can prepare a parent for the love they have for their child. I was so smitten and obsessed with your newborn smell. I loved holding you close up to my chest so I can smell your fresh from heaven scent. I was amazed at how beautiful you were and couldn't stop staring at you pretty much all day long. I have probably thousands of photos of you in all your cute little outfits and on our outings with daddy. You were such a good newborn and slept so good early on. Mommy is so grateful for you doing that! You have amazed me with your beauty, sweet spirit, silly and funny personality, and your constant smile on your face. I'm pretty sure you smile more than anyone I've ever known- and that makes mommy's heart so happy. You've grown from an 8lb 12oz newborn who could barely open her eyes to a 25lb silly little baby who loves Taylor Swift songs and waves at everyone she sees. I'm in awe of how smart you are and how much you've grown and developed in just these past 12 months. Mommy is your biggest fan and always will be by your side cheering you on in life. Even when you are grown and married with children one day, I will still be behind you encouraging you to be the best you can be and letting you know how proud I am of you, how beautiful inside and out you are, and how special you are in Heavenly Fathers eyes.
love,
mommy
I LOVED Bridgette from Beauty Call who did my hair and makeup for our photo shoot! She did my makeup for our newborn photo shoot with Allison last year. All I did was roll out of bed and she showed up at our home in the morning and did my makeup and hair for me while I just sat there and relaxed. It is so nice for new mamas who don't have the time to be away for their baby for a long time. First off, let me tell you how picky I am with getting my hair and makeup done. I'm such a perfectionist when it comes to those two things, and usually NEVER like when someone else does it. I even did my own makeup for my wedding! But Bridgette does my makeup and hair exactly the way I love it- soft, ethereal, and natural looking. I described to her what I wanted and showed her photos I pulled from Pinterest, and she did exactly what I wanted. I also love how I can tell her add a little more of this or that, and she is totally cool and loves to make it perfect for you! Also, Bridgette is the absolute sweetest and she is so much fun!!! I felt so comfortable around her, and getting my hair and makeup done by her is just like hanging out with an old friend!
Allison from Lentille Photography is hands down the best photographer I've had the chance to shoot with. She makes her job look effortless, and captures each moment so beautifully. You can see all her work with newborns, families, and maternity here! She has a beautiful and classic look to all her photos. I will be very sad if we ever leave Texas, because I want her to photograph our family forever! The photo shoot is always so easy and natural, and she doesn't tell you exactly how to pose. She lets us interact naturally with each other which I love! Allison also provides a full wardrobe for mom, dad, baby, and the whole family! She has so many beautiful dresses, maternity dresses, and newborn outfits to choose from!
"Lentille Photography specializes in maternity, newborn, baby, and family photography in the Houston area, including Sugar Land, Katy, The Heights, The Woodlands, Spring, West University Place, River Oaks, Rice Village, Pearland, and Friendswood."
Allison and Bridgette are opening up a new studio and makeup/hair studio in Stafford, Texas! It is a super convenient location, about twenty minutes from Bellaire, Pearland, Katy, The Heights, West U, etc. It is going to be brand new and a totally dreamy space. Allison will have her photo studio right next to Bridgette's hair and makeup room, so you can easily get it done before your session with Allison all in the same suite. Bridgette is also available for all occasions- weddings, bridals, homecoming, prom, photo shoots, and much more! She also will be offering blowouts two days a week, and will be doing hair extensions as well! If you need an amazingly talented, sweet, and professional makeup artist and hair stylist, go to Bridgette from Beauty Call! If it is easier, she can also come to you if that is easier!