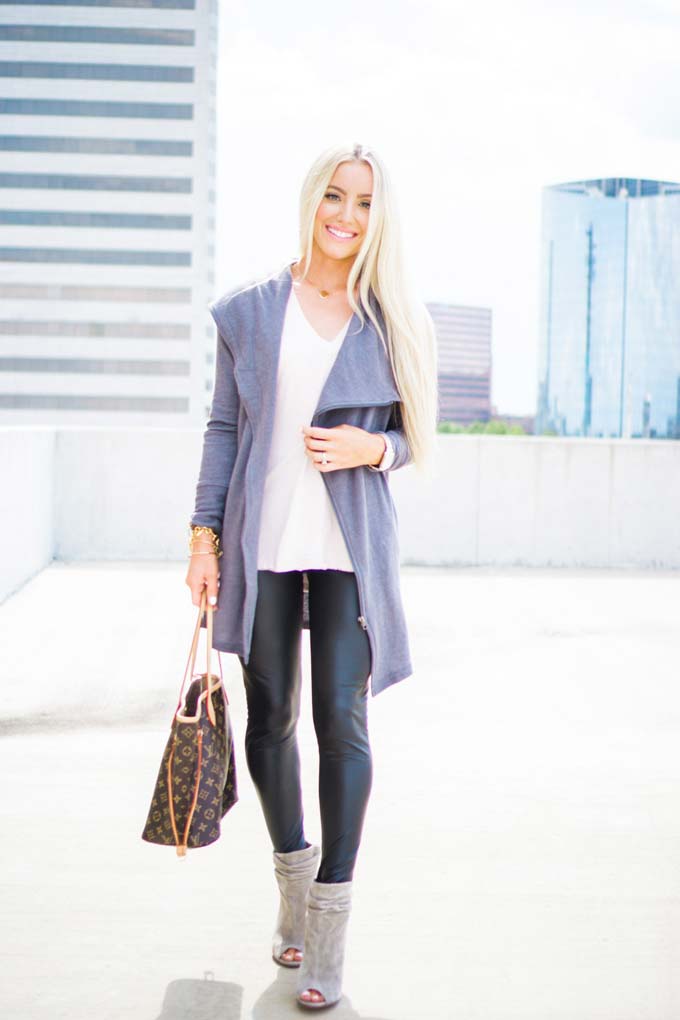 ASYMETTRICAL DRAPE JACKET (UNDER $50) // SHIRT (Under $16) // LEATHER LEGGINGS // HEELS // PURSE // RING // NECKALCE // LINK BRACELET + GOLD BANGLES // EYESHADOW // LIPSTICK + LIP GLOSS // STRAIGHTENER 
Today, I want to share my favorite jacket from the Nordstrom Anniversary Sale! I snagged this grey drape zip-up jacket from the Nordstrom Sale and I am obsessed! I had a jacket similar to this I got in Vancouver, Canada but I had lost it in college. I literally wore that jacket ALL the time. But I was so happy when I found this one on sale because it is SO similar and it is just as comfy. This zip up jacket comes in 3 colors- black, burgundy, and grey! Click below to read FULL POST…
SHOP THE POST:
ASYMETTRICAL DRAPE JACKET (UNDER $50) // SHIRT // LEATHER LEGGINGS // HEELS // PURSE // RING // NECKALCE // LINK BRACELET + GOLD BANGLES // EYESHADOW // LIPSTICK + LIP GLOSS // STRAIGHTENER 
Happy Sunday friends! I have been feeling a bit under the weather the past couple days, but I have rested a lot and am feeling much better. We have a busy week ahead, and lots of fun things planned for Kennedy! She is starting her swim lessons tomorrow, which she will be doing three days a week and her Little Gym class. Kennedy LOVES her Little Gym class and I have been taking her since she was four months old! Now that she is crawling and wanting to explore more, she is having such a blast in the older babies class. This week was a rough week because Alex didn't get off work until 3 am every night, so it was just me and the babe pretty much all week. I am hoping his hours get better for this week, because we miss him when he is away for so long!
I snagged this grey/blue drape zip up jacket from the Nordstrom Sale and I am obsessed! I had a jacket similar to this I got in Vancouver, Canada but I had lost it in college. I literally wore that jacket ALL the time. But I was so happy when I found this one on sale because it is SO similar and it is just as comfy. This zip up jacket comes in 3 colors- black, burgundy, and grey! The best part is it is on sale for under $50 and has FREE SHIPPING (originally $80). It is an oversized fit, so if you want a more snug fit I would size down one size- I am wearing a small and it fits perfectly! I also love my sweaters and jackets more slouchy and not super fitted, so this jacket is perfect!
I wore it with leather leggings and these cute peep toe bootie heels I also got from the Nordstrom Sale!  These are a great heel to transition into fall. They are super cute and comfy. These heels will look great with leggings and a slouchy cardigan for fall or would look cute with a dress this summer! They come in two other colors- dark camel and black, and run true to size! I hope you guys enjoyed this look! I am getting SOO excited for fall, so I am showing some fun ways to wear my Nordstrom Sale finds for the upcoming season! XOXO

SHOP THE POST: