As many of you moms out there know, getting back into working out after giving birth is no easy feat. With a new tiny baby to care for 24/7, keeping up with all the housework and being a good wife/friend/daughter/sister still can take a toll on you emotionally and physically. The nine months I was pregnant felt like an entire year, which basically you can sum it up to almost a year long haha I was on bed rest for part of my pregnancy and was not able to workout or walk for long periods of time. Having to "take it easy" for months and months was actually not as fun as it sounds and was sometimes miserable. All I could do is daydream about my baby girl and do most things from the couch or from my bed. I'm the type of person that always has endlessly long to-do lists and hardly ever stop to take breaks during the day in order to get all my tasks and chores done. So that is another reason it was so hard on me to take it easy.
Also, I got really swollen and had gained almost 40 pounds!!! I did still eat healthy throughout my pregnancy and craved lots of salads and fruit which I think helped keep my weight down more than if I were to eat a ton of junk food. But not being able to move a lot or workout was not good for gaining 40 lbs. It was hard after giving birth to even THINK about working out, even after the "Six Week" all clear from my doctor. I just did not have the energy, confidence, and time to do it!!! I would see other moms bouncing back into shape so fast after having their baby and it just made me feel even more discouraged. I felt like I could never have any time or energy to workout again. It felt like every second of my day was filled with something more important than working out. After about 5 months, I started to realize the importance of setting aside at least fifteen minutes a day for myself to recharge and do something that makes me feel better. Working out is one of those things I need to do each day to make me feel better and have that "me" time each day- which I think is important for all moms to have! I love working out in the mornings because I get it done with and I notice it puts me in a good mood and makes me feel like I have already accomplished something in my day! Working out in the morning also gives me more energy and stamina throughout the day! Below are some workouts I do throughout the week. Each week is not always perfect, but I do try my best to keep with a schedule and workout around 4 days a week. I'm not by any means a professional, but after doing some research and seeing results, this is what works for me! So far I have lost all my baby weight and I am back at my pre-pregnancy weight. My goal is to continue to workout to tone up for summer and stay fit to keep up with my baby girl!

I will mix things up a lot, but here is my typical workout week lately:
Monday: Kayla Itsines Workout and LEG Routine
Tuesday: Low Intensity Cardio (walking 45min-1 hour) and ARMS + ABS Routine
Wednesday: Kayla Itsines Workout and LEG Routine
Thursday: Low Intensity Cardio (walking 45min-1 hour) and ARMS + ABS Routine
Friday: Cardio (treadmill running + sprints, elliptical and jumping rope)
Saturday and Sunday: Days Off
SWEATER | SHORTS | RUNNING SHOES | FIT BIT | DRY SHAMPOO | TANNER (FACE)
WALKING
I have been walking at least three times a week, usually 3-6 miles each time! Going for my walks with Kennedy is something I always look forward to, and I know she loves getting outside too. I use the Thule jogging stroller and I LOVE it!!! Kennedy loves it as well and will always fall asleep in it no matter what! It is really smooth and has such great features.
She will look around at all the trees and scenery and will always take a nap in her comfy jogging stroller during my walk. I'm not quite ready for going on runs yet, but I plan on running with my jogging stroller and Kennedy soon! I've noticed walking has helped me shed some stubborn baby weight and it's also so nice for me and Kennedy to get outside! Going for my walk is also a great time to listen to music and have some "me" time while Kennedy naps in the stroller!
I got a pack of fitness resistance bands for toning my legs and butt! The pack comes in five varying resistance levels- from light to heavy. I use these bands for my leg workouts and I do a variety of exercises with them. Below I'm doing a squat side step and the other photo I'm working my glutes by kicking back. You can also do donkey kicks and bridges with them. You can also use these for arm resistence and arm workouts as well!!! I've noticed a big difference in my leg muscles and defintion since I have started using them!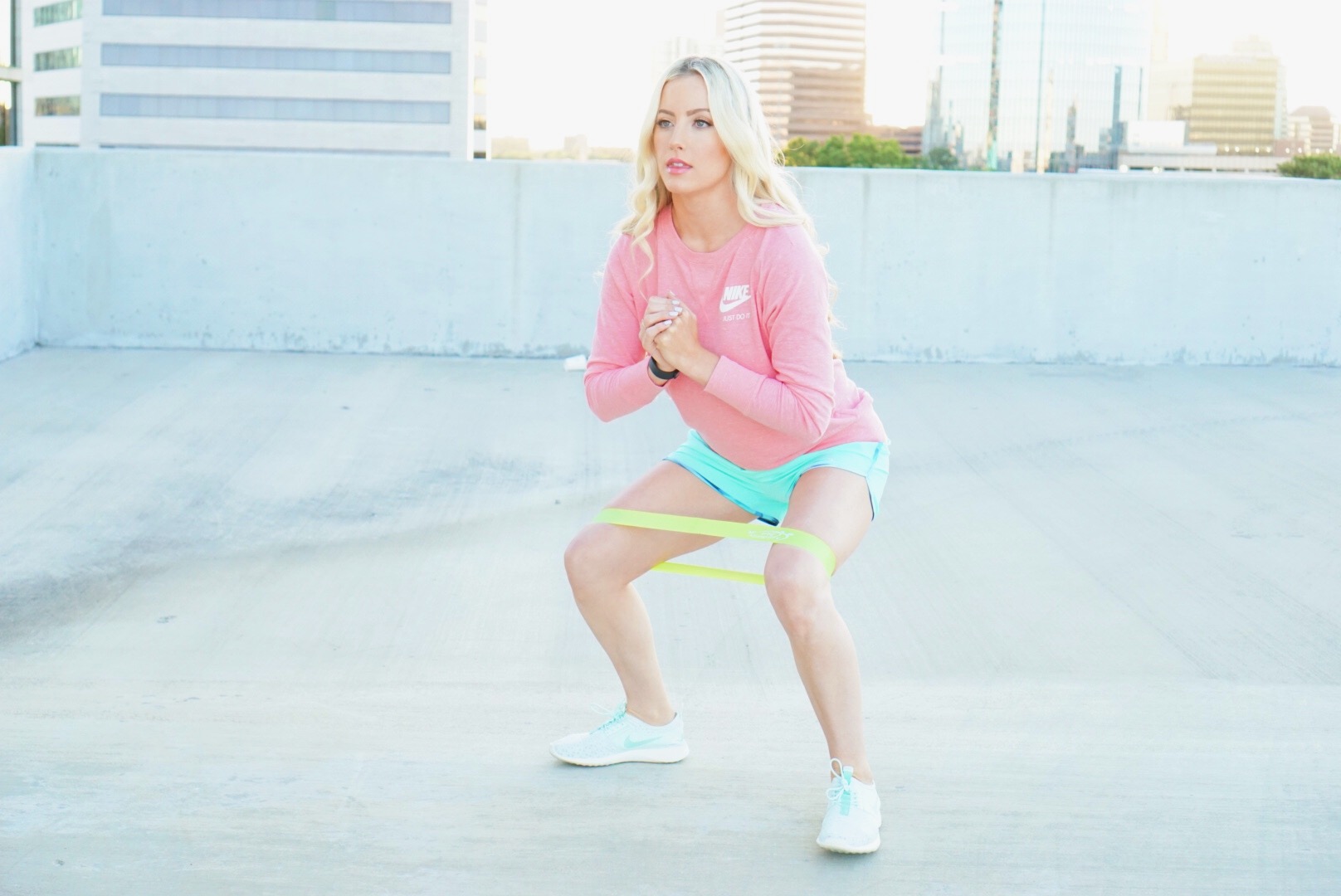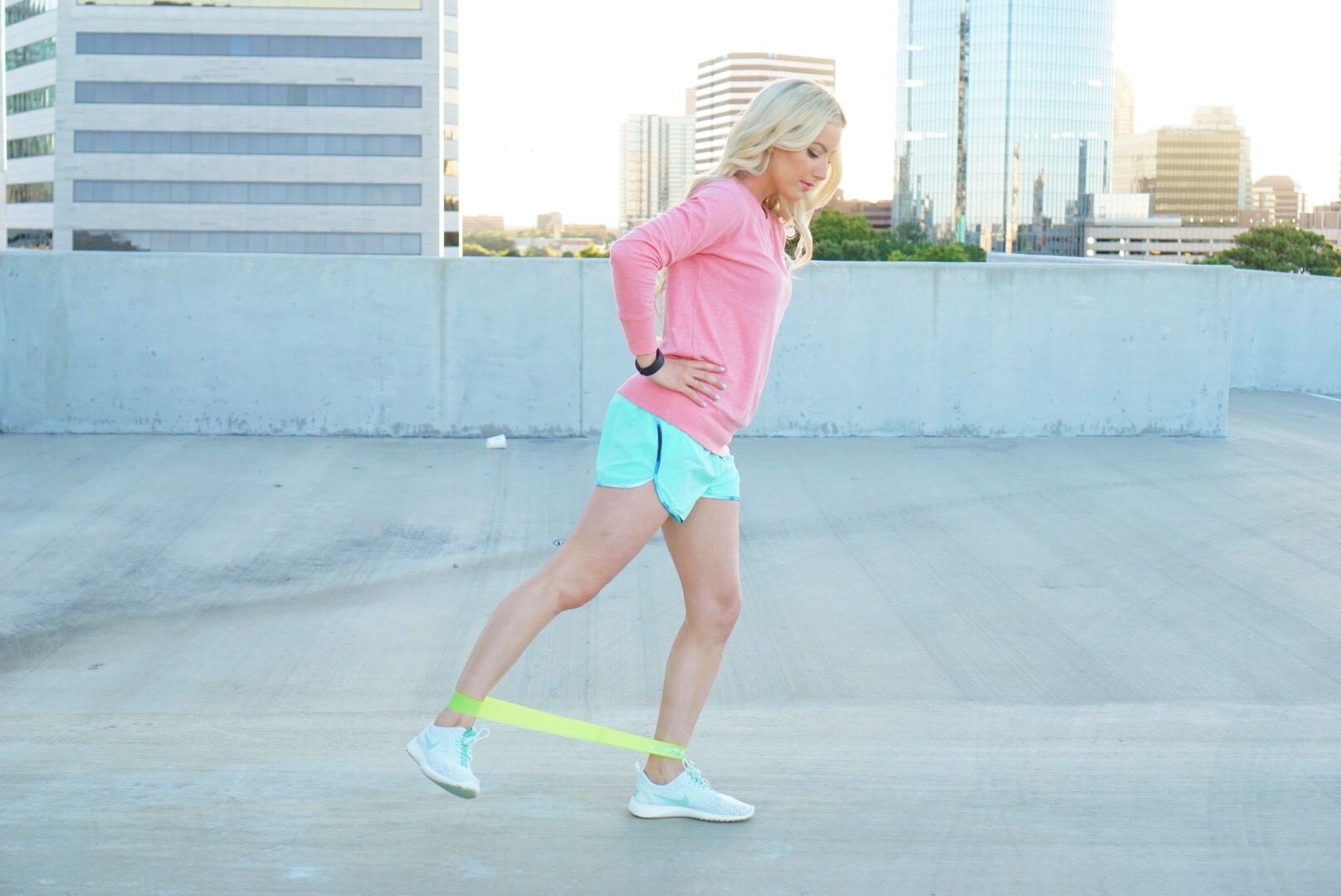 LUNGES
Lunges are great for toning your legs and butt! I do these every time I do my leg day along with my 7 pound weights usually. I will do 30 lunges (15 each side), and sometimes I will do two sets! I also try to dip low but not have my knee go too far down, and then come straight up and squeeze my butt at the top. That is important for getting it toned!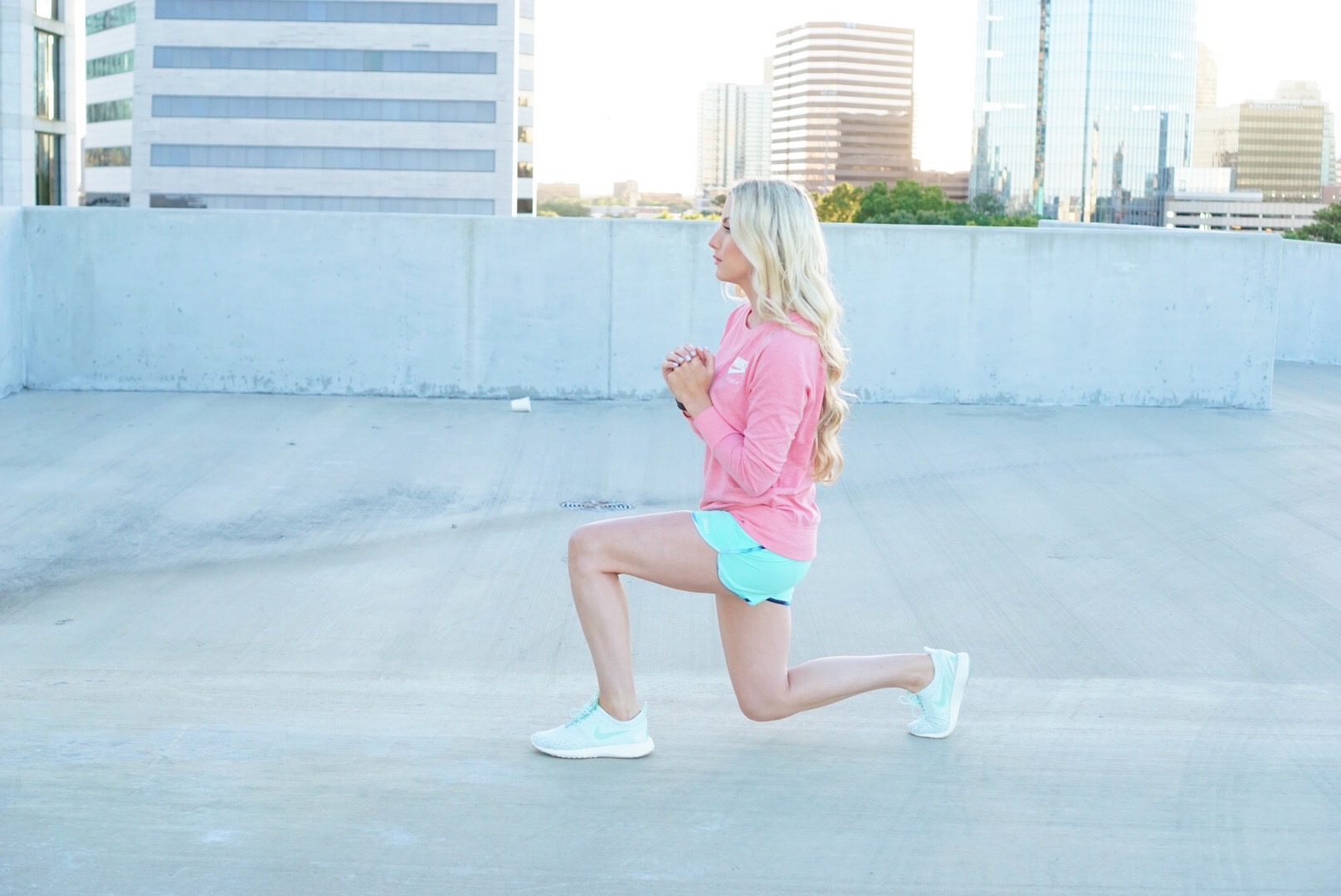 I have been using a jump rope for my workouts since I saw my favorite Victoria's Secret models back in the day using one to get ready for the fashion shows. After that, I HAD to go out and get myself a jumprope to get myself in shape like them haha! But it really is a great total body workout and great cardio! I will try to go 1-2 minutes for a warm-up, then take a 1 minute break, and jump for 3 more minutes. My goal is to get to 5-8 minutes straight of jumping! This jump rope I got off of Amazon is really reasonable and works very well! It has memory foam handles and when I jump the rope is really smooth and never has any issues! You can take your jump rope anywhere and it can be done at home without a gym! If you don't have treadmill or bike, jumping rope is a great alternative to getting your heart rate up and your cardio in!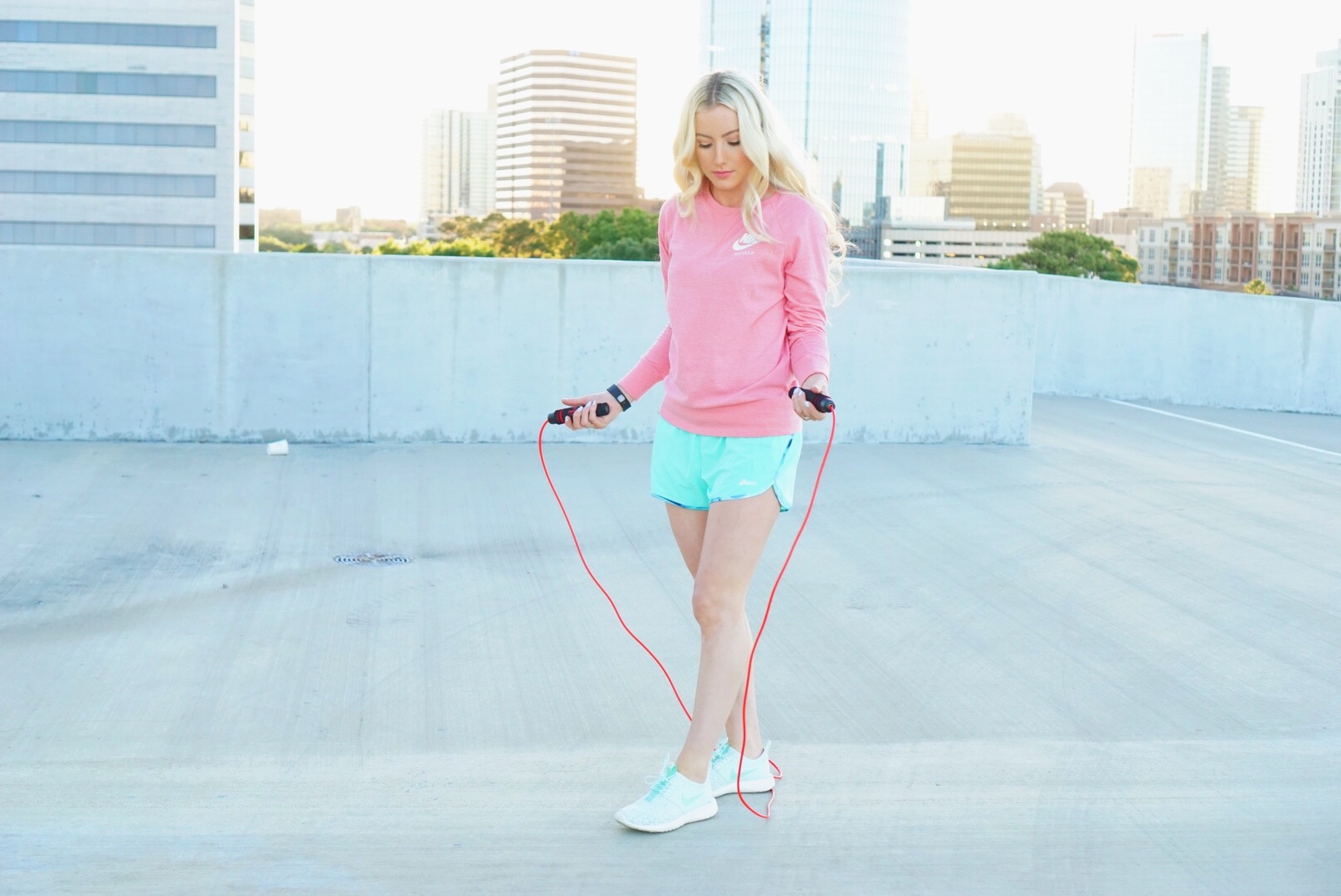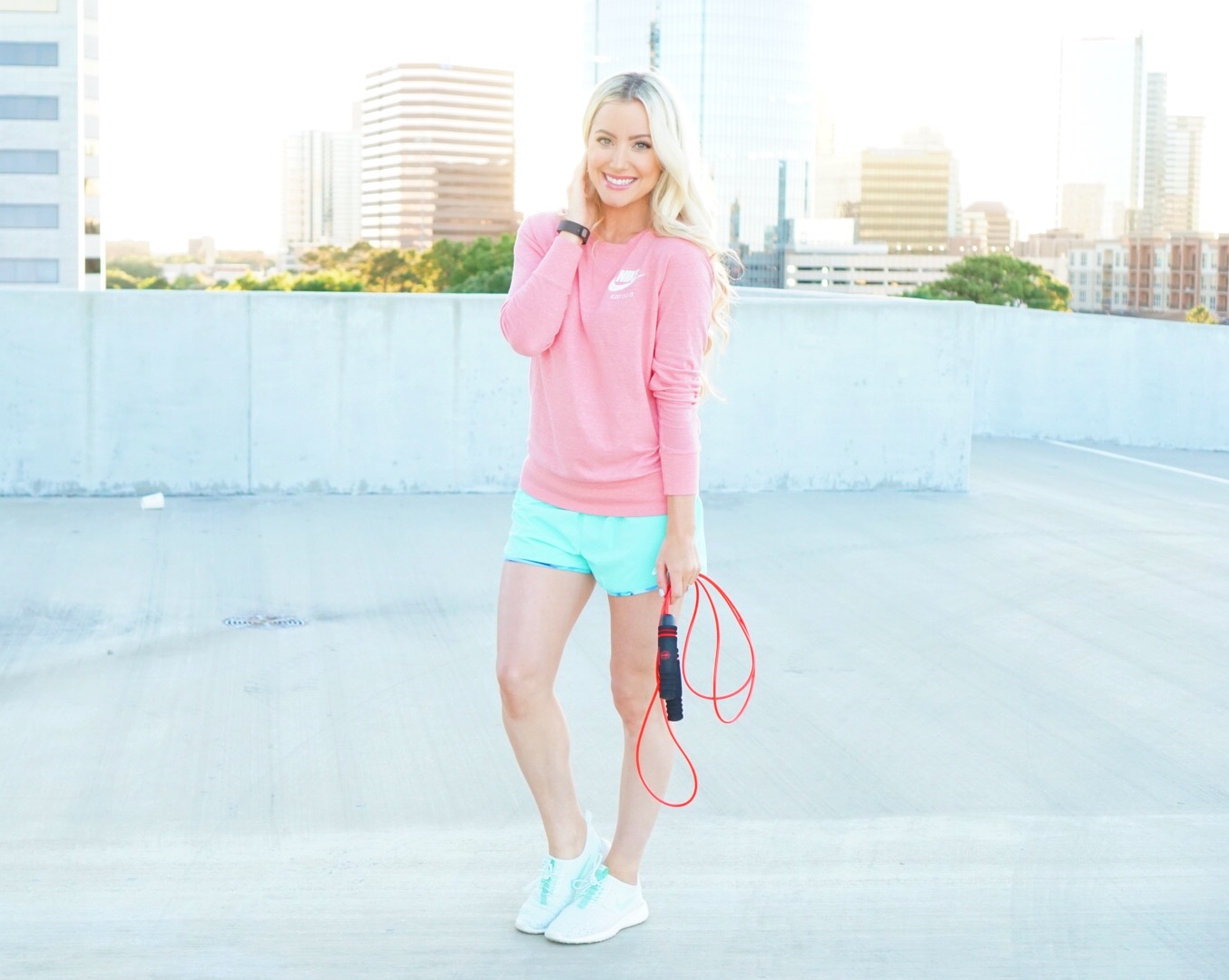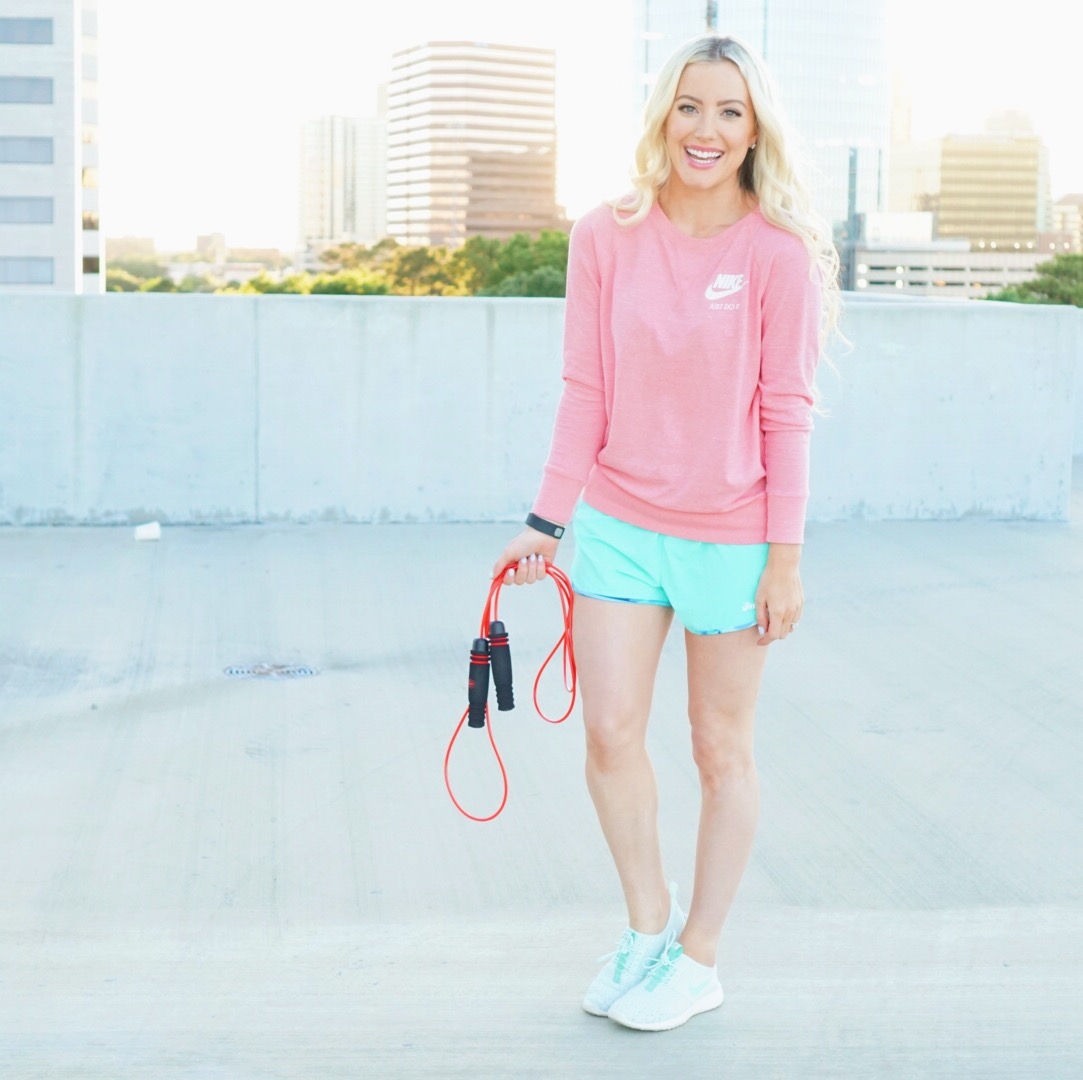 ARM WEIGHTS
I have been doing arm weights to get my arms, shoulders and back toned again. I have to carry around my 20 lbs baby everyday, so having strong arms is so important for me! I love doing a variety of arm workouts with my weights on arm and ab day.
Here is an example of what I will do on arm day:

SQUATS
Doing squats is something I use to hate doing but now they are my favorite and I have noticed great results since I've been doing them. They are great for tightening and toning your butt and legs and shaping and lifting your bum too! I make sure to always squeeze my bum when I come up every time! Here is an example of what I will do during leg day with squats:
3 sets of 15 regular Squats,
3 sets of 15 squats Jumping Squats
3 sets of 15 squats Sumo Squats with a 15 lbs dumbbell or kettle ball

 Here are some other great leg workouts I love to do at home!