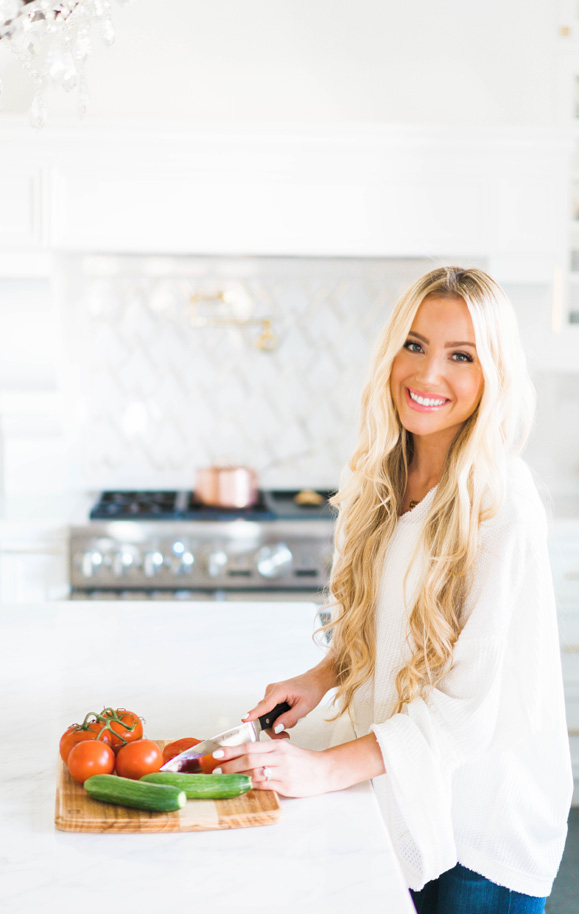 WHITE FLOWY TOP | GOLD NECKLACE | PINK COLLAPSIBLE SILICON BOWL | SCOOPER SPOON | Spill-proof, leak-proof and break-proof GREEN BOWL W/LID | ORANGE FEEDING SPOON | 3 TIER SNACK CONTAINER | ON-THE-GO SNACK HOLDER | BEABA FEEDING SPOONS | ORANGE PORTIONED PLATE W/ SUCTION | HELLO KITTY SIPPY CUP | PINK 10 OZ SIPPY CUP | ORANGE WEIGHTED STRAW SIPPY CUP | PINK FLOWER SIPPY CUP | 11 OZ MAM BOTTLE | PINK TRANSITION/TRAINER SIPPY CUP | GRASS-FED TODDLER FORMULA | PROBIOTIC PACKETS | SILICONE FEEDING MAT | PEARL SILICON BIB | GREY+ WHITE HIGH CHAIR |  VELVET BOW
Today I am sharing what I feed Kennedy and some meal ideas for breakfast, lunch and dinner (and some snacks in-between). I am doing a Part I and Part II post, where I will also share what I fed Kennedy when she was little starting with Purees and the months after transitioning into finger foods. Click "Read the Post" to continue reading…
SHOP THE POST:
Making meals and food for Kennedy is something I love to do! I love making sure she has the proper nutrition, I know what ingredients are in her food, and that she is being fed well balanced meals and snacks. I am all about eating healthy, whole, fresh foods, but I am not too extreme about EVERY single ingredient. I am all about balance and moderation, and am not too extreme about being super healthy because then it gets overwhelming so fast to keep track of every single food for each meal. Alex and I eat lots of salads, healthy protein bowls, stay active every day, and drink lots of water. But we also indulge in a sweet treat or a cheat meal a couple times a week but don't beat ourselves up about it!
Some basic rules I go by is I don't feed Kennedy any sugary juices, snacks, candy, ice cream, not really any fried/fast foods unless we don't have any other option, etc. But if you are at a fast food place and don't have a choice, you can really find a healthy option no matter where you are. For example, Chick fil a has grilled chicken and fruit, instead of getting the fried chicken. Also, McDonald's also has some healthier options now as well! We are big on limiting her sugar intake and not exposing her to sugar sweets early on. We did this so she won't develop a taste for them and not want to eat her veggies anymore. The first time she really had sugar was the smash cake for her 1st birthday.
The rule of thumb I always go by when thinking of what to feed her or when buying groceries is finding protein, veggies, fruit, and a "good" carb. For breakfast, I will either make her a piece of whole wheat toast with a thin spread of peanut butter or a tiny bit of butter. Some other foods I give her for breakfast instead of the toast is Trader Joe's Silver Dollar pancakes, Trader Joe's French Toast (cut into strips), or Kodiak Cakes Protein Pancakes. In addition, I will scoop a couple spoonfuls of Greek yogurt or Stoneyfield organic whole milk yogurt into a bowl and feed her some of that. Most of the time she likes to feed herself, (warning this can get really messy lol) So I got this scooper spoon from Munchkin which is easier for her to feed herself with. I only do a couple spoonfuls of the yogurt into a clean bowl at a time in case she doesn't finish it all. I just empty the leftovers into a Tupperware and save it for the next day. If you use the dirty spoon you're feeding her with and dipping it back into the yogurt container, it can contaminate it and it will only be able to keep for a few hours. I am all about savings foods she doesn't eat and putting it in Tupperware for other meals. This will save you time when you want something easy to heat up and money in the long run!
Everything I am sharing is what I picked up along the way from readings here and there and from her pediatrician, so all opinions and advice is my own. 
I like go grocery shopping in the beginning of the week and plan out ahead of time what I want to buy and make. This will save you so much money, instead of guessing at the grocery store and throwing a bunch of food in your cart you wont make or eat. I always have some staples I buy over and over such as: a rotisserie chicken, nitrate free/antibiotic free turkey meat, fruit (strawberries, blueberries, blackberries, grapes, bananas, clementines, etc.), vegetables (broccoli- either fresh or in the steam bags, tomatoes, cucumber, carrots, broccoli, cauliflower, avocados, etc), cheese sticks, sugar-free apple sauce, Greek or whole milk yogurt, and Organic whole milk. I try my best to get organic fruits and vegetables to avoid the pesticides and added hormones, but I wouldn't worry if you aren't able to buy organic. It is great, but we all grew up on not eating organic and we all turned out okay lol! Buying ALL organic foods every week can get super expensive, so if it isn't in your family's budget I wouldn't worry! The non-organic food (in my opinion) is totally OKAY too!
If I have time during her naps, I like to go to the kitchen and pre-make her snacks and meal. Usually when Kennedy wakes up from her nap she is always hungry and will cry for food right away! It is nice to just put her in the high chair and have everything ready. If I am in a rush and don't have time to prep anything, I usually will give her a snack such as some grapes (cut up or broken up with your fingers) and puffs while I am making her lunch.
Below is an example of what typical lunch looks like! A portion of protein such as rolled up turkey, a veggie, and a fruit. You can also add some carbs like brown rice, couscous, quinoa or toast! From about 9-10 months old, I started giving her mainly only finger foods and no more purees. I would break up her food into smaller pieces, and made sure they were small enough to swallow and be mashed up easily by Kennedy when she chewed. Now that she is 13 months, I am offering her foods more intact and not as cut up. For example, I offered her the two whole broccoli, the orange slices whole, and the two rolled up turkey slices. She has eight teeth now, so I feel comfortable now about her take bites off larger foods! Some people start this earlier, but I just wanted to do this later on when she was older! For both lunch and dinner, I will buy a rotisserie chicken at the grocery store and give this to Kennedy too for her meals! She LOVES rotisserie chicken the most! You can sometimes find salt-free chickens in select grocery stores. But if not, I wouldn't sweat it. If your baby or toddler isn't digging the regular chicken breast, I would definitely try the rotisserie chicken!
For dinner, I usually will give her whatever we are eating- which is most of the times healthy!! So if we are having salmon with broccoli and brown rice, I will just make a little extra for her and she will have the same. Sometimes though, I will make her something such as her whole wheat pasta, tortellini, or chicken for her main dish. Some other good ideas are chicken nuggets, grilled chicken or steak (great for iron), salmon, tuna, turkey or pork. I always try to give her a vegetable dish on the side with her protein especially at dinner! Another great side is sliced avocado, roasted potatoes, sweet potato fries, squash cut up into small pieces, kale or cauliflower tater tots. You can find them in most grocery stores, but I know for sure Sprouts and Whole Foods have them! Kennedy has always been a great eater from the very beginning and really has never refused any food we have given her before. I even made her only pureed spinach when she was little and she still ate it all haha! I was even gagging a little when I smelled it. This girl just loves her food! I know this is more rare, so if you're baby/toddler is refusing some foods and vegetables, I would ask your pediatrician for their advice. I have heard that with some babies it is a texture thing they don't like, so maybe that is something you can ask. But in my opinion, if you keep constantly trying but not forcing it, the baby will get used to the taste and eventually start eating it. The most important thing though is to continue to offer healthy foods and get creative with your meals, and not giving into offering only junk food to get them to eat.
I rarely give her purred food or food pouches, but if I do, it is if I am in a rush and don't have time to make her anything. Also, I will just give her a pouch of pureed food if I am out and about and don't have access to any food or any healthy food. I try to keep a pouch of food with me in my diaper bag if I think I will be in this type of situation. Also, pouches are great if you are traveling as well!
We started giving Kennedy cows milk after her 1st birthday because that is what her pediatrician recommended. The regular whole milk was giving her bumps all over her face, so I started giving her lactose free milk and the bumps have gone away. But we just recently started giving her regular whole milk again and the bumps haven't come back… So we will continue and see if the bumps come back again. So for now she is drinking regular whole milk again!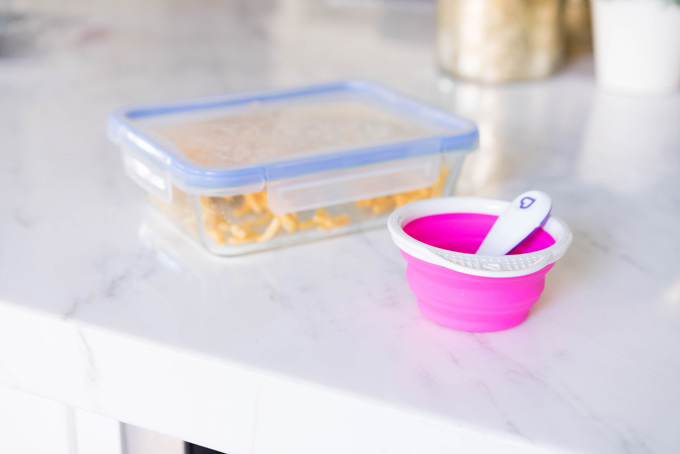 Having leftovers from large batches of food you had made earlier and heating it up is a great way to save money, food, and time!
This cute silicon place mat is dishwasher and microwave safe and so easy to just wipe or rinse off! I bring her place mat when I go out to eat or visiting family and friend's homes. It is so easy to "contain" the food better than throwing it all on a table or highchair. I use it sometimes when I am at home, but I mainly use it for when we go out to eat.
It sticks and suctions really well to hard and flat surfaces, so it is hard for babies to lift up or swipe off. It keeps food away from dirty tables and in the portioned sections which I love! We hate when we forget the place mat when we go out to eat. It really is worth the money and a baby item I use almost everyday!!!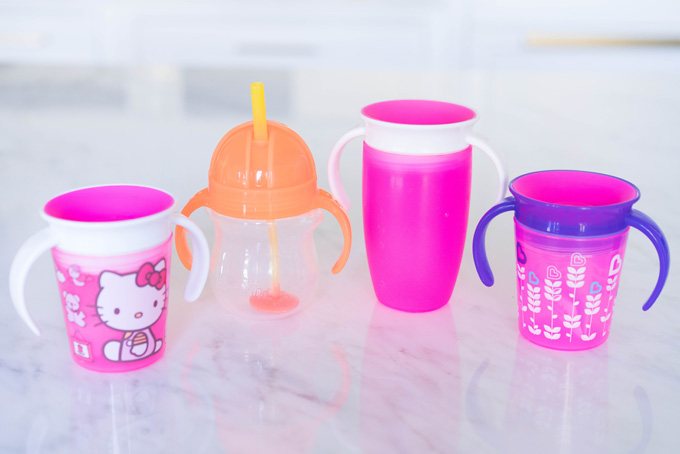 I love these sippy cups! The cup looking ones are basically to help babies and toddlers learn how to drink from a regular cup. It might take a bit for your baby to get the hang of drinking from this, but it is such a GREAT sippy cup! It is very spill proof and it is easy for them to hold. Kennedy holds it with her hands or the ones with the handles are great too. I love how it is good for their teeth and she will mostly just drink her water during the day from these sippy cups.
Also, I like the weighted straw sippy cups as well. Kennedy likes drinking from a straw too, so I will alternate between the two. I just ordered lids for the cup-like sippy cups to keep them more sanitary and clean when I bring them out and about!
Kennedy still has about 3 bottles of milk a day. So I do 4-6 oz of cows milk with a scoop in each bottle of the toddler formula. These bottles are supposed to be better for their teeth than regular bottles. I didn't want to give her milk in the regular sippy cups because she did not drink her milk like that!! She would just throw it down on the ground and refused to drink it. Sooo the best way to get her to still drink her milk is in the sippy cups with the nipple or the Mam bottles!
This pink silicone bowl is collapsible and the green one comes in an awesome set of bowls and lids! Each bowl comes with a lid so you can take food on the go, and they are reheatable, freezable, and dishwasher safe. These spoons are also great feeding spoons! The short scooper spoon is great for baby's who like to self-feed because it has a large, wide spoon and a shorter handle so it's easier to hold!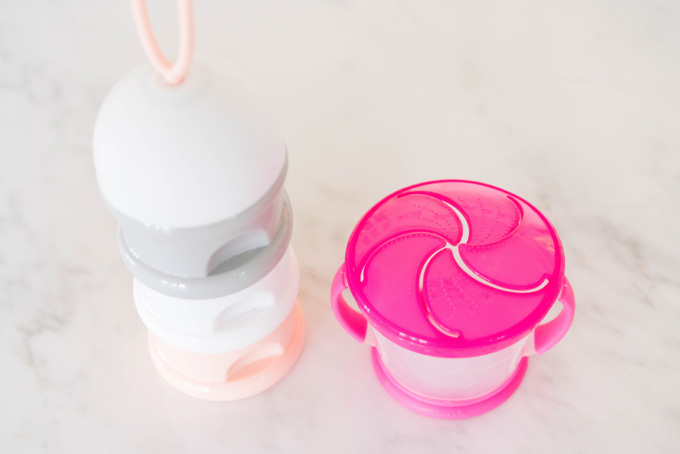 I LOVE these snack containers. I always pack snacks in my diaper bag when we go places, and these are so great for storing dry snacks. The three tier container can old formula powder, on the top and any other snacks in the compartments below! It saves me a lot of space in my diaper bag. I also love this snack container with the semi-open lid which Kennedy can reach in and pull snacks out. It is supposed to prevent snacks from getting everywhere, and going everywhere!
PINK COLLAPSIBLE SILICON BOWL | SCOOPER SPOON | Spill-proof, leak-proof and break-proof GREEN BOWL W/LID | ORANGE FEEDING SPOON | 3 TIER SNACK CONTAINER | ON-THE-GO SNACK HOLDER | BEABA FEEDING SPOONS | ORANGE PORTIONED PLATE W/ SUCTION | HELLO KITTY SIPPY CUP | PINK 10 OZ SIPPY CUP | ORANGE WEIGHTED STRAW SIPPY CUP | PINK FLOWER SIPPY CUP | 11 OZ MAM BOTTLE | PINK TRANSITION/TRAINER SIPPY CUP | GRASS-FED TODDLER FORMULA | PROBIOTIC PACKETSSILICONE FEEDING MAT | PEARL SILICON BIB | GREY+ WHITE HIGH CHAIR | GREY VELVET BOW
SHOP THE POST: