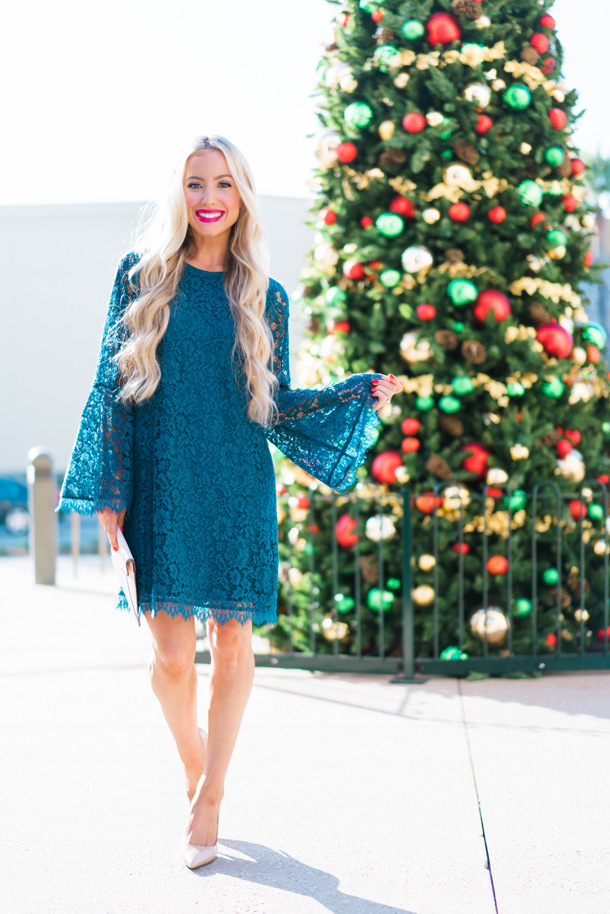 LACE DRESS | EARRINGS | LIPSTICK | NAIL POLISH | CURLER | SHOES | CLUTCH
Sharing my favorite dress for the Holiday season from Evereve, and some other great dresses for under $80…
SHOP THE POST: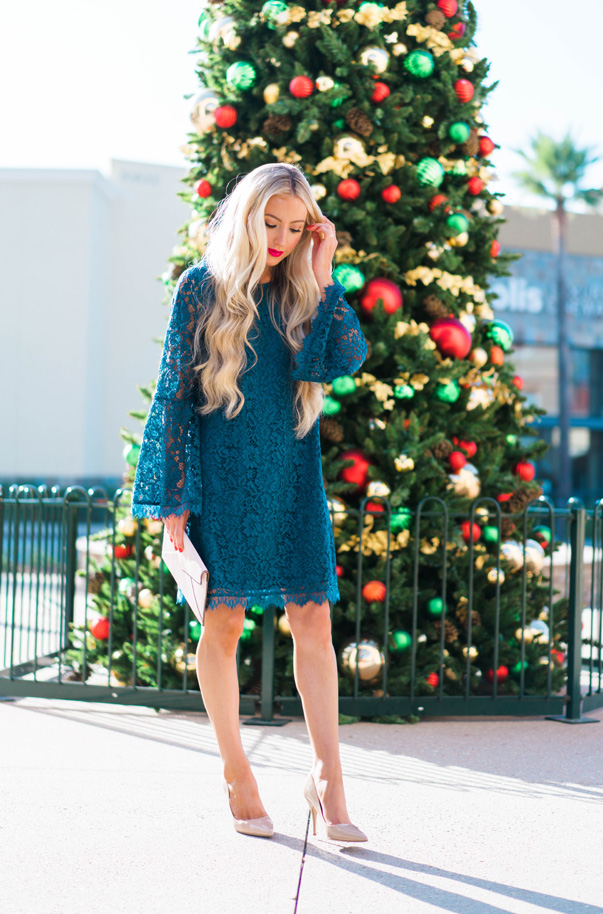 Here in the Jones house, we have been so busy getting everything ready for the Holiday season. We went with Alex's family to pick out a Christmas tree and visit Santa this weekend. It was so fun to see Kennedy experience all the fun Christmas traditions this year. I also feel 1000% better than I did last week. I came down with a nasty stomach flu while visiting my dad up North and literally was so miserable for a few days after that. Also, a lesson I learned is driving with the stomach flu is never a good idea- oops! haha I couldn't take care of Kennedy or be near her for a couple days which was so hard. I don't want to sound dramatic but it was one of the worst feelings and sicknesses I have ever had my whole life. Also, I have never been away from her for more than maybe 3 hours since she was born, so it was a hard week. But I am SO happy I have my strength back, that Kennedy didn't catch it, and that I was able to do some fun things with the family this weekend.
This lace green dress from Evereve is my favorite Holiday dress I've ever worn! I love the lace with the flare bell sleeve! The shape is super flattering and would look amazing on all body shapes. I also love the emerald green color with a hint of dark blue! Besides the sleeves, it is fully lined and not see through at all which is a must for me. I hate having to buy and wear extra layers under my dresses or skirts.
I thought it was pretty to wear a dark berry lip instead of a traditional red lip with this dress. Don't get me wrong, I am a sucker for plaid, tartan, and anything traditional red and green for the holidays. But this season, I am a big fan of wearing non-traditional holiday dresses and going bold with a dark purple lip or a hot pink lip instead of red!
This lace dress is so perfect for any Christmas party, going to the Nutcracker, a winter school dance, family photos, and so much more! I plan on wearing it for Alex's work Christmas party this week and thought it would be perfect for some Christmas family photos we have coming up! I also love how you can wear it all year round too. This dress would also look fab with some black tights and black heeled booties! I wore it with my staple nude pumps and a simple nude clutch to match. I think adding a pop of gold would look amazing too!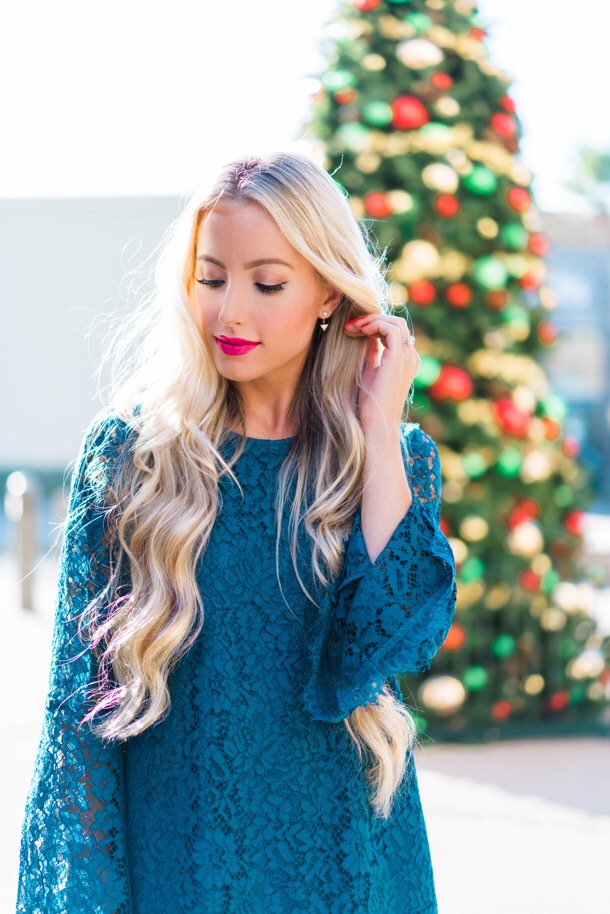 This season, I am all about simple and delicate jewelry for your holiday outfits! Adding a small touch of sparkle to your outfit is all you need to make it look completed and perfect. These earrings from Evereve caught my eye because they are so unique and unlike anything anyone else will be wearing. They are so dainty and I love the upside down triangle backing!
Here are some other Holiday Dresses that I love for this season from Evereve! These will be great for your child's school events, Christmas/ Holiday parties, Christmas Eve dinner, chruch, or any other fun events you have planned this season! The BEST part is they are all under $90!
DRESSES:
SHOES:
JEWELRY: