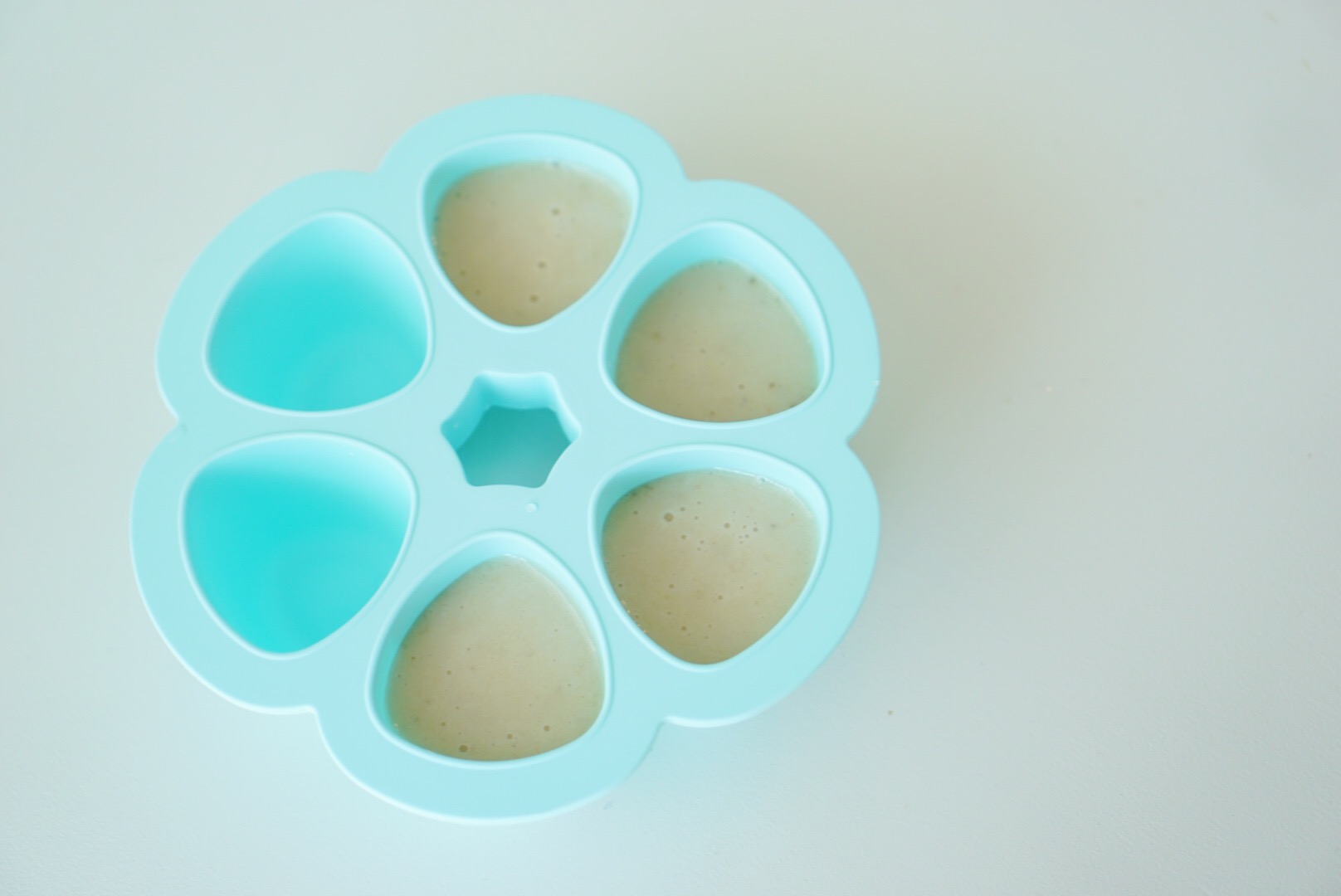 BANANA PUREE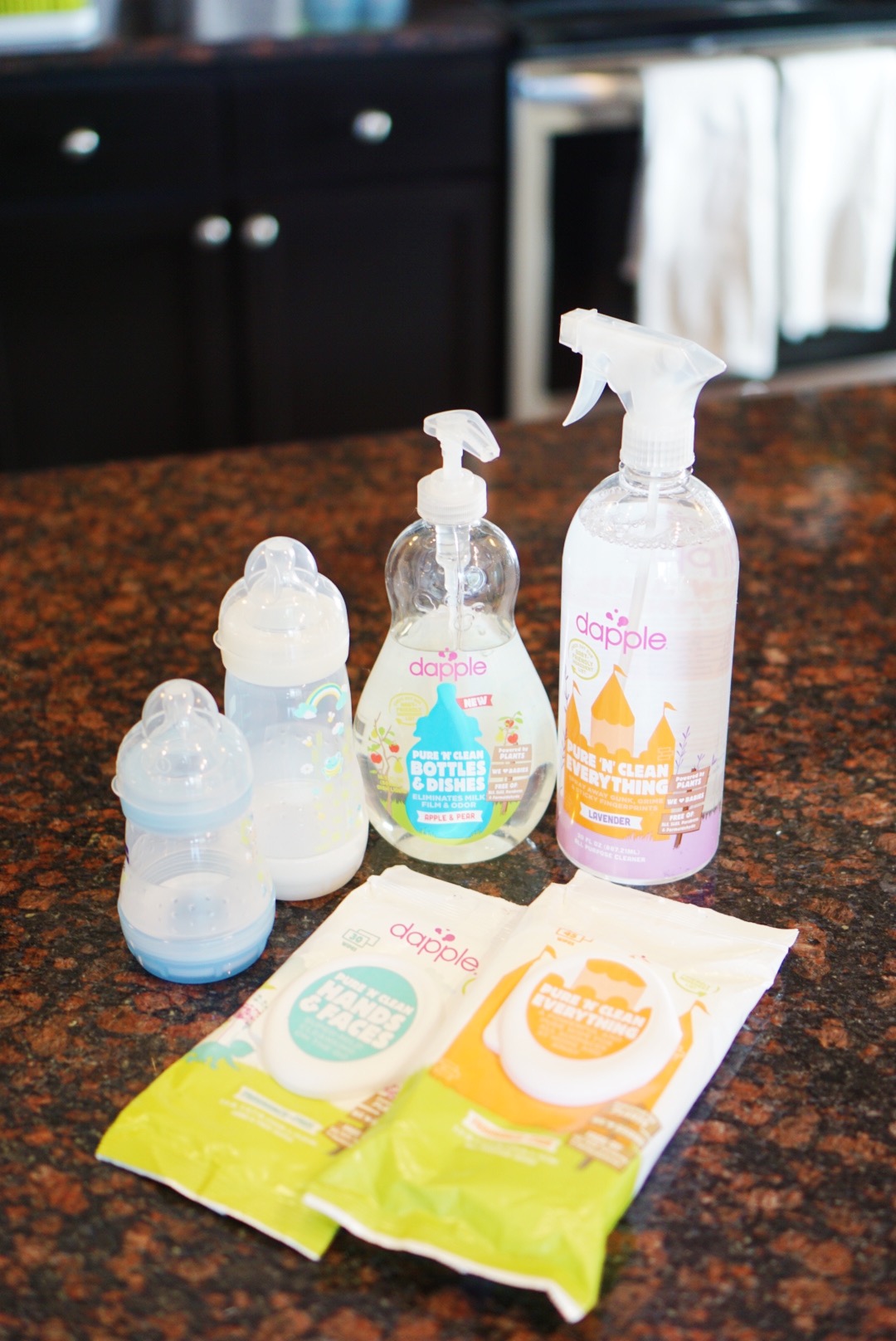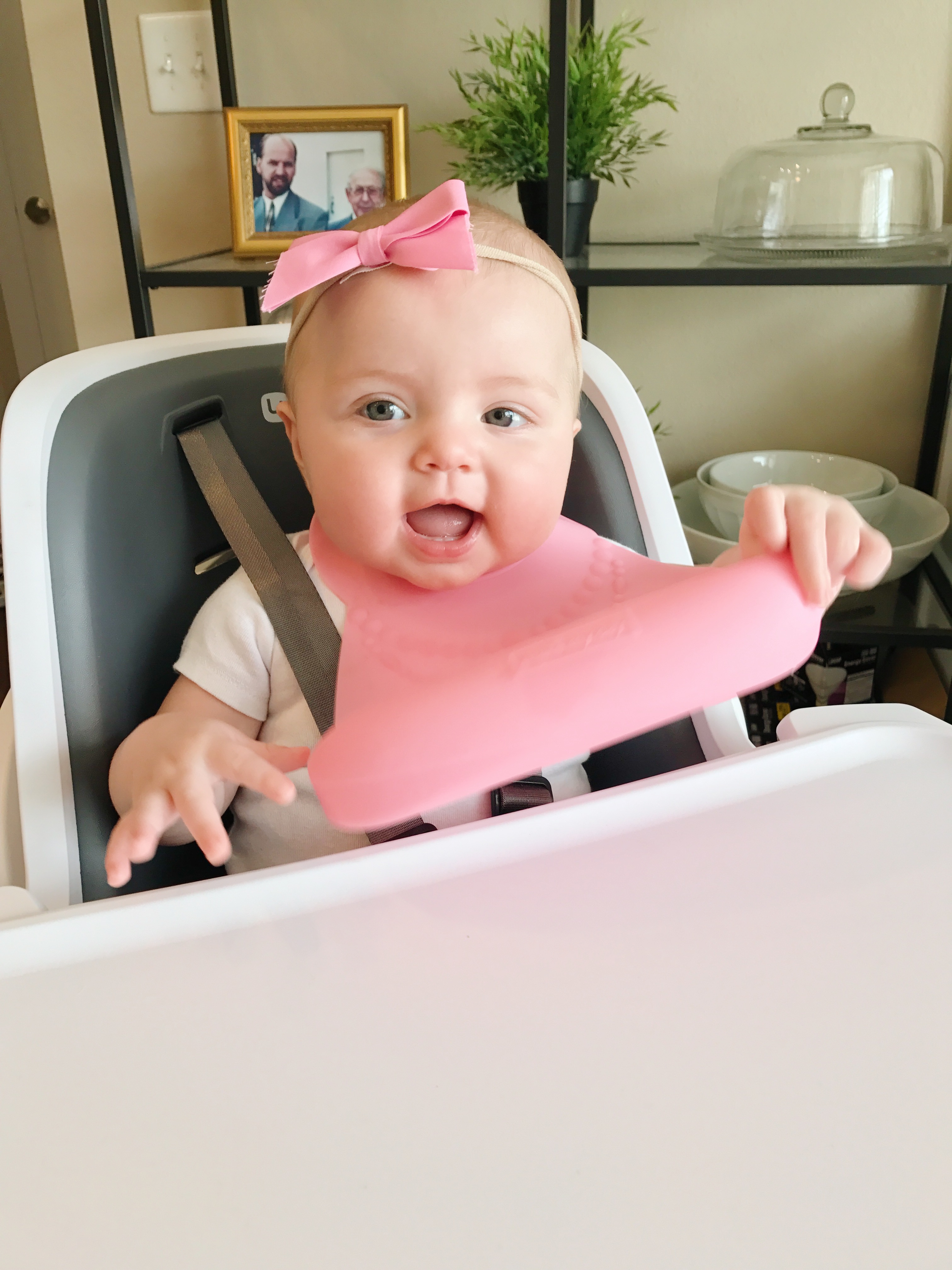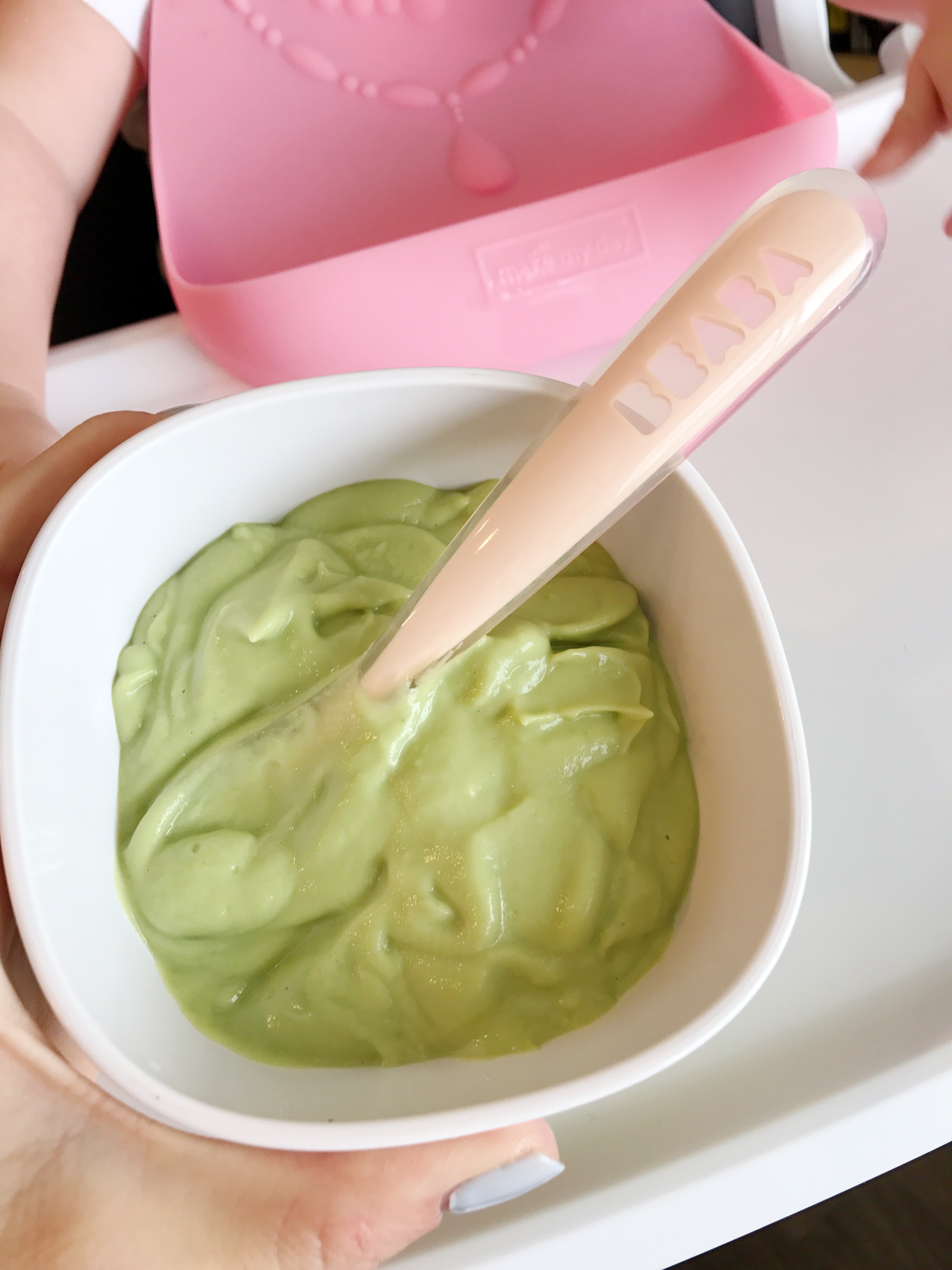 AVOCADO PUREE
BEABA BABYCOOK | PORTIONED BABY FOOD CONTAINER (also have this one and this one) | FEEDING SPOON | PINK BIB | BUMBO SEAT | ONESIE | BOW | KITTY BOWL | BABY FOOD COOKBOOK | ALL NATURAL + SAFE DAPPLE CLEANING PRODUCTS (bottle soap, hands + face wipes, everything wipes, cleaning spray) | 4 MOMS HIGH CHAIR | 4 MOMS MAGNETIC BOWLS | MAM BOTTLES
I have been looking forward to writing this post and sharing my review of the Beaba Babycook Pro since I started using it! I have also been looking forward to Kennedy turning 6 months old so I can start making her food myself with this amazing device. So far I have been following the guide on what is recommended to feed 6 month olds. I have made Kennedy sweet pea puree, butternut squash, avocado puree, strawberry and banana puree, and plain banana puree. I fed her each food by itself for a few days to make sure she didn't have any allergic reaction. Her most favorite foods to eat have been the butternut squash and strawberry and banana puree! Cooking her food with the Babycook has been SOO fun and easy too! I tell all my friends and family all the time how much I enjoy making Kennedy's meals and the benefits of making them myself. First, I know what is going inside her meals, and there are no additives or extra sugars or perservatives. Secondly, it saves money to make it myself. Store bought pouches and containers are so amazing, but can be pricey and add up fast. There is also a lot of waste sometimes with baby food, especially if your baby doesn't end up liking what your are feeding her. I have been buying most of her fruit and veggies organic, but you can save even more money if you by non-organic! I also love the feeling of making her home cooked meals, and I'm very grateful I am able to have the time allowed to do so. A new hobby of mine I've picked up is cooking, and using the Beaba Babycook has definitely started it for me. I love having Kennedy eat at the dinner table, and can't wait for her to join in on all our family dinners together now that she is able to sit in her 4 Moms high chair.
With the 4-in-1 Baby Food Maker, the Beaba Babycook Pro, you can prepare fruits, vegetables, meat or fish from raw in only 15 minutes! The Babycook looks so sleek and great on our kitchen counter and comes with a recipe booklet, steam basket, spatula, mixing lid, and a step by step manual on how it works. This is a unique one-handed operation, and is very simple to operate once you know how to use the device. I also love how much food it can make at a time- up to 4.7 cups of food!  I easily make Kennedy's baby food by steaming it, and it alerts me when the steaming process is complete. I then blend it and puree it to the desired texture. Steam cooking the veggies and fruit locks in vitamins and nutrients, which is so important to me as a mother. I always want to make sure my baby is taking in the purest of food and getting her nutrients.
I use the Beaba Multi-Portioned Containers to store the food, and I freeze it. You can easily pop out the portioned food into a tupperware to dethaw the night before, or you can de-thaw and re-heat it in the Babycook Pro! In addition to feeding her solids and introducing new foods this month, I am of course continuing to feed her milk. I stopped breastfeeding at 5 months because I wasn't producing enough for her and couldn't keep up with how much she wanted to eat, and Kennedy is now fully on formula. I use the Baby Breeza Formula Maker and have been using the Kirkland Brand Formula (which is only about $16). I was using the Gerber Good Start Gentle Formula, but it was pretty pricey at about $30-50 a container, and we were going through the containers pretty fast! I have been using the new MAM Anti-Colic bottles and have LOVED them. Kennedy drinks from these bottles really great and she is alqays less gassy when she drinks from them. They are anti-colic and have a symetrically shaped nipple. This orthodontic nipple is ideal for baby's jaw and teeth development.
I am constantly cleaning Kennedy's bottles, pacifiers, and wiping her high chair tray and hands during feedings. I have been looking for a safe and all natural cleaning product brand, and found Dapple Baby. I use the cleaning spray to wipe down her high chair tray after feedings, and it smells amazing! I like using this spray because it is all natural, plant based and non toxic and smells like Lavender! So I know if her food touches it or she touches it, it won't harm her. I love the hands + face wipes as well and use those ALL the time when I am on the go with Kennedy. I also wash all her bottles, pacifiers (she loves these ones and these ones), and teething toys (this one and this one) with the bottle dish soap. I highly recommend all the Dapple cleaning products if you are looking for an all natural, non-toxic and safe cleaning product to use around and on your baby!
For Kennedy's 6 month feedings, her daily schedule usually looks like this:
7:00am- Kennedy wakes up
7:15am- Eats oatmeal and/or strawberry or wanna puree, followed by bottle (4-6 oz.)
7:30am- Playtime
9:00am- Down for 1st nap
10:30-11:00am- Wakes up and eats lunch. This month I have been giving her butternut squash, peas, or sweet potatoes, followed by a bottle afterwards. Playtime or runs errands with mommy until her 2nd nap.
1:00pm- Goes down for 2nd nap
2:30-3:00pm- Wakes up, bottle (4-6oz.), playtime
*Sometimes she will take another cat nap after her playtime for about 45min.
5-6:30pm- Depends when she woke up from her last nap, but I usually like to feed her dinner 2 hours after her last nap.
6:45pm- Bath time
7:00pm- Bedtime and bottle (6oz)