"… because everything that touches baby's skin matters. Highly effective products. For ultra-clean and oh-so-soft dainties. Hypoallergenic. Plant-based formulas. Eco-friendly and biodegradable."
UNICORN ROCKER // HEART BIB // TUTU DRESS // FLORAL HEADBAND // SWADDLES // CRIB // SHAG RUG // CRIB BEDDING // POM POM BIN // PINK GLIDER // "SPARKLE " PILLOW
Happy Monday! I wanted to talk all about Noodle & Boo's NEW Baby Laundry Line and skincare line! I have only used Noodle & Boo's bath products and lotions on Kennedy since she was a newborn. She has never had any irritations since I have been using Noodle & Boo's baby skincare line. They not only smell like yummy baby goodness but they contain only the highest quality ingredients! The lotion I use for Kennedy is made with sweet almond oil and vitamins E and C. Also, it is dermatologist and pediatrician tested, hypoallergenic, provides a protective layer of natural antioxidants that help shield skin from environmental elements. Babies have very thin and delicate skin, so using only the best for our littles is so important!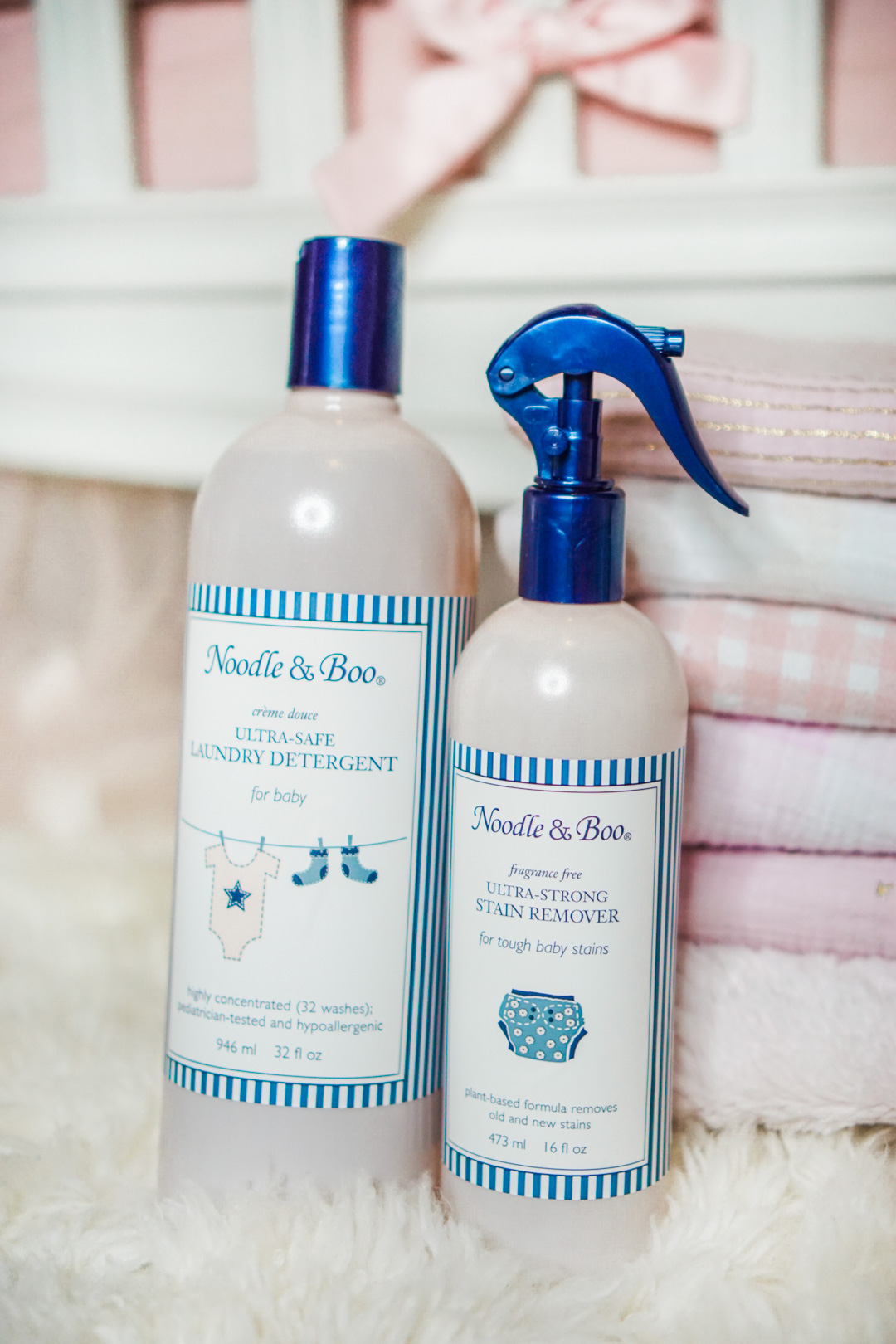 I have been washing all of Kennedy's laundry like the dress she is wearing, her crib bedding, and spot treating her things using Noodle & Boo's new laundry line! This line of laundry products specifically formulated for babies line is made with all natural ingredients! Their products are made with plant-based formulas and naturally removes all the stains and odors our tiny babies make!

Using baby specific laundry products helps prevent irritation on baby's delicate and ultra sensitive skin. Regular laundry detergent irritates baby's skin and has much harsher chemicals that they are exposed to. Their New Laundry Line is baby safe which means no sulfates, dyes, formaldehyde, phosphates, phthalates, optical brighteners or 1.4-dioxane. The Ultra-Safe Laundry Detergent is very safe to use for babies' laundry, and it also smells SOO amazing! It is their Signature Crème Douce Scent. The Ultra-Soft Fabric Conditioner smells heavenly and makes clothes so soft and supple. It has a mild formula with naturally-derived softening oils, infuses cuddly goodness into every load. I have loved using the Ultra-Strong Stain Remover to treat tough stains such as food stains on her clothes. It gets the stain out without harming the fabric like other spot removers have done before. It is plant-based and the innovative solution contains no chlorine, dyes, formaldehyde, phosphates or phthalates.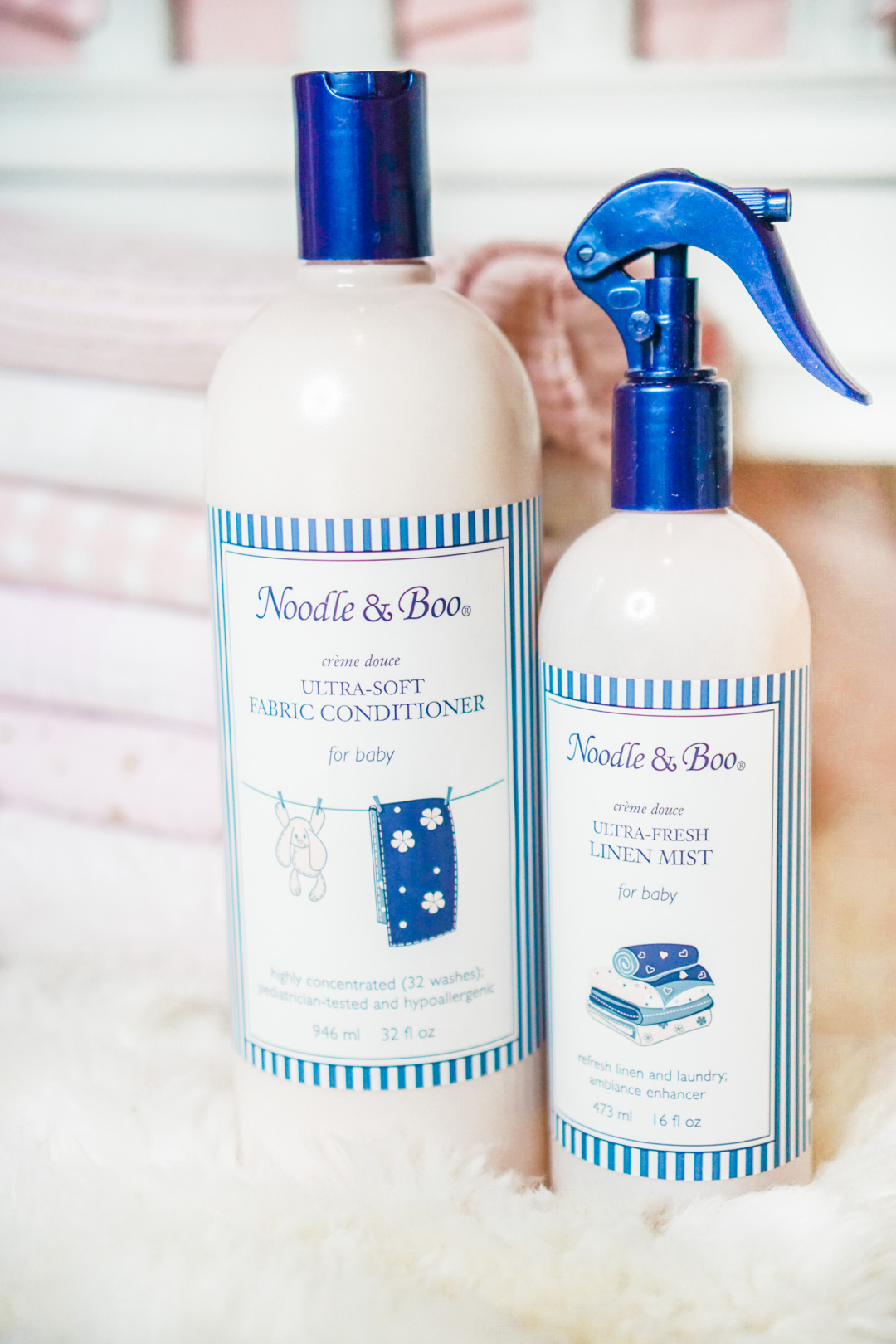 The Ultra-Soft Fabric Conditioner is developed to decrease drying time, reduce wrinkles and eliminate static cling. It is also created without dyes, formaldehyde, phosphates, phthalates or 1.4-dioxane. I also loved spraying the Ultra-Fresh Linen Mist to add a fresh scent in her nursery around her diaper pail and removes all the nasty smelling odor. It can be used to deodorize car seats, strollers, and diaper pails. It is made with all natural ingredients so I feel good about spraying it in her nursery and on things she touches. Also, it is afe for all fabrics and furnishings. The fresh scent combines a fresh blend of peach and water blossoms, with just a touch of ripe mixed berries and clover honey, wrapped in soft notes of warm milk and vanilla beans.