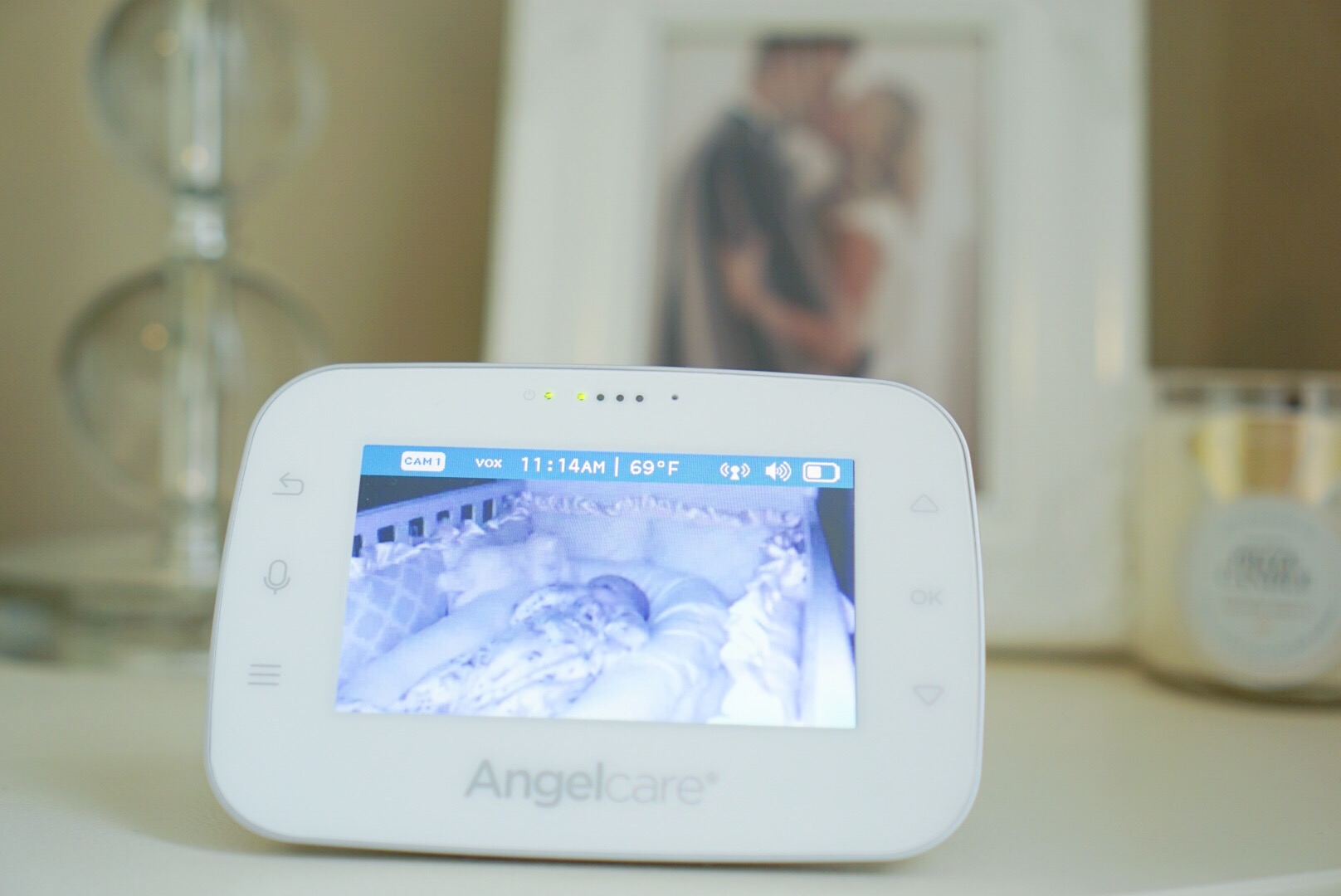 VIDEO MONITOR | SILK PJs | LAMP | JEWERLY BOX- Home Goods (similar here) | HAIR CURLER | LIPSTICK | LIP GLOSS "Sandy" | BEDDING (similar style here)
Making sure my baby is safe and okay is my number one priority as a new mom. I'm pretty sure, those things are on the forefront of every new and experienced parent's as well. I was sent this Angelcare AC310 video monitor to try out and review for you guys, and of course I always give my honest review when trying out new products. I won't post something I don't or won't use on my own baby!
After setting it up and trying it out for a couple weeks I have some things I love about it to share. First, the Angelcare monitor has a portable screen that can go anywhere throughout our home. The range of the monitor is 820 feet but if it goes out of range it will alert you. It also alerts you when it is running out of battery which I find very helpful. I would hate to put her down for a nap or to bed and then realize the monitor was out of battery! Another feature that I really love is it shows the baby's room temperature on the monitor. It will show a red alert when it is too hot, and a blue alert when it is too cold. I like to keep her room between 69-73 degrees, and her nursery always gets hotter than the rooms in our home because she has such a large floor to ceiling window. So having the temperature reading on the monitor is very helpful. The room temperature reports last for two months.
The monitor also will change the screen display for daytime and for nighttime. One of my favorite features is that it has night vision without shining any light, so I can see Kennedy sleeping and check up on her from my room at night without having to go in her nursery! You can mount the camera on the wall, or set it near the crib (3 feet away from the crib for safety), so it is nice having those options! I have it set on her nightstand table, but I am planning on having it mounted on the wall! I also love how it has two way talk, so when she is fussing or crying, I can talk into the monitor and calm her down until I can finish what I'm doing and get to her. The camera and monitor are also so stylish and sleek. I love the white color, how great it looks in her nursery, and matches her nursery decor! I had another monitor that didn't have nearly has many features as my Angelcare monitor, and it looked horrible in her nursery. I ended up returning it and I'm glad I did, because I LOVE this one and am so glad I got it!
In addition to the Angelcare Baby Monitor, Angelcare has more amazing baby products that I love and use! I have the Angelcare Bath Support, which I use for Kennedy's bath time. She had outgrown her other baby bath tub that I was using at the kitchen sink, and found it difficult to bath her laying down in the bath tub. The Angelcare Bath Support is placed in the bathtub, and keeps her head and ears out of the water but I was able to put most of her body in the warm water! I love using the bath support in the bath tub so she can be supported in a seat, yet get to splash her legs and play with her bath toys still! This makes a great baby shower gift in addition to the baby monitor or you can register for it for your own baby shower!
Angelcare products are sold at most large baby retailers such as buybuy BABY, Babies R' Us, Amazon, Target, Diapers.com, and Walmart! Target, buybuy BABY and Amazon have great baby registries and are really easy to use! XOXO