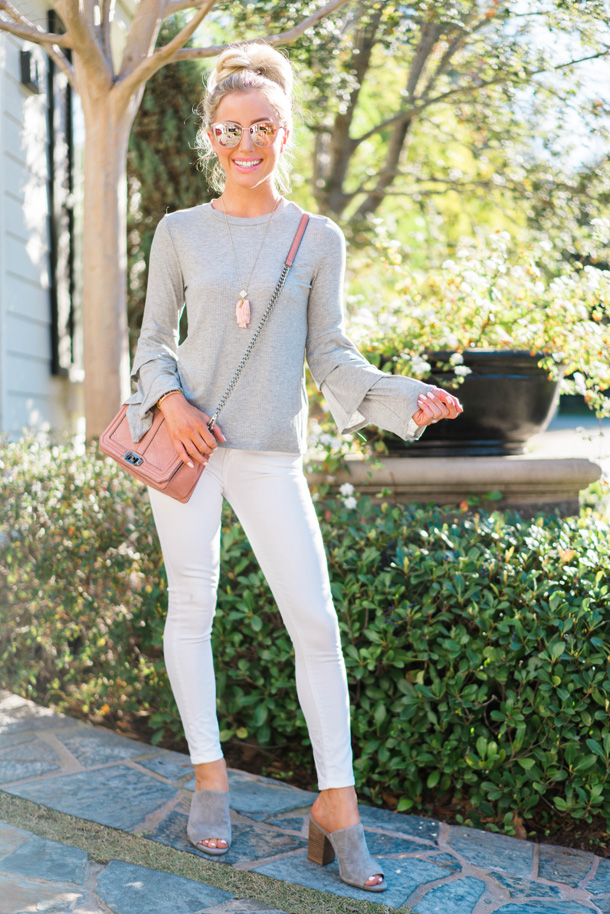 GREY TOP | WHITE JEANS | GREY HEELS | BLUSH BAG | NECKLACE | ROSE GOLD SUNNIES
Happy Friday! I am sharing my Top 5 Tips for transitioning your Winter wardrobe into Spring…
SHOP THE POST:
GREY TOP | WHITE JEANS | GREY HEELS | BLUSH BAG | NECKLACE | ROSE GOLD SUNNIES
SHOP THE POST:
The weather is slowly warming up and you're dying to break out those sandals again. I don't know about you, but I have been loving these warmer days lately here in Southern California. Even though it is still technically Winter for several more weeks, I am SO ready for Spring. I'm dying to wear all the fun, bright colored clothes and sandals all the time. I want to share 5 ways to make your transition from your Winter wardrobe into your Spring wardrobe easier!
1.Add a pop of color to your Winter hues. Most of my Winter outfits consist of grays, whites, or black pieces from head to toe. But adding a pop of color to those all neutral colored outfits is a great way to start getting your wardrobe ready for Spring. Some items I love adding into my outfits to add a pop of color are: bags, heels, necklaces, and nail polish! I got these pink heels and love wearing a full neutral outfit and throwing these on for a pop of color! They are perfect all Spring and Summer long with jeans or dresses!
2.As the weather gets warmer, start adding in warm weather accessories. It is also a good time to begin clearing out your closet! Take your time and slowly put away the heavy jackets, parkas, snow boots, scarfs and beanies. This will get your mind thinking of Spring and bring out your warm weather accessories such as sunglasses, sun hats, and fun statement jewelry like these pink earrings!
3.Don't be afraid to rock the white jeans to brighten up your outfit. One rule I never have liked to follow is "no white jeans after Labor Day." I LOVE incorporating white jeans into outfits all year round, but of course especially in Spring and Summer mainly. Try an outfit now with your favorite pair of white jeans. These white skinny jeans are my favs and fit soo good-they feel like I'm wearing leggings. The best part is they are only $78!!! It is still a neutral and will look great with a lightweight sweater or top like the grey one I'm wearing above!
4.Find thicker tops that can be worn without jackets or heavy sweaters. Now that you'll be heading outside more to enjoy the warmer weather, find tops that still will keep you warm in case it gets chilly but don't require a jacket. Right now, I am loving wearing thicker tops and lightweight sweaters that keep me warm, especially if I am in somewhere where the AC is blasting like the movie theater or grocery store. They don't require you to tote around an extra sweater either. These thicker tops can be worn during this awkward "transition" period until Spring and hot weather is here to stay! I am currently loving this tie-front thermal top which comes in soo many colors! I have rounded-up all my favorite tops for this below.
5.Brighten up your makeup and add some colorful hues! Another way to start transitioning your wardrobe to Spring, is changing up your makeup. To me, Spring means sunny days, pretty flowers and trees everywhere, and bright pops of pastels. I love a pretty peachy blush, a baby pink lip, and fun eye shadow colors! I have rounded up all my current favorite makeup products below as well!
Hope you enjoyed reading my Top 5 Ways to start transitioning your wardrobe for Spring! XOXO
THICKER TOPS + LIGHTWEIGHT SWEATERS:
SPRING SHOES:
SPRING MAKEUP:
WARM WEATHER ACCESSORIES:
SPRING FINDS FOR KENNEDY: