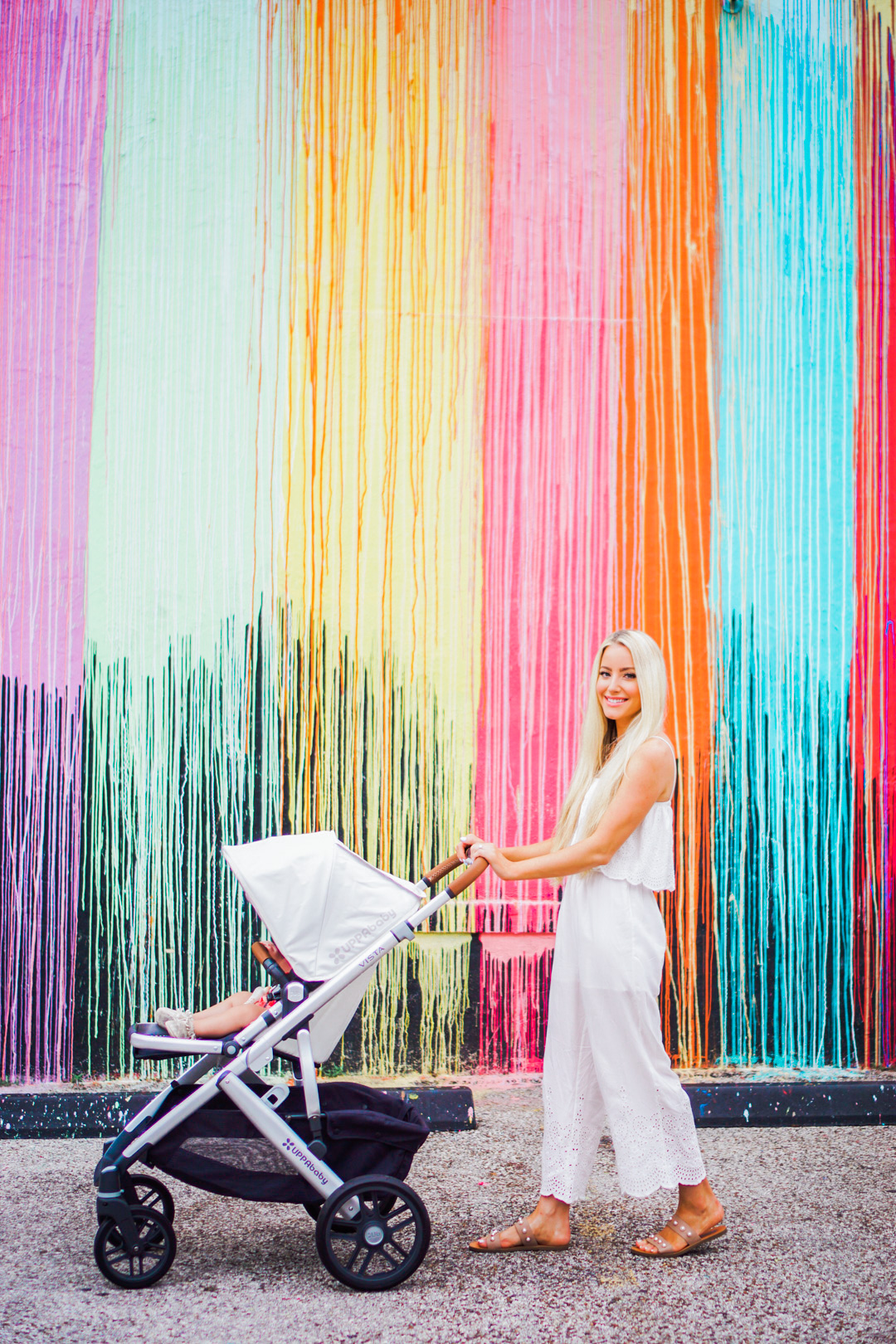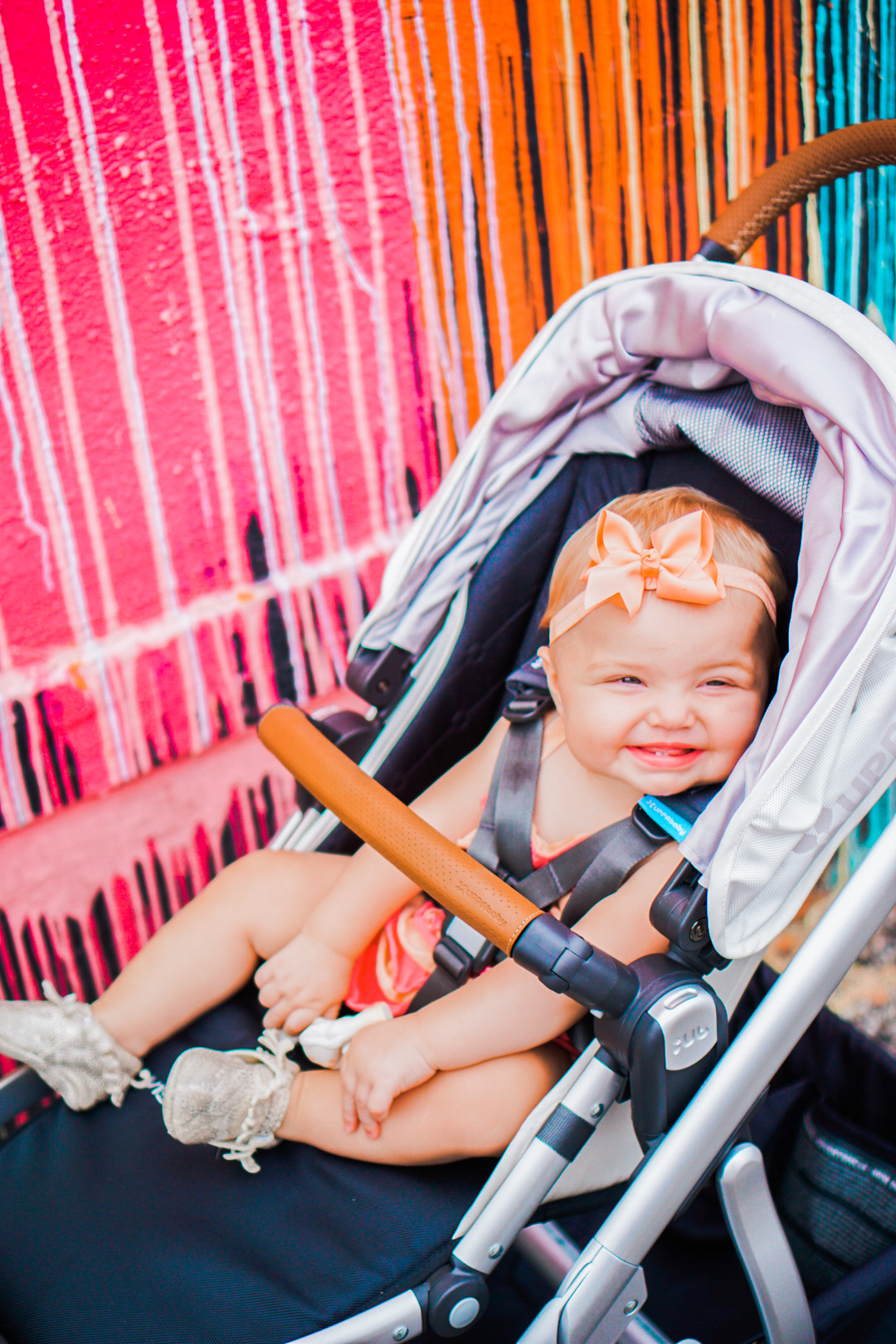 Stroller // White Outfit // Sandals // Kennedy's shoes here + here // Necklace
Today I want to share my review on the stroller we got last month! I have teamed up with my favorite baby store buybuyBABY to talk all about the new 2017 UPPAbaby Vista stroller! I'm sharing my experience using it so far, what I love about it, and how I am liking the light color I chose. I wanted to use the stroller for a whole month to be able to give the best review possible. I want to share with you my experience so far using the stroller! Click "READ THE POST" to read the full post…
shop the post:
 I got the stroller last month from the local buybuyBABY store here in Houston, Texas. The in-store experience shopping for a new stroller was so amazing. My husband and I were able to test out the three different strollers we had our eye on, and have Kennedy test them out to. The stroller expert at the store, Issac, knew everything there is to know about every single stroller and car seat. He knew the specs, the pros and cons, and offered valuable advice. We were able to weigh the pros and cons of each stroller, and narrow it down to two strollers. After much debate between my husband and I, we finally decided on the new 2017 UPPAbaby Vista in the color "Loic." It had everything we wanted and things we needed in a new stroller. You can read more about our amazing shopping for a new stroller experience at buybuyBABY here.
First off, it is much lighter than our first stroller. It weighs 26.3 pounds and it is very easy to fold up. I am easily able to lift it in and out of the trunk of our car without any trouble or back pain. 😉 I love also how it stands up on it's own when folded- which saves us space in our home! It is a single stroller which can convert to a double. This was the main reason for upgrading to a different stroller. I am not pregnant now haha, but we hopefully plan on expanding our family in the next year or two. So finding a single stroller that can easily convert to a double when we need to is going to save us money in the long run. I love how the UPPAbaby Vista comes with a gorgeous and functional bassinet. The lining is so plush, cushiony, and soft. It is also very breathable and makes strolling around your baby more comfortable for them as well. The seat on the Vista is very versatile and can be faced toward you or outwards. If I am somewhere like the mall, Kennedy likes to look around and see all the people, so I loved that I can easily switch it facing out. The Vista has a very large storage basket, and two convenient pockets in the front. I like to keep disinfecting wipes, an extra snack, a sippy cup, my keys, iphone, and some tissues in those pockets. You don't even need a storage caddy attachment, because the pockets in the storage below can hold so much. This was another big selling point for me. I haul around a lot of things for myself and Kennedy, and it is great for shopping bags, groceries, and traveling. The canopy is great and there is a hidden canopy extension with SPF 50, so it can protect your baby when the sun is shining in their face. The peek-a-boo looking into the seat such a neat feature that I like to use when she is facing forward! The brake on the bottom is also easy to tap with my foot and click on and off. There are just SOO many amazing features of the new UPPAbaby Vista that I love! It is safe to say we are both obsessed! Kennedy also loves this stroller too. She is so comfortable in it and loves holding onto the leather handle bar. I think the leather handle bars is such great upgraded feature to the 2017 models, and it makes the stroller look so stylish! I can recline her to multiple positions, so if she needs a nap on the go, it is so much more comfortable for her to do so in this stroller.
A concern I had from the very beginning was getting a light colored stroller. I loved the new color "Loic." My husband and Issac tried to convince me it was a bad choice, but when I first saw the new color for 2017 I LOVED it. It is such a gorgous color and was totally something that was sleek and stylish but didn't seem practical for a stroller. I did some research before I chose this color and chatted with some other moms who have it too. They all said the same thing to me. They loved the color and are totally happy they got it- and I can now say I am too! I have had the stroller for a month now and don't have any marks, only a little dirt which was not very noticeable. But I was able to easily wipe it away with a damp cloth! The canvas seat is easy to spot treat with a spray such as Oxyclean or just water on a cloth. I use the stroller everyday, multiple times a day and it hasn't gotten hardly any marks or dirt. Granted, I don't let Kennedy eat messy food in the stroller that would easily get on it, nor do I do lots of outdoor activities that could get it dirty easily. If you are eying this color, but are unsure because you are scared it will get dirty, I say to get it. I am SO happy I got this color and I love it. One tip I have, is if you have room I remove the seat and put it on a small blanket in my SUV's trunk. I then fold up the frame and put it in separately next to the seat. If you want, you can still fold the entire stroller up with the seat attached. The only thing is there is a chance the white seat could get dirty if your trunk is dirty. That would be the only con that I have had with dealing with the light colored seat. But it is more of an extra percuasion I am taking to ensure it won't get any marks.
I hope you liked my review of the 2017 UPPAbaby Vista in the color "Loic!" It has been such an amazing stroller for our family, and we are SO happy with our choice in getting it! I highly recommend this stroller for parents-to-be or families wanting to upgrade to a double stroller! Let me know if you have any additional questions, I would be happy to answer them in the comments below or via email: katelyn@atouchofpinkblog.com! Hope you have a great week!
HERE ARE SOME SPECS ON THE 2017 UPPABABY VISTA:
*Toddler seat is suitable for children from 3 months up to 50 lb.
*Stroller weighs 26.3 lb. (frame and seat); 19.4 lb. (frame, canopy, wheels and basket)
*Seat weighs 6.9 lb.; Bassinet weighs 8.4 lb.
*Unfolded dimensions: 36″ L x 25.7″ W x 39.5″ H
*Folded dimensions (seat attached): 17.25″ L x 25.7″ W x 33″ H
*Folded dimensions (seat unattached): 16.75″ L x 25.7″ W x 33″
*Water and stain repellant polyester fabric
*Rear wheel brakes
*Foam-filled, never-flat tire
*Machine washable fabric
*Adjustable canopy with peek-a-boo window and extendable UPF 50+ sunshade
*Pivoting bumper bar with neoprene cover
*X-Large, easy-access basket (30 lb. max)
*2-year manufacturer's warranty (Isaac informed us the just changed the warranty to 3 years on all Uppababy strollers!)
*This post is in collaboration with buybuyBABY, a company I use and love.